John Deere (NYSE:DE) is scheduled to report their fiscal q1 14 financial results before the bell on Wednesday, February 12th, 2014.
Analyst consensus is expecting $1.52 in earnings per share (EPS) on $6.6 billion in revenue for expected year-over-year declines of 8% and 11% respectively.
While DE management may or may not update 2014 expectations on the call, current analyst consensus is looking for $8.33 in full year EPS on $33.56 billion in revenue for expected year-over-year declines of 10% in EPS and 4% in revenues.
DE originally guided to single digit declines in ag equipment sales for most major regions of the world, last quarter. With recent currency issues in emerging markets in January '14 and late 2013, I didn't suspect DE will change that guidance so quickly.
In Fiscal q4, or the last quarter investor saw financial results, De reported total equipment sales +4 for the year%, however Ag & Turf sales fell 4% and Construction and Forestry Sales fell 8% in q4 '13. Operating margins improved in both segment.
DE's stock was a 2013 underperformer by a long shot, which is why we started picking away at it slowly after the first of 2014. The stock was up just 5.7% in 2013 (excluding the dividend) and most of that increase came after the early December, 2013 news of the share repo announcement, which took the stock up from $82 to $90 in the last month of the year.
We avoided the shares in the halcyon days of late 2010, early 2011, simply because at those prices of $96 per share because the cash-flow valuation was so extreme at 25(x) - 30(x) 4-quarter trailing cash-flow.
(Technically, each time DE has traded into the $95 - $99 area the last 3 years, e.g. in early '11, and then again early '13, the stock was beaten down and went through a long retrenchment, eventually bottoming in the low $80's. See chart below.)
So what has changed about DE ?
Really nothing yet, but the fact that corn is likely to bottom in the low $4 price area is of interest to me, and a potential catalyst for the stock if DE can trade back into the $6 area and remain there.
The price of a bushel of corn is down from $7 - $8 in late 2010, early 2011, to bumping near $4 of late, so if we think corn has bottomed, that is a good thing.
The prices of wheat and soybeans are also down, with soybeans down the least, although corn is really the farm income driver and the commodity that matters the most.
The positives around the stock are that valuation has become much more reasonable than in 2011 - 2012, and that a bottoming in corn prices could help the shares.
The negatives are that DE has benefited from a 12-year equipment cycle and some question the degree of demand remaining in the farm cycle, despite the continued increase in far income.
The trick to DE has been to buy the low $80's trade, and sell the mid to high $90's trade.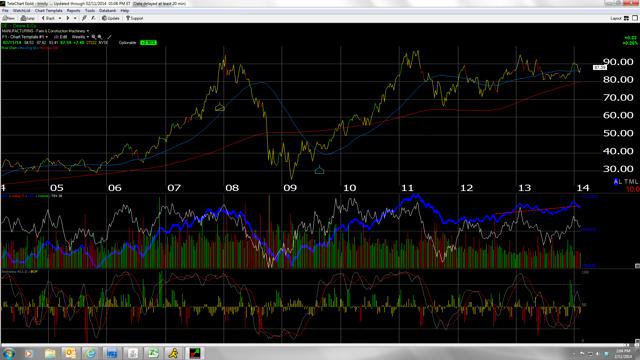 The early 2008 high for DE was $95, the April, 2011 trades were $95 - $99 and the January '13 high was $95.60.
One of these quarters we will need a big revenue and earnings upside from DE, to convince Wall Street that the EPS and revenue have stopped declining.
For now, the stock is still stuck in a trading range.
Disclosure: I am long DE. I wrote this article myself, and it expresses my own opinions. I am not receiving compensation for it (other than from Seeking Alpha). I have no business relationship with any company whose stock is mentioned in this article.