Executive summary:
Microsoft (NASDAQ:MSFT) is gradually steering many legacy products towards a subscription-based model.
Satya Nadella is the perfect CEO to oversee this cloud-centric transition.
Shares are cheap, especially when considering the company's sizeable cash balance.
_________________________________
Monday of this week marks the first day Microsoft started shipping Power BI for Excel and Office 365. Power BI is a big step towards overhauling its legacy Office products, integrating them with the cloud. With Excel, for instance, live data can now be taken directly from the public web, as well as inside a private company, and put into a report.
Excel seems like a natural fit for big data, and a new 'Q&A' tool will allow natural language to be utilized to generate results as well. Search-based access to data and simplified data analysis will make Excel significantly more powerful.
A changing of the guard
Power BI will now allow the moving of data in and out of Excel columns and rows, everywhere from internal corporate databases to public web sources obtained by crawling the web. "BI" is short for business intelligence, and it seems Microsoft is moving into turf previously dominated by companies like SAP (NYSE:SAP) and Oracle (NASDAQ:ORCL).
Microsoft will initially sell Power BI as an added feature for Office 365 for $20 a person. After June of this year, it will be upped to $33 a head. This online-based product will apparently also be updated monthly, and potentially even daily. As explained by Amir Netz, a technical fellow at the company, when referring to Power BI:
you'll never see a 2.0 version of this - it will just change... It's a different engagement with customers - constant change.
Power BI is significant in more ways than one. First, it further integrates legacy products to the cloud and moves them to a subscription-based model. This provides recurring revenue and helps eliminate piracy.
Second, it strengthens Microsoft's overall enterprise ecosystem, by turning Excel into more than just a spreadsheet program-- by transforming it into an even more powerful tool for big data analytics. Lastly, it continues to give Office an edge over Google (NASDAQ:GOOG) Docs and keep Office relevant.
Nadella and transitioning to the cloud
According to Microsoft, over a billion people use Office. The subscription-based, cloud-centric version, Office 365, is already being used by 25% of corporations. That number jumps to 60% when looking at Fortune 500 companies. Microsoft is pushing its legacy money-makers into the cloud, making them suitable for today's day-and-age. Power BI builds on this, by integrating the company's services and platforms into an unified subscription service and enhancing their capabilities.
Satya Nadella's bread-and-butter within the company before becoming CEO was business software, as well as cloud and search. He likely had a lot of say in this and will continue to shift more legacy products in this direction. Tying together all of the various products and services that is Microsoft will continue to expand an already enviable, wide-moat ecosystem, especially if it successfully merges its enterprise and consumer businesses.
Valuations and fundamentals
Microsoft has one of the strongest balance sheets out there, as well as AAA-rated credit.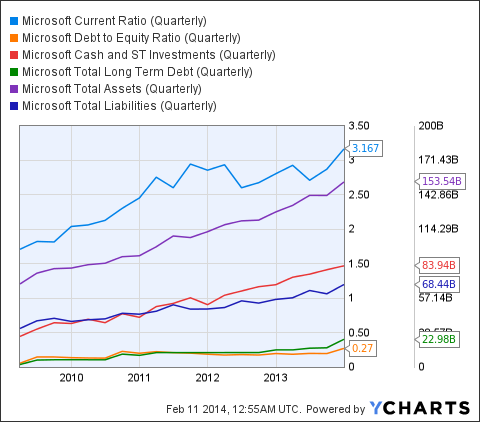 MSFT Current Ratio (Quarterly) data by YCharts
The company is also cheap in relation to earnings, especially if you back-out the cash horde.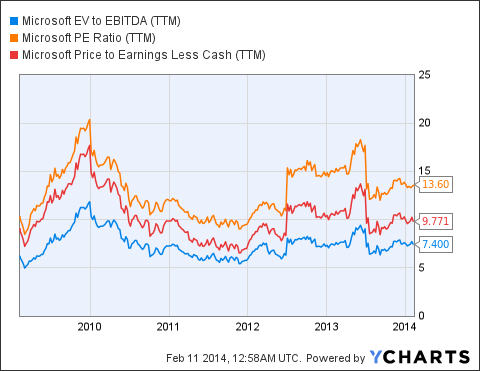 MSFT EV to EBITDA (TTM) data by YCharts
Finally, its dividend track-record is impressive, with the last increase being north of 20%.
MSFT Dividend data by YCharts
Even without capital-appreciation, the dividend alone is a nice source of income and will likely continue to increase significantly going forward.
The bottom line
Microsoft last reported on January 23, beating on both its top and bottom lines. This was in the face of declining PC sales. The company will continue to dominate in enterprise with offerings such as Office 365 and Azure. It will also continue to merge consumers with enterprise users with services besides just Office, such as Bing (which now has over 18% market share), Skype, and SkyDrive. Satya Nadella is the perfect fit for the "new" Microsoft and its cloud-based vision going forward. With shares cheap at only 12-13 times forward earnings, now's a good time to start accumulating.
Disclosure: I am long MSFT. I wrote this article myself, and it expresses my own opinions. I am not receiving compensation for it (other than from Seeking Alpha). I have no business relationship with any company whose stock is mentioned in this article.