Greek equities were hammered Tuesday on the heels of its debt being downgraded by S&P.

The ASE General Index was down an even 6.0%, closing at 1,696.68 on a heavy 75 million share volume. The nadir at 1,671, was 120 points lower than the previous yearly low. It looks like capitulation selling and normally I would be buying such a meltdown. But not in this case. See my article "Greece Will Have the Last Laugh". I warned this would happen back in February.

Clearly, if you want to play a relief rally in Greece's credit, the biggest loser and more liquid play would be the government two-year note, which I understand hit almost 19% yield today, or the ten year bond, or an option on one of those if it existed at a reasonable price. Or short a CDS. Personally, it's not my kind of trade, because i believe the risk of a haircut on the interest rate, the principal, extension of the maturity date, or all three, is very high.

The EU/IMF bailout team are probably not in the business of redeeming debt speculators. Once a downgrade to "junk" of sovereign debt has occurred, it signals the country has already being discounted as a defaulter, so why not go ahead and get the debt monkey off the back? I think the Greeks will go even further and withdraw from the eurozone/euro currency due to the short-term benefits.

But to keep abreast of equity market damage, I made a list of well-known Greek-listed companies back on March 10, leaders across several different industries. As a sidebar, note I researched almost 100 Greek companies during 2001-2002, and although I try to keep abreast of some of them, they may have changed their business model since then. My brief rundown of stock price and market cap below does not include equity dilution, debt leverage, liquidity and other important data relevant to an investment appraisal.

Let me repeat: I am not buying any Greek stocks right now. even though I suspect the German leadership will suddenly become more loving towards their southern Greek friends after May 9, and approve the loan package expeditiously. I believe the current Greek market carnage will be followed by several years in hibernation, although we will no doubt have a quick relief rally (dead cat bounce) from today's panic selling.

In 1999, the ASE index peaked at over 5,000 and this was followed by a multi-year decline. That bear market wiped out more than a few, formerly enthusiastic stock brokerages in Athens. I can't remember what the low was on the index. We hit 5,000 again in October 2007. And it has been mainly down since then. As in off a cliff.

The latest crisis was apparently precipitated by S&P lowered Greece's ratings from BBB plus to BB plus, the highest junk-level rating, placing Greece's sovereign debt on par with Azerbaijan, Colombia, Egypt, Panama and Romania. P.S. Standard and Poor's: Colombia is a pretty country, with an improving economy and strong currency: good company if Greece is to be compared.

As you no doubt are aware, the Portuguese credit rating was also cut and several Portugese banks downgraded by the same debt rating organization, which introduced the suggestion of contagion to shocked investors in a very real way.

Here's a 3 month price chart of the Athens Stock Exchange General Index: (Click to enlarge)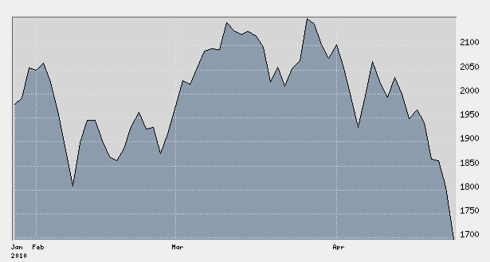 Click to enlarge

The National Bank of Greece (NBG), the bellweather bank, closed at 10.00 euros even, down 9.99%, an "On Sale" markdown, on 12.5 million shares traded.
Click to enlarge: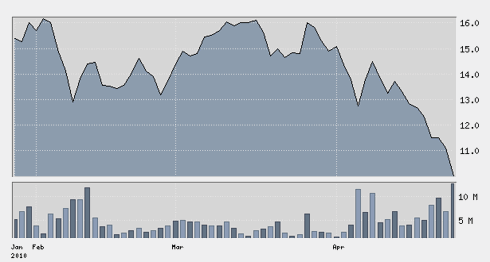 Click to enlarge

Here's a short list of some Greek stocks, with the price on Jan 9/03 with market capitalization at that time, the subsequent approximate high reached afterwards, the close on March 10/10, the close today, Apr 27/10 and current market cap assuming the data service Naftemboriki is accurate (all in euros):
Nat'l Bank of Greece (Banking): 12.84, 2.93 billion, 40, 16.06. 10.00, 6.0 billion

Michaniki (Construction/Engineering): 1.76, 136 million, 9, 0.97, 0.54, 36 million

Titan (Cement): 35.88, 1.50 billion, 45, 19.62, 17.85, 1.4 billion

Hellenic Bottlers (Beverages): 12.98, 3.07 billion, 30, 20.05, 19.71, 7.2 billion

OPAP (National gaming company): 9.26, 2.95 billion, 32, 16.90,14.63, 4.67 billion

Lambrakis (Newspapers, media): 2.44, 184 million, 4, 1.67,1.02, 83 million

[[OTE]] (Telecom): 10.56, 5.3 billion, 26, 9.38, 7.97, 3.9 billion

Intracom (Technology): 4.18, 523 million, 7, 1.08, 0.66, 88 million

DEH (Electric Utility): 14.02, 3.2 billion, 35, 12.65, 11.50, 2.9 billion
Source: Naftemboriki

As you can see, some stock prices are sharply down over the past 6 weeks. But the market capitalizations are not really that much lower than seven years ago, and in some cases, higher than seven years ago. Of course, some companies are larger in scope. I haven't done an analysis of earnings, cash flow, economic values or associated multiples yet, because the accounting analysis has to be that much more thorough for Greek equities due to differences in standards. This list is just a glimpse of what is happening in a few stocks.

Some of these companies have or had solid domestic franchises (OPAP, DEH, Lambrakis) and could be considered "value" plays that are dependent on consumer spending. However, if Greece leaves the eurozone, as I have suggested will probably happen, and apparently many German political figures are demanding, then I would wait for that to happen and not hazard losing my money overnight.

There could be some great buys in drachmas after the debt has been restructured and if the national currency were converted. One of the biggest problems could be hedging the drachma to partake in the big gains in equities at that time without losing money due to likely depreciation. Depends where the peg or conversion starts off at. The exporters and other foreign earners such as the shipping companies, come to mind.

One odd thing about Greek companies which I found frustrating back in 2001 - they declare and pay the dividend only once a year, usually in June. Not even semi-annual which is more customary in Europe . Greek managements also didn't seem to believe in share buybacks. The lack of a quarterly dividend, monthly distribution or buyback support made stock performance erratic.
Many of these stocks would be paying their dividend shortly under normal circumstance, which would offer at least temporary support. Many of the annual dividends seem to be omitted this year, as one might well understand, given the circumstances.

Disclosure: No position in Greek stocks or euros