The purpose of this series is to highlight stocks with long-term potential, which have the characteristics of undervalued, profitable, underperformance, and have a favorable technical outlook. The stock that I will be covering for my undervalued series this week is The Cooper Companies (NYSE:COO). COO stock has fallen 3.48% in the last quarter compared to the S&P 500 (NYSEARCA:SPY), which has gained 1.97% in the last quarter. I believe The Cooper Companies is a solid undervalued long-term choice to gain exposure to the eye care market. In a recent investor presentation, COO estimates and market research showed that COO is the third largest soft contact maker in the world, behind Johnson & Johnson (NYSE:JNJ), and Ciba, which is a division of Alcon (NYSE:ACL).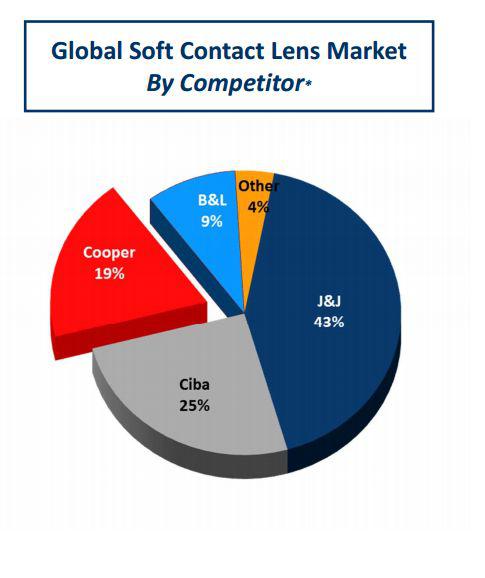 (Image from The Cooper Companies Investor Presentation)
Cooper Vision has been gaining market share over the last 5 years as the chart below shows Cooper Vision has increased its market share from 15.8% to currently 19.1%, which is a 20% increase in market share in 5 years. The overall soft contact lens market is growing as well with a recent report stating the global soft contact market is expected to grow at a nearly 6% CAGR over the next 3 years. The factors that will lead to this growth according to the report are "An increasing aging population, working for long hours on computers and unhygienic lifestyles are some of the factors leading to an increase in the prevalence of vision disorders." With those factors, growing the size of the market and Cooper Vision gaining market share I believe Cooper is poised to capitalize on this trend.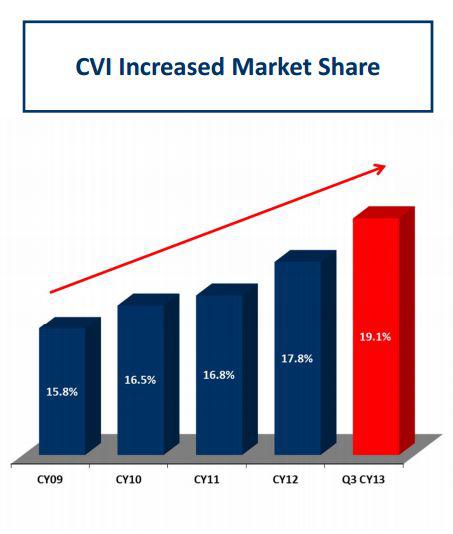 (Image from The Cooper Companies Investor Presentation)
Value
To value COO I will be using a DCF calculator, with data for earnings and growth coming from Zacks.com, benchmark data from longrundata.com, and CPI data from the BLS. The DCF table shows shares of COO are undervalued by 18.85%, which represents a good opportunity for price appreciation for shares of COO.
EPS [ttm]: $5.95
Long-term Growth Rate: 14.33%
Earnings grow for next: 5 years
Level off: to 1% after
Benchmark return: 10 yr annualized SPY return of 6.63%+1.50% inflation= 8.13% benchmark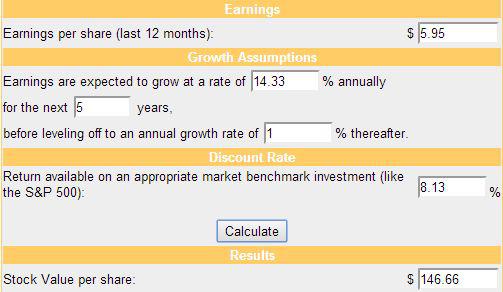 Technical Outlook
The chart below shows that shares of COO have been in a slow orderly decline since hitting a new high in August 2013, and recently shares touched an important level of support (Blue Line) and bounced off. This support level is important because shares failed to break above this level at the end of April 2013, but then at the end of May shares broke out above this level on large volume. Since the break out shares of COO have tested this level three times and held each time, with the most recent time being at the beginning of February this year. The chart below shows the shares have had a good bounce off support and is still significantly above long-term upward support (Red Line).
Going forward with the recent bounce off support, I expect that COO will continue higher and I believe shares will move towards my fair value of $146.66.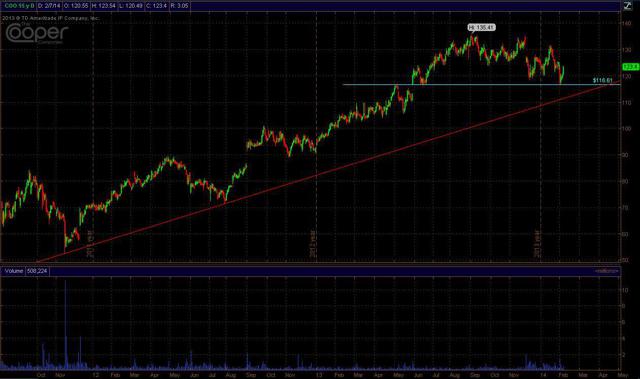 Click to enlarge
(Image from the ThinkorSwim Platform)
Catalyst
The biggest catalyst for The Cooper Companies going forward is the continued growth in the number of consumers needing contact lens and innovations in new contact lenses. As there are large numbers of consumers aging there will be a continued need for contact lenses. As far as new products go, Cooper Vision has developed MyDay daily disposable contact lenses. Cooper Vision started selling the MyDay contact lenses in Europe at the end of 2013, and will be available globally in 2014. The reason this is an important and a catalyst for growth can be found in the most recent earnings report where CEO Bob Weiss stated: "I, for several years, have been very clear and very deliberate about saying we will forgo our greatly improved gross profit percent for the trading up to the one-day modality that is expected to deliver 400% to 600% more in top-line revenue per patient, and longer term, 300% to 500% more profit per patient." By having these new contact lenses, Cooper should be able to increase profitability, because the new lenses have much higher margins than traditional contact lens.
A third area of growth that will move Cooper forward is growth in developing and emerging market countries. The chart below shows the breakdown of sales by geographic region, as well as yoy sales totals, and growth. As you can see the Americas is the largest geographic region by sales, but it also had the slowest growth at 2%. The second largest region is EMEA, which had sales growth of 12%. Finally, the Asia-Pacific region showed sales down 7% yoy, but when you take into account the significant weakening of the Yen, sales were up 11%.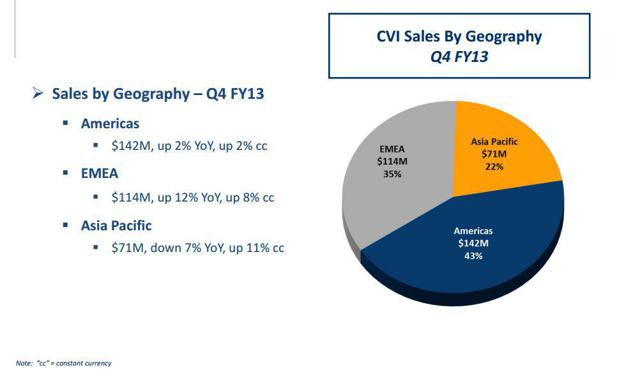 Click to enlarge
(Image from The Cooper Companies Investor Presentation)
A short-term catalyst for The Cooper Companies is the company will be reporting earnings on March 6th. Over the last eight quarters, Cooper has traded higher the day after earnings six times by an average of 6.51%. I expect that Cooper will once again trade higher because of the underlying growth of the company.
Risks
There are two risks for The Cooper companies which may have an impact on the earnings, and thus the stock price, both of which management mentioned in the most recent earnings report. The first item is the impact that currencies have on sales numbers, specifically the lower Yen was pointed out in the earnings report. Going forward, with the recent decline in emerging market currencies, and the yen still weakening, on a non-currency adjusted basis sales could be pressured because of the comparisons to last year where those currencies were higher.
Closing thought
I believe shares of COO are poised to move higher from current levels, because the stock is undervalued, the stock is near two levels of strong support, and the company is positioned to take advantage of the continued growth in the eye care market. Another positive is that they have been generating a large amount of free cash flow which COO is using to pay a stable dividend which has been maintained at the same level for the last 12 years, and I believe is due for an increase, even if it is a small increase. In addition, COO has been paying down long-term debt over the last 5 years, reducing the amount of long-term debt they have by 60%. Finally, the company in the most recent quarterly earnings report stated that they bought back 1 million shares of stock, which represents roughly 2% of shares outstanding, and management said they would potentially continue buying back shares into the future. Based on all these factors, I believe going forward shares of The Cooper Companies in the long-term will move higher to my fair value estimate of $146.66.
Disclosure: I have no positions in any stocks mentioned, and no plans to initiate any positions within the next 72 hours. I wrote this article myself, and it expresses my own opinions. I am not receiving compensation for it (other than from Seeking Alpha). I have no business relationship with any company whose stock is mentioned in this article.