When a company demonstrates a stronger-than-expected quarter, most investors have a tendency to a take a closer look at that particular company. In this article, I wanted to highlight a number of reasons why I'm staying bullish on shares of FMC Technologies (NYSE:FTI), after having a pretty stellar Q4.
Company Overview
Headquartered in Houston, Texas, FMC Technologies is a leading global provider of technology solutions for the energy industry and has approximately 18,400 employees who operate 30 production facilities in 16 countries. FMC Technologies designs, manufactures and services technologically sophisticated systems and products such as subsea production and processing systems, surface wellhead systems, high pressure fluid control equipment, measurement solutions, and marine loading systems for the oil and gas industry.
Recent Performance & Trend Behavior
On Thursday, shares of FTI, which currently possess a market cap of $11.90 billion, a forward P/E ratio of 18.01, and a PEG Ratio of 1.48, settled at a price of $49.95/share. Based on a closing price of $49.95/share, shares of FTI are trading 0.93% below their 20-day simple moving average, 1.36% below their 50-day simple moving average, and 7.23% below their 200-day simple moving average.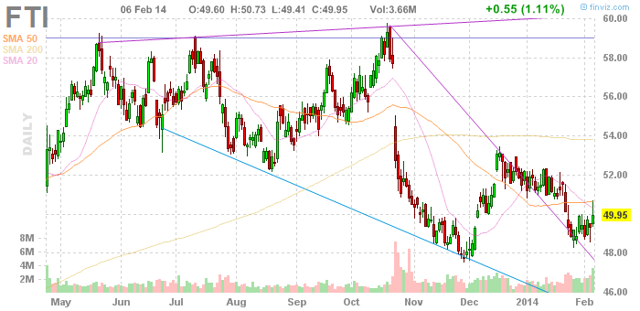 Even though these numbers indicate a short term, mid term and long-term downtrend for the stock, I actually think the current share price of $49.95 offers investors a considerable point of entry for two reasons. First, I strongly believe that shares will get a near-term pop as the direct result of the company having a fairly impressive fourth quarter in which it surpassed EPS estimates by $0.14/share and revenue estimates by $160 million. Second, the company's shares are currently trading at 18x forward earnings, which is much better than the shares of both Tesoro Logistics LP (NYSE:TLLP), which trades at 23.57x forward earnings and McDermott International (NYSE:MDR) which trades at 20.29x forward earnings.
An Impressive Q4 Performance
Also on Thursday, and after all three major indexes rose by an average of 1.2%, FMC Technologies reported the results of a very strong fourth quarter. Analysts had been expecting the company to earn $0.65/share on revenue of $1.89 billion; however, FMC Technologies impressed both investors and analysts when it reported earnings of $0.79/share on revenue of $2.05 billion. That being said, there were a number of things that took place during the fourth quarter that certainly impressed me, and for that matter should certainly impress anyone else who may be looking to establish a position in the company over the next several weeks.
Included in its earnings announcement was the inbound orders for the fourth quarter, which totaled $1.8 billion, and its backlog for the fourth quarter, which totaled $7.0 billion. If the company can continue to demonstrate strong growth in terms of its Subsea Technologies (which saw its operating profit rise 44% during the fourth quarter) and its Surface Technologies segment (which saw its operating profit increase 5% during the fourth quarter), I see no reason why the company's inbound orders wouldn't exceed $2.4 billion and its backlog surpass $7.2 billion by the end of the second half of 2014.
Risk Factors (Most Recent 10-K)
According to FMC Technologies' most recent 10-K, there are a number of risk factors investors should consider before establishing a position. These risk factors include but are not limited to:
#1 - Demand for the company's systems and services depends on oil and gas industry activity and expenditure levels, which are directly affected by trends in the demand for and price of crude oil and natural gas.
#2 - Due to the types of contracts FMC enters into, the cumulative loss of several major contracts or alliances may have an adverse effect on the results of its operations.
#3 - Increased costs of raw materials and other components may result in increased operating expenses and adversely affect the company's results of operations or its cash flows.
Conclusion
For those of you who may be considering a position in FMC Technologies, there are a number of things I'd keep a close eye on over the next 12-24 months. These factors include the overall performance of FMC's Subsea and Surface segments (as each segment's continued growth could positively impact the long-term earnings performance of FMC), and FMC's ability to enhance shareholder value through any number of potential means (such as a buyback program or the initiation of a regular dividend distribution).
Disclosure: I have no positions in any stocks mentioned, but may initiate a long position in FTI over the next 72 hours. I wrote this article myself, and it expresses my own opinions. I am not receiving compensation for it (other than from Seeking Alpha). I have no business relationship with any company whose stock is mentioned in this article.