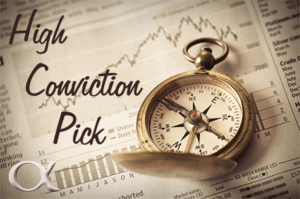 Ralph Aldis is a portfolio manager at U.S. Global Investors, a San Antonio-based mutual fund and hedge fund manager specializing in natural resources, emerging markets and global infrastructure. He co-manages two precious-metals funds, including the World Precious Minerals Fund (UNWPX), the gold sector's top-performing fund in 2009, according to Lipper (the second time in four years that the fund has achieved that distinction).
After a 10-year period as research director for U.S. Global, Ralph worked as an investment analyst for Eisner Securities before rejoining U.S. Global as a senior mining analyst in 2001.
Seeking Alpha recently got a chance to ask Ralph about his highest conviction stock holding.
First, please tell us a bit about your funds.
U.S. Global manages two precious-metals funds, with both of them currently focusing mostly on gold. The Gold and Precious Metals Fund (USERX) invests primarily in established large and intermediate gold producers, while the World Precious Minerals Fund (UNWPX) invests in established producers as well as in promising junior exploration companies.
What is your highest conviction stock position in your fund - long or short?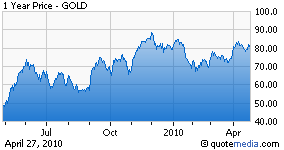 We like Randgold Resources (NASDAQ:GOLD), an intermediate gold producer. It is the largest holding in both our Gold and Precious Metals Fund and our World Precious Minerals Fund. Randgold is a pure-play gold mining company whose focus has been on western Africa - its two producing mines are in Mali, and it has projects and exploration acreage there and in Cote D'Ivoire, Senegal and Burkina Faso. It's now expanding its reach into central Africa through a major project in the Democratic Republic of Congo in partnership with AngloGold Ashanti (NYSE:AU) and the DRC government.
What can you tell us about the sector? How much is Randgold an "industry pick" as opposed to a pure bottom-up pick?
Well, because our funds are industry-specific funds, it would be a bottom-up pick. In our investment process, we look at three key metrics for putting names in the funds: reserve growth, production growth, and free cash flow growth. Randgold stands out on all three of these metrics.
In 2009, its mineral resource grew 69% and its total attributable reserves increased 75%, and these are high-quality ounces, in terms of ore grades above industry averages. On the production side, both of its mines saw production increases last year, and its profits were up nearly 80% year over year.
Can you describe the company's competitive environment? How is Randgold positioned vis-a-vis its competitors?
We see Randgold as being positioned very well compared to other large and intermediate gold miners. The main reason I say that is because it has delivered pure organic growth via discovery of world-class ore bodies. It has projects scheduled to come on line that could double its production in the next few years to more than 1 million ounces per year. That pipeline of high-end projects makes it different from most of its competitors, which don't have the same quality projects and instead are trying to grow via acquisition.
The problem for the acquirers is that most of them are paying close to the spot gold price per ounce for new reserves. A good exploration and development company can find new resources and get them into production at a much lower cost, which is obviously more accretive to earnings.
Randgold is that kind of company – it has a conservative business approach that models projects using a gold price of $700 an ounce, which is more than $400 an ounce under the current spot price. Randgold did make a big acquisition last year in buying Moto Gold, but even in that case, it did not overpay for the company and significantly de-risked the project by bringing AngloGold Ashanti in as a partner.
How does Randgold's valuation compare with competitors?
We've already spoken about the three metrics we rely on – growth in reserves, production and free cash flow, and Randgold compares well on these valuation measures. When you look at another commonly used metric, net asset valuation per share (NAVPS), Randgold also looks good. The strength of the gold price has been a help on a year-over-year basis, but Randgold fares well compared to other gold miners because of its rising production as well as the progress it has made in moving new projects forward.
The Tongon project in Cote D'Ivoire, 89% owned by Randgold, is scheduled to start production in the fourth quarter of this year, with a first full-year output of about 300,000 ounces. Several other projects are also advancing. A study done by a major brokerage late in 2009 showed that Randgold was by far the leader in NAVPS growth among large and intermediate producers when you adjust for changes in other metal prices and foreign-exchange rates.
Randgold and a few other gold producers can appear to be expensive just on a NAVPS basis, but that's not the case when you consider that they have delivered outsized growth on an absolute and relative basis. We think this is one of those cases where you get what you pay for.
Does Randgold management play a role in your position? If so, how?
In my opinion, Randgold is one of the best-managed companies not just in the gold space, but in any space. Mark Bristow, the CEO, has put together a great team of professionals who understand the economics of needing to find quality ore bodies as the path to building a profitable company. They have consistently demonstrated that more shareholder value is created by discovery than by acquisition.
Randgold is also a pure gold play, as I mentioned before, and this means less risk when compared to other gold companies that rely on the price of base metal byproducts of gold production - copper, for example. The price of the base metals tend to be more volatile than gold, and investors have been better compensated by focusing on the pure gold producers versus the companies that use byproduct credits to mask their true gold costs.
What catalysts do you see that could move Randgold stock?
The gold price is always a factor – with its relatively low production costs, Randgold would likely be one of the industry winners if gold prices go up. We have built on research going back to 1971 that shows that gold equities have historically outperformed the S&P 500 when the federal government runs budget deficits, and over the next decade the federal government estimates that its debt will grow by about $10 trillion, and that could lift gold as a safe-haven play.
More specific to Randgold, its projects in the pipeline are still being delineated, and we expect to see more ounces added to the resource base at very reasonable capital costs. We are talking in the range of $300 million to build a very profitable mine vs. $3 billion to build a marginal copper-gold mine where the gold will be produced only if the copper price can make the mine pay. We think investors will take greater notice of the capital requirements issue as these companies put their hand out for a capital raise because current operations can't adequately fund their growth.
Also, Randgold has the promising project Kibali in the Democratic Republic of Congo, where it splits a 90% interest with AngloGold, which is an experienced partner. They are making progress in a region where historically it's been difficult to move projects forward. In short, almost no one else has a list of quality projects in the works that are comparable to what Randgold has.
What could go wrong with this stock pick?
Well, the gold price goes up and the gold price goes down - if it fell off the table, that wouldn't be good for Randgold or anyone else. Also, if energy or labor or chemical or other costs shoot up, it would squeeze margins for everyone.
Specifically, the biggest risk I see for Randgold is political risk associated with Kibali, which is located in the far northeast corner of Congo, near the Uganda frontier. Kibali's current numbers attributable to Randgold are about 4 million ounces of gold at a grade of about four and a half grams per ton of rock. This is a high-quality project, and if the internal politics of Congo interfered with getting it up and running, that could be a headwind for the stock. That said, Randgold and AngloGold so far have shown that they know how to operate at the community and national level in Congo, and that bodes well for them making this project work.
Thanks, Ralph, for sharing your pick.
Disclosure: U.S. Global Investors is long GOLD in its funds.
Read more High Conviction Picks »
If you are a fund manager and interested in doing an interview with us on your highest conviction stock holding, please email Rebecca Barnett.