Executive summary:
Altria's recent price weakness creates a rare buying opportunity.
Potential price downside is limited by the stock's 15% discount to market as well as its high dividend yield and healthy dividend growth prospect.
Going forward, management's ability to continue diversifying the businesses and driving steady EPS growth should translate into dividend stability.
_________________________________
Share price of Altria (NYSE:MO) now trades at 9% below its 52-week high of $38.58 reached in December 2013 due to the price weakness experienced in January 2014, which was partially offset by a modest recovery since February 4. I think investors seeking dividend investing opportunity should consider this stock before the loss is fully recouped. My view is based on the following reasons:
On a relative basis, the price drop has helped drive down the stock's valuation to a very attractive level. Altria now trades at 12.8x 2015E P/E multiple, which is at 15% discount to the same multiple of 15.2x for S&P 500 Index (see chart below).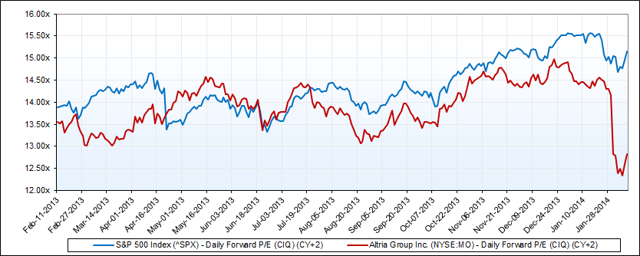 I view the current valuation discount to be exaggerated there are sufficient reasons to justify even a slight valuation premium:
Altria's forward P/E multiple tracked fairly closely with S&P 500's level most of the time in the past 12 months;
The Street's consensus long-term earnings growth estimate of 7.6% for Altria is not significantly below the average estimate of 9.0% for S&P 500 companies;
The stock offers a whopping dividend yield of 5.4%, compared to S&P 500's average yield at just 1.9%, and its dividend growth rate has averaged at 8.1% since 2009, better than many large-cap dividend stocks;
Altria holds a significant market share in traditional cigarette market and the company has demonstrated its ability to maintain steady cash flows and earnings growth (discussed later).
Aside from the cheap relative valuation, the stock's current high dividend yield and the dividend's healthy growth prospect would mean a meaningful price downside is very unlikely. The price weakness has resulted in an increase of almost 50 bps in Altria's dividend yield, which is at 5.4% now. Given that 1) Altria's dividend yield rarely exceeded 6.5% in the past 10 years, except for the period of global financial crisis (i.e. 2008-2010); 2) the current 5.4% is compelling to many income investors as the current interest rate environment remains weak relative to historical level; and 3) the 5.4% yield is already higher than those of Philip Morris (NYSE:PM), Lorillard (NYSE:LO), and Reynolds American (NYSE:RAI), I believe there is a technical yield ceiling in the range from 6.0% to 6.5%, as a significant investor demand would be drawn if the yield hits the range. In addition, management has been raising dividend at an annual CAGR of 8.1% since 2009. I expect the current pace of the dividend growth to be sustainable, owing to the company's ample cash capacity (i.e. Altria generated free cash flow of $5.5B in 2013, compared to a dividend payment of just $3.6B). Assuming a downside scenario where the stock price goes south and thus boosts the dividend yield to 6.5% in a year and management raises the dividend by 7% in September 2014, this conservative scenario would imply a stock price of $31.6 one year away from now, representing a small loss of just 4.8% from the current level if the 5.4% dividend income was considered.
In 2013, Altria continued to demonstrate a solid trend of bottom-line growth as EPS was up 8% in the year, which is almost consistent with the EPS growth experienced between 2010 and 2012. Although some investors are arguing that the EPS growth in 2013 was helped by non-recurring items (e.g. lower interest expense due to refinancing and lower tax expense), I still view it as proof of management's ability (e.g. capturing refinancing opportunity and driving growth in net price realization amid industry volume decline) to sustain earnings stability, which is the ultimate concern for income investors. Further, management's initial 2014 outlook calls for 6% to 9% EPS growth, which is again fairly in line with the historical rate at around 8.0%.
Altria recently announced the acquisition of e-cigarette maker Green Smoke, aiming to expand its presence in the e-cigarette category. It is believed that the acquisition would help diversify Altria's e-cigarette portfolio (Green Smoke has reusable and longer format products as opposed to MarkTen's disposable and standard-size products) to tackle the recent slowdown in this product category. Moreover, I believe this acquisition further reflects management's commitment to continue diversifying the company's overall product portfolio (smokeable, smokeless, wine, and beer), which would improve stability and enable Altria to better weather industry shocks. Again, this is a desirable merit for a quality dividend investment.
In summary, Altria offers investors low EPS risk and sustainable high dividend yield, and the current cheap relative valuation should suggest a buying opportunity.
All charts are created by the author except for the consensus estimate tables, which are sourced from S&P Capital IQ, and all financial data used in the article and the charts is sourced from S&P Capital IQ unless otherwise specified.
Disclosure: I am long MO. I wrote this article myself, and it expresses my own opinions. I am not receiving compensation for it (other than from Seeking Alpha). I have no business relationship with any company whose stock is mentioned in this article.