One has to go back to the Great Depression to find a period when the state of municipal finance was worse than today. According to "The Postwar Quality of State and Local Debt" by George H. Hempel, from 1929 to 1937 approximately 15% of the average amount of municipal debt outstanding—some $2.85 billion representing 4,771 state and local government issuers—paid late and were in temporary default.
We're not near that today. Despite the many headlines about states considering Chapter 9 bankruptcy, it is a modern-day rarity for a municipality to default. That's not to say that your local government isn't having problems. The Nelson A. Rockefeller Institute of Government regularly surveys municipal finance and announced in its latest quarterly State Revenue Report that a recovery is not in sight:
Total state tax collections as well as collections from two major sources — taxes on sales and personal income — all declined for the fifth consecutive quarter. Overall state tax revenues in the October-December quarter of 2009… declined by 4.2 percent from the same quarter of the previous year…. Total revenues were down by 8.6 percent from the same quarter two years earlier. Over the past two decades, before the last national recession, state tax revenues averaged annual, year-over year increases in the range of 5 to 5.5 percent. In normal times, then, the last two years might have been expected to produce an overall revenue increase of 10 percent or more. Combined with the actual decline mentioned above, states have seen revenue drop by more than 18 percent relative to what might otherwise have been expected.
The picture is not universally grim. California's state tax revenue beat projections for the fourth consecutive month in March, thanks to higher exports. Year-to-date revenue is ahead of estimates by $2.3 billion, or 4.1%, and 2% above last year for the same period. And some states,
like New Jersey
, are taking their deficit problems seriously. But we imagine that less aggressive or economically diverse states are betting on the propensity of tax receipts to bounce back quickly in an economic recovery, as the graph below shows (
click to enlarge
).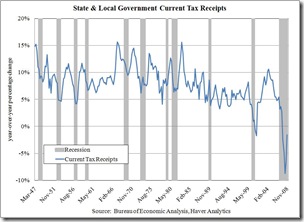 And by the look of the graph below (click to enlarge), which shows the change in government expenditures over the same time period, it is equally clear that municipal policymakers not named Chris Christie are content to wait for this hoped-for upturn.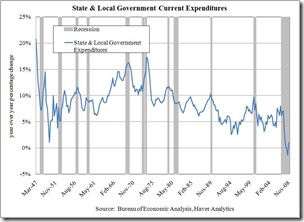 Maybe they also know this fact from municipal bond lore: By the end of the Great Depression, most of those cities and states that were late-payers had pulled themselves out of the hole. Permanent loss of interest and principal from recorded defaults during the 1929-1937 period totaled $100 million, just one-half of one percent of the average amount of municipal debt outstanding. But we raise one note of caution for these optimistic policymakers relying on history to guide them: This time, history may not be a reliable guide, but rather a GPS that keeps giving you wrong directions.
The graph below (click to enlarge), from the Rockefeller Institute, indicates that this time might be different. "Even if the economic recovery is as rapid as those from prior recessions, it would likely take state tax revenue several years to recover to its previous peak, but with the expected slow recovery from this recession it is likely to take longer."