This weekend's Barron's (Feb. 10, 2014) listed some interesting stocks with potential upside. I will summarize the cases made and compile price targets, opinions, insights, and quarterly highlights. Nielsen Holdings (NYSE:NLSN), with a new growth plan, could rise 40%. Capital Federal Financial (NASDAQ:CFFN) continues paying 100% of net income in dividends and building shareholder value; there's 15% upside there. Wendy's (NYSE:WEN) could continue to outperform. Last but not least, Samsung Electronics (OTC:SSNLF) shows advantages over competitors and has potential upside of 30%.
Nielsen Holdings
Barron's indicated that Nielsen's shares could rise from a recent $43.50 to $48 short term and $62 longer term, due to the company's strong growth and plans to return capital to shareholders. The company, which invented the concept of market share and whose flagship product is the Nielsen TV ratings system, has a case for a 40% increase in its shares.
Nielsen's two main operations that measure performance are the Buy business, which tracks spending at retailers, and the Watch business, which measures TV audiences. Nielsen's Watch business, coupled with advertisers, is why the NFL can charge $8 million for a minute of Super Bowl commercials. Watch is highly profitable, accounting for 42% of Nielsen's revenue and 62% of its earnings.
Nielsen recently reached an agreement with Google (NASDAQ:GOOG) to measure across of Google's properties, including YouTube. Nielsen also tracks what users are buying and marries that with data from credit card companies and other providers. This will allow Nielsen's customers to plan upfront buys for specific products and shift their advertising inventory based on consumer patters and purchasing habits.
Nielsen intends to spend 20% on debt repayment, 45% on dividends and 35% on buybacks. Last year, Nielsen paid a 72-cent dividend. By next year, Goldman expects a payout of $1.22 a share -- a 2.8% yield, based on the current quote. Baron Asset fund (BA-RAX), which owns Nielsen shares, speculates that Nielsen's earnings will jump to $3.89 a share in 2017. At a price/earnings ratio of 16, the shares could be worth $62.
I am not a buyer of Nielsen at these prices, even though it is setting up to go higher. I think investors will get a chance to buy at lower prices sometime this year (see chart below). The last quarter showed increased revenue of about 2.7% to $1,387 million. Income from operations grew 52.3% to $131 million. Nielsen also completed acquisition of Arbitron and highlighted that the integration will provide value for customers and shareholders (source: Nielson ER).
Click to enlarge images.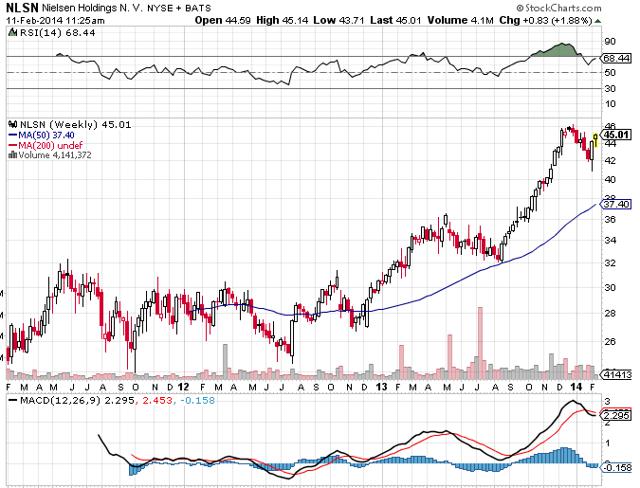 Current price targets at Institutions (18 analysts, source: Reuters):
| | |
| --- | --- |
| 12 Month PT | $ Value |
| Low price target | $30.00 |
| Mean price target | $46.50 |
| High price target | $55.00 |
Capitol Federal Financial
Capitol Federal Financial operates 47 branches in Topeka, Wichita, and Kansas City. Assets are estimated at $9.1 billion. It primarily underwrites residential mortgages, which account for 96% of its $6 billion loan book.
At the end of 2010, Capital Federal raised $1.2 billion when it converted from a mutual holding company structure to stock ownership. Since then, it has returned $684 million to shareholders through paying 100% of earnings as dividends. In 2014, management is still planning to pay 100% of net income as dividends. The company has also continued share buybacks. Its share count has shrunk by 15% in the last two years. $97 million remains on the bank's current buyback program, equal to 6% of shares outstanding.
Barron's predicts that Capitol Federal's strong capital return is likely to continue. In the fourth quarter, total loans were 6.7% higher than a year before, driven by new organizations and purchased loans. Capitol Federal, trading at $11.83, is expected to generate 4% to 5% in dividends in the next 12 months. Its shares look cheap at 1.1 times tangible BV and could rise close to 15% (source: Capitol Federal ER).
I believe Capitol Federal definitely looks interesting for the longer term investor looking for yield. Buyers of the stock should look at the technical chart for good entry points (see chart below).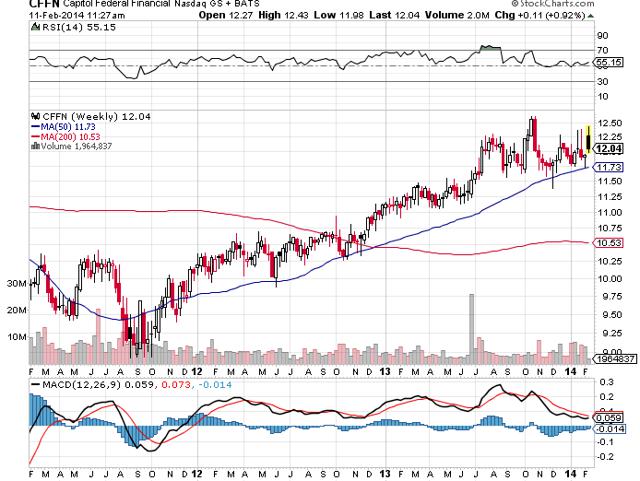 During the last quarter, net income at Capitol Federal has increased 10.7% from the prior quarter. The increase, however, was due to decrease in salaries and employee benefits. Net interest margin had increased from 1.96 to 1.98 basis points. It is important to note that Capitol Federal pays regular dividends as highlighted before, as well as what they describe as True Blue Too dividend. See the tables below for regular and special dividend payments (source: Fidelity).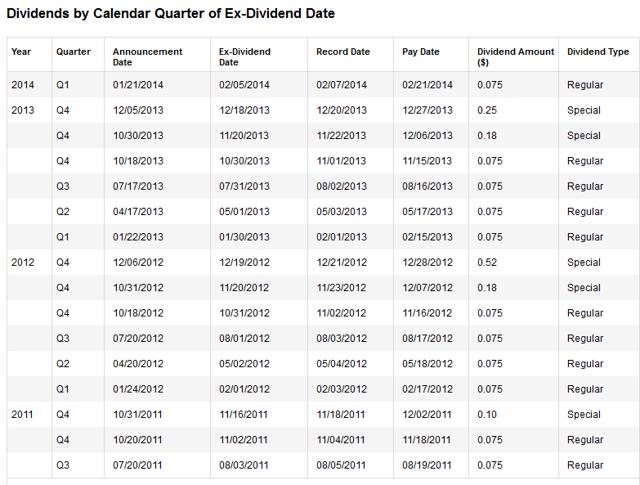 Current price targets at Institutions (five analysts, source: Reuters):
| | |
| --- | --- |
| 12 Month PT | $ Value |
| Low price target | $12 |
| Mean price target | $12.80 |
| High price target | $13 |
Wendy's
Barron's reiterates a case for Wendy's and expects more upside. Since its article last year (Feb. 11, 2013), Wendy's shares have run up by 80% to a recent $9.
Same-store sales rose 3.1% in the December quarter of 2013. Management has announced its intention to sell 415 of its owned restaurants to franchisees by the middle of 2014, which could exceed $200 million in sales proceeds. A more franchised model will drive up operating margins and free cash flow.
This year, EBITDA is expected to rise 9%, to $398 million. The stock fetches 11 times 2014 EBITDA, a discount to peers. At $10, it would trade more in line. Wendy's could also be a takeover target. Yum! Brands (NYSE:YUM) was indicated as a logical buyer since they don't own a burger chain.
I have been a shareholder of Wendy's since mid-2013 and still expect more upside. Recently, Wendy's has seen some strong selling as its prices hit new highs.

Wendy's third-quarter earnings showed a revenue increase from about $636 million to $641 million, while net losses decreased from $26.2 million to a loss of $1.9 million. Wendy's same store-sales in the U.S. saw an increase in sales of 3.2%, compared to 2.7% in the prior year. Franchise same-store sales increased to 3.1% from 2.9%. Wendy's has been focused since 2011 on modernizing its image, upgrading facilities and introducing new options to its menu. This has seemed to help increase sales and drive higher traffic into the stores.
Current price targets at Institutions (18 analysts, source: Reuters):
| | |
| --- | --- |
| 12 Month PT | $ Value |
| Low price target | $7.00 |
| Mean price target | $8.91 |
| High price target | $11.00 |
Samsung Electronics
Barron's noted that Samsung shares are ready to rebound from the recent price of $1,250 and might have a potential upside of 30% or more. Samsung sits on large amounts of cash and has manufacturing advantages over its competitors.
Last year, whole sales rose 14% to about $212 billion. Rival Apple (NASDAQ:AAPL) last fiscal year sales were up 9% to $170.9 billion. Samsung Electronics, described as the jewel behind Samsung Group, manufactures memory, applications processors, displays panels, etc. With costs rising and growth slowing down, industry laggards such as BlackBerry (NASDAQ:BBRY) and Nokia (NYSE:NOK) will fall further behind, leaving more market for Samsung, which can leverage massive sales to offset expensive product development.
Samsung has also been investing in a chip foundry business competing with Taiwan Semiconductor Manufacturing (NYSE:TSM) and gaining headwind. The business will provide a additional profits and a competitive edge over its rivals.
Samsung shares fell over 10% over the past year while the S&P 500 has risen 17% in the same time frame. New iPhones introduced into the market during the holidays played a role in the profit decline from the company's business. Analysts expect full-year EPS to fall slightly before returning to 5% and 7% growth over the next two years, respectively. Shares would be at 6.5 times this year's earnings forecast vs. the S&P 500's 14.8. Taking away Samsung's cash pile, the P/E ratio falls below five. An analyst from Bernstein Research also argues higher stock prices could also happen once Samsung secures a U.S. listing for its shares or ADR.
I believe Samsung deserves a second look but is currently a hold. Investors should also be on the lookout during the next ER for any developments.
Current price targets at Institutions (40 analysts, source: Financial Times)
| | |
| --- | --- |
| 12 Month PT | $ Value* |
| Low price target | $1,070 |
| Mean price target | $1,630 |
| High price target | $2,420 |
*Prices converted from KRW to USD.
Disclosure: I am long WEN. I wrote this article myself, and it expresses my own opinions. I am not receiving compensation for it (other than from Seeking Alpha). I have no business relationship with any company whose stock is mentioned in this article.