The release of Advanced Micro Devices' (NYSE:AMD) Kaveri line of APUs last month was understood by even the most hardened detractors of the company as a potential game-changing event in the history of personal computing. Kaveri's support for what AMD call HSA - heterogeneous systems architecture - fundamentally alters the way computers can be built. In short, at launch last month there were more ifs surrounding Kaveri than any chip in recent memory. One of those ifs was extending Kaveri's value proposition with a separate, low cost discrete graphics card, what AMD calls dual graphics, which has been plagued with a number of problems in previous iterations.
A number of design compromises limited Kaveri's initial impact in many regards, the biggest being that its substantial GPU was constrained by low memory bandwidth thereby decreasing overall performance with legacy software. So, there is a real need for Kaveri to operate well in a two GPU environment to play at 1080p a lot of upcoming games without much compromise in image quality and performance.
Graphical Schizophrenia
The problem for dual graphics in the past has been that AMD's drivers have had serious issues scheduling which GPU would render what part of each frame displayed resulting in image tearing, micro-stuttering and an overall poor user experience even though there was an improvement in frames rendered per second. Measurements of frame times by various benchmarking sites became nearly as important as simply reporting average frames per second. The official term for the fix to this mis-coordination between different GPUs is frame pacing.
Like a musician trying to play faster than he is capable, notes get lost or get played badly while trying to play at the edge of his ability, so too does that happen in the interface between hardware and software. Even in a single GPU setting frame time volatility goes up the closer a GPU is to working at its limit. So, to this point dual graphics has been more promise than product.
Bringing Both Halves Together
Not anymore. With the release of the Catalyst 14.1 beta display drivers AMD has apparently fixed this frame pacing issue between Kaveri and a discrete GPU to create not only radically improved performance but also a near elimination of variability in frame times. As this article at WCCFTech shows, sourced from a Chinese website mydrivers.com, performance with a budget Radeon R7 250 discrete card ($79-$89) rises when dual graphics is enabled. Both the 512 shader A10-7850k ($173) and the 384 shader A8-7600 ($119) were tested.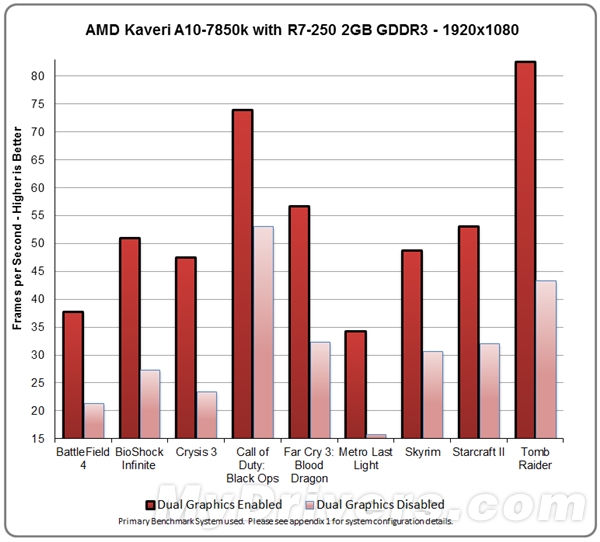 Moreover, AMD's frame pacing fix for Kaveri in the new drivers seems to be working nearly flawlessly as the chart below shows. This is exactly the kind of disruptive performance that I talked about in earlier articles as being the real value add for Kaveri and the first killer app for AMD's latest chips. Throw in Mantle and True Audio support and this packs a whole lot of value into a less than $250 for the 7850K and $200 for the 7600.
So, in short not only is dual graphics improving performance up to its potential it is also producing images that are nearly on par with single GPU solutions.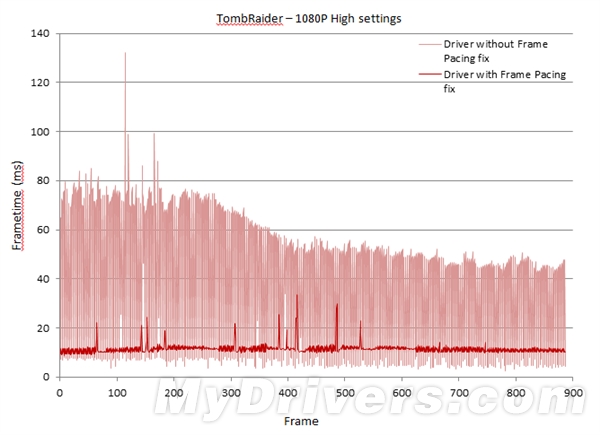 There are similar solutions on the market at this price point from both Intel (NASDAQ:INTC) and AMD CPU/discrete GPU arrangements. That is not the point. This important take away is that this is simply just the beginning. This configuration is now competitive with larger CPU/dGPU combinations costing more money. The value of this technology will only improve with time as drivers mature.
In addition, the results with the smaller A8-7600 (65W TDP) point strongly towards what kind of performance we can expect in a mobile solution at 35W and below. We didn't see huge drop offs in gaming performance at 45W with the 7600. But CPU performance dropped as one would expect. Since we know now know that Mantle's greatest strength is its alleviation of CPU-bound performance this should have a disproportionate improvement in performance in dual graphics solutions as well in Mantle-enabled games like Electronic Arts' (NASDAQ:EA) "Battlefield 4" and the upcoming reboot of "Thief" from Eidos Montreal.
There have been some tests run with down-clocking large CPUs like Intel's Core i7-4960 and AMD's FX-8350 with Mantle which shows that they are more than capable at speeds as low as 2GHz to provide enough power to keep far larger R9 290x cards fed. So, if Mantle can still help at the extreme end of the performance spectrum, it is not inconceivable for a quad core Kaveri to keep two smaller GPUs, together half the size of an R9 290x, filled.
I can see strong Kaveri sales in emerging markets and China where consumers are very price conscious.
Looking (WAY) Ahead
One of the things we analysts have to do is look at technology today and project what future versions of it will look like. The successor for Kaveri, Carrizo, will be built on the final iteration of the Bulldozer core and is due in early 2015. We already know there will be eight core server versions to replace the Piledriver-based Opterons currently shipping and that max TDP will be 65 watts. What we don't know is what process it will be built on and the choices are either the current 28nm SHP process from GlobalFoundries or its 20nm process. Regardless of which process, Carrizo is targeting lower power draw, continuing the focus begun with Kaveri.
Perfecting dual graphics in a low power draw environment is a prerequisite for fully leveraging HSA and the idea of the CPU simply being an air-traffic controller for various ASICs housed along with it on die. As this technology matures over the first half of 2014 it will begin to change the face of what level of performance we can expect per dollar paid, fundamentally changing consumer expectations of what an integrated GPU can deliver.
Intel and Nvidia (NASDAQ:NVDA) do not have a solution this elegant or powerful at these price points and that's ultimately what will determine the direction of future computing. It is no wonder that consumers are choosing tablets over PCs. But those trends can change with more compelling performance/dollar options in more traditional form factors.
At its current market cap and price multiple to sales this makes a compelling argument for AMD as a mid-term investment. Currently the stock has bounced solidly having sold off strong after its earnings report. AMD is a volatile stock with low institutional ownership and a high short percentage. The rally this week through the January 27th high of $3.57 on expanding volume is indicative of buyers seeing value in this price range.
The next major price target is the high from the post earnings open on January 22nd at $3.82 per share. A weekly close above that price will see a major round of short covering, which could take the stock back to over $4.00 as the gap in the chart overhead is like a magnet pulling the price higher. I expect resistance to form at $3.80 this week, however. Rival graphics firm Nvidia reports earnings on the 12th and that report will likely have spillover onto AMD bull or bear.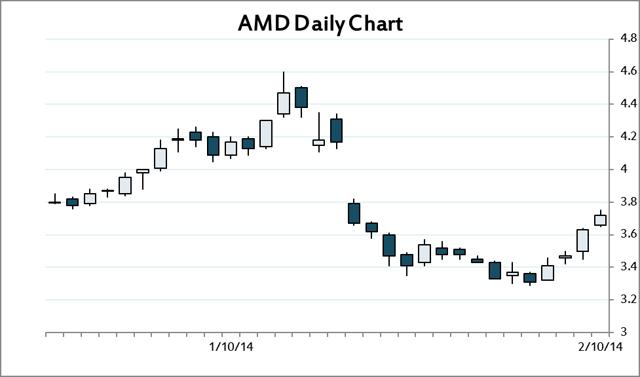 Disclosure: I am long AMD. I wrote this article myself, and it expresses my own opinions. I am not receiving compensation for it (other than from Seeking Alpha). I have no business relationship with any company whose stock is mentioned in this article.
Additional disclosure: I own a Kaveri based desktop.