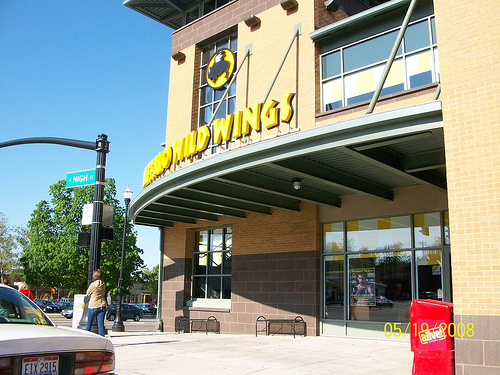 Buffalo Wild Wings (NASDAQ:BWLD) investors sold off shares Tuesday after the company announced earnings. Earnings per share came in at 58 cents which was 1 cent higher than analyst expectations. Revenue came in light at only $152.3 million dollars vs. the $154.3 million dollar sales figure expected. The revenue miss is due to a decline in comps. Same store sales were basically flat for the quarter as the restaurant chain saw decreased foot traffic.
Comps are continuing their downward slope declining 3.7% for the month of April. After the earnings announcement, Buffalo Wild Wings shares have dropped over $10 a share. Shares are down nearly 20%. Ouch! Shares were trading at a rich valuation of over 25 times the current year's earnings. Now at $41 per share, the stock looks fairly valued for investors. The PE ratio has dropped to under 20 and revenue growth is still expected to come in at 20% for the year. Price to earnings growth is almost at 1. The balance sheet is great with $52 million in cash and no debt. Even the reduction in foot traffic is most likely a temporary problem as the restaurant chain is a customer favorite.
The recent price drop appears to be an opportunity for investors that are looking for a chance to get long shares. Shares have not been at this level since January of this year. Investors have a chance to buy a high growth company at a decent earnings multiple. I would wait for see where shares settle at over the next week and would start buying if I had a chance to buy shares in the mid 30's.
Disclosure: I do not own any shares of Buffalo Wild Wings.