When I look at gold (NYSEARCA:GLD) right now I simply see the technical beginning to line up with the fundamentals as the Fed's narrative of a strong U.S. recovery unravels and they persist in their tapering of QE, officially, for that reason. This is especially true with early February price action. The question now is whether this is a short covering bounce or the beginning of a new bull market. I believe it is both and will talk about a couple of reasons why.
A lot has been made of the counter-intuitive moves in gold with respect to the Fed's QEIII/IV policy. Last year I discussed the role the debasement of the yen (NYSEARCA:FXY) played in providing artificial dollar strength which, in turn, created a foundation for a short-gold/long dollar trade. Without this foundation many of the shenanigans played in the futures markets like the COMEX to move the price of gold would have likely fallen flat. The cost of this move to break the price of gold was to ignite a firestorm of physical buying in the East, which has been well-documented.
That buying continues into 2014 and is one of the reasons for a long-term bullish view of gold prices along with massive debt and credit bubbles in both developed and emerging markets and a U.S. dollar which is closer to the end of its reign as the world's reserve currency than the beginning.
Strong Yen was the Impetus
But here early in 2014 now that the Fed has reversed QE, at least for the time being until the next crisis emerges, and the ECB refuses to stop the rise of the euro (NYSEARCA:FXE), it looks like we also have the beginnings of a reversal of the short yen trade that has been the fulcrum on which many markets have hinged over the past eighteen months.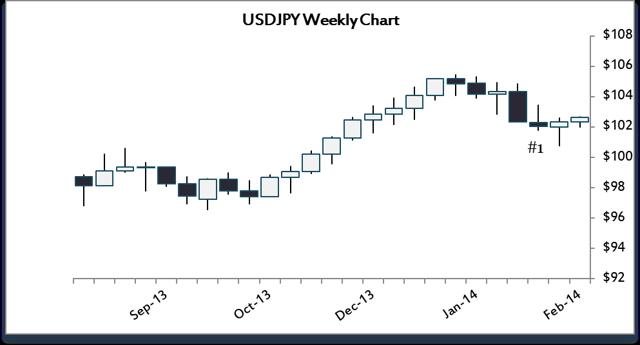 We would need to see a weekly close in February above ¥103.44 (#1) to negate the current seasonal up trend in the yen. If that doesn't occur in the next two weeks then probabilities rise for a continuation of the current trend. This would mean greater unwinding of yen carry trades and more money leaking towards gold adding marginal fuel to the current rally. At this point, any deterioration of the yen would be for fundamental reasons and not as a result of current policy. The Bank of Japan would have to accelerate QE to see the yen continue to fall in value because of policy. The market has absorbed this amount of flow. Therefore we may begin to see some decoupling of yen movements from that of gold.
In fact we're seeing that this week, gold bested significant resistance around $1270 per ounce and put in a move above $1290 even though the yen has rallied back. New Fed chair Janet Yellen's first Humphrey-Hawkins testimony wherein she reiterated that the tapering off of bond purchases would continue did not have much of an effect on the yen market. So, with this policy change comes the requisite change in the overall shape of the gold market.
The current situations in places like Ukraine, Turkey and Indonesia are creating real fear in emerging markets and gold is always bid strongly during a period of high fear. One thing begets another in markets. So, the Fed begins tapering for real in January; this prompts an unwinding of emerging market carry trades with the yen and is also dollar bearish. Once liquidity begins to drain from the most vulnerable markets, like in the countries listed above, some of that money will flow into gold as well as U.S. Treasuries on a safe-haven bid during the crisis.
But the situation unfolding in gold is not simply a short-term crisis event that would only show up on daily charts. Instead the real clues as to where the gold price is headed can be found on the monthly chart.
An Inside Job?
Here's the picture of the gold bull and bear market since QE began in 2009. For this discussion I have to get a bit technical to show why I think the sentiment of the gold market has shifted. All of the inside months are numbered. Inside bars are those where neither the previous high nor low were violated. This is normally around a 15% occurrence regardless of time frame or issue.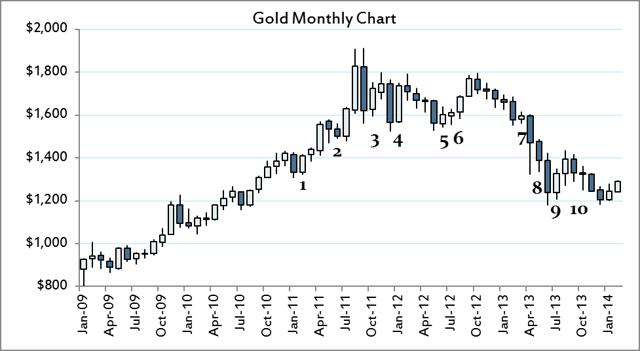 Notice anything? There is a concentration of inside bars during the bear market. Eight out of 24 months between October 2011 and September 2013 were inside months. And of those eight, six of them were bullish bars - obvious signs of intra-month price capping. This is highly abnormal behavior. Up until April 2013 gold was not in a bear market, it was consolidating in a broad trading range between $1525 and $1800 per ounce. But yet, the price was acting as if it was by its price movements being compressed unnaturally.
The reason these inside bars are so important is that without a closing price above the previous high is that momentum-based traders stay on the bearish side of the trade, even though the long term fundamentals for gold were still positive. That bearish sentiment was overdone in 2013 to the point of creating physical demand that dwarfed production and that is an economic condition that is unsustainable.
What this chart is telling us is that someone has been "banging the close" to create sentiment in the gold market for nearly three years now. I looked at the weekly data and it shows no statistically abnormal behavior. The distribution of inside and outside weekly bars is normal.
But both January and February are bullish outside bars - bars where either the previous high or low was violated - which, at a minimum puts a high probability floor under gold's price this month at the January low ($1203.60). It is this price action that supports the view that the short-term, policy-driven sentiment in gold has changed. The deeper we go into February with prices at these levels, the less likely a push back below resistance becomes.
Why 2014 is Different
The moment we moved into tax year 2014 things began to change. The mining stocks led the bear market by a few months with the HUI and the XAU lagging the gold price beginning in November 2010. Now the miners are leading the price rise with a strong January performance by both the Market Vectors Gold Mining ETF (NYSEARCA:GDX), up 21.4% year-to-date, and the Market Vectors Junior Gold Mining ETF (NYSEARCA:GDXJ), up 34.7% YTD. For all of its impressive technical performance gold is up by just 7.1% in comparison.
In a market as politically important and as emotional as gold is, its price is still determined by the marginal flow of money into and out of the futures and foreign exchange pits, until we reach real physical supply constraints.
We've seen previous counter-trend moves within this bear market correction for gold, but the current one is of a different technical character. Previous weekly and monthly highs are being violated creating short covering and a new supply of those willing to play bullish momentum versus bearish. Couple that with fundamentals shifting because of policy changes and strong performance by mining equities and this tells me that the bear market is nearly over.
Disclosure: I have no positions in any stocks mentioned, and no plans to initiate any positions within the next 72 hours. I wrote this article myself, and it expresses my own opinions. I am not receiving compensation for it (other than from Seeking Alpha). I have no business relationship with any company whose stock is mentioned in this article.
Additional disclosure: I own physical gold, silver, a few ducks and a small dairy goat farm