By Platinum Tiger
Biostar Pharmaceuticals (NASDAQ:BSPM) moved swiftly and admirably yesterday to confront investor worries that sent the company's stock tumbling by nearly 20 percent on Monday. The company issued a press release confirming the rumor that the provincial bureau of the Shaanxi State Food and Drug Administration (SFDA) had notified Biostar that it had been using improper language in its marketing materials for its flagship hepatitis drug, Xin Aoxing Oleanolic Acid Capsules.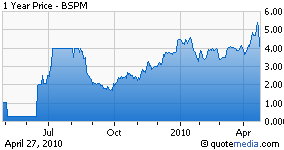 The press release went on to say that the company has already modified its marketing materials, and received the SFDA's approval to continue marketing the drug. The SFDA's notification "has not disrupted production or sales of Xin Aoxing and is not expected to have any impact on previously announced fiscal 2010 revenue and net income guidance."

As of this writing BSPM is trading at $4.50, still 18 percent below the peak price it reached on Friday before the SFDA notification was publicized. With BSPM having just uplisted to the NASDAQ, and with management guidance of 100 percent earnings growth for the coming year, I see this as a terrific gift of a buying opportunity. I have more than doubled my position in the stock in anticipation that it will soon reach new highs.

Position: Long BSPM.