Power producer FPL Group Inc. (FPL-OLD) reported better-than-expected first quarter 2010 results, helped by robust demand from its utility subsidiary on the back of favorable weather conditions. Adjusted net earnings came in at 94 cents per share, higher than the Zacks Consensus Estimate of 85 cents and the year-ago profit of 90 cents.

However, revenue of $3,622 million was down 2.2% from the first quarter 2009 level and marginally missed the Zacks Consensus Estimate of $3,657 million.

Florida Power & Light Company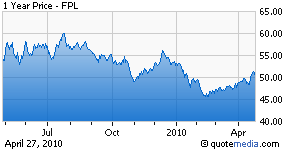 Revenue at Florida Power & Light Company (FPL Group's rate-regulated utility subsidiary) declined 9.5% year-over-year to $2,328 million. However, net income was up 50.4% to $191 million, primarily due to the favorable impact of colder-than-normal weather that led to a 6.6% rise in retail electricity sales and a 6.4% increase in usage per customer.

NextEra Energy Resources

NextEra Energy Resources' (the competitive energy subsidiary of FPL Group) revenue in the quarter was up 14.5% from last year to $1,247 million. Despite the sales growth, the unit's earnings (on an adjusted basis) decreased 14.0% from the first quarter of 2009 to $196 million. This was mainly on account of lower wind resource across its fleet of wind turbines, as well as poor market conditions and a planned maintenance outage that negatively impacted the company's natural gas assets.

NextEra Energy Resources continued to make progress on its wind development program during the quarter and added 1,360 megawatts of new projects. The company was also awarded a 148 megawatts wind project in Ontario, Canada, shortly after the end of the first quarter.

Guidance

FPL Group affirmed its 2010 adjusted earnings guidance of $4.25 – $4.65 per share.