By David Russell
Shares of DSW (NYSE:DSW) exploded higher yesterday on bullish guidance, and one big investor positioned for the shoe retailer to keep rallying.
optionMONSTER's Heat Seeker tracking system detected the sale of about 1,700 May 25 calls for an average premium of $6.11 against existing open interest. At the same time a matching number of May 30 calls were purchased for about $2.09.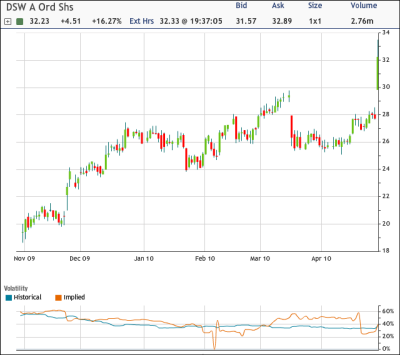 The call-roll transaction allowed the investor to recover $4.02 of premium while maintaining long exposure to the stock. It also raised the gamma from 0.62 to 8, increasing the leverage to gains in the share price as it moves higher.
DSW surged 16.27 percent to $32.23 yesterday after management raised its full-year earnings forecast for the second time in two months, citing strong comparable-store sales growth. The news followed bullish guidance in January, November, and October.
The shares have more than tripled since the stock market bottomed in March 2009 but spent the first four months of this year consolidating between $25 and $30 while making incrementally higher lows. They're now at their highest level since August 2007.
Overall options volume in DSW was 39 times greater than average yesterday. The rally bucked a selloff in the broader market after Standard & Poor's cut Greek debt to junk status and as senators grilled Wall Street executives.
(Chart courtesy of tradeMONSTER)