By Chris McKhann
Shares of Yamana Gold (NYSE:AUY) outpaced the broader market yesterday, and the calls were particularly active.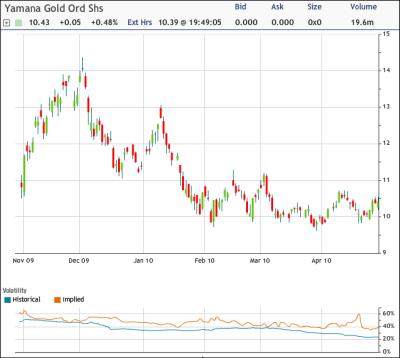 The mining company finished yesterday at $10.43, up 0.48 percent on the day. AUY has been bouncing between $9.70 and $11 since mid-January after trading up to $14.37 in early December when gold hit its all-time high.
The June 10 and 12 calls were in play yesterday, with more than 8,200 of each changing hands during the course of roughly 30 minutes. It appears that these trades were a bullish debit spread, with traders buying the June 10 calls and selling the June 12s.
The volume was far more than open interest at both strikes. The June 10 calls were bought from $0.89 down to $0.78 while the June 12 contractss were mostly sold for $0.12 and $0.13. This bull call spread is looking for AUY to be back above $12 by the June expiration, a level last seen three months ago.
(Chart courtesy of tradeMONSTER)