Executive summary:
Many of BWP's problems are company specific and not wide-spread among other midstream MLPs
BWP needed to use its internal cash flows to fund growth capex projects given its poor financial metrics
BWP does not have assets in areas seeing growing natural gas production
Instead, BWP assets are concentrated in areas where natural gas has long been in decline
_________________________________
Yesterday was quite a revealing day for investors in midstream MLPs. Boardwalk Pipeline Partners' (NYSE:BWP) stock was absolutely crushed, down well over 40%, when it announced that it had lowered its distribution 81% in response to the headwinds facing its core natural gas storage business. However, are Boardwalk Pipeline Partners' struggles unique to it, or are they a symptom of wider issues facing other midstream MLPs?
Before we can answer this question, let us first look at the specific problems facing Boardwalk Pipeline Partners. Below are some of the issues the company cited during its Q4 2013 conference call.
Debt
Boardwalk Pipeline Partners had a very high EBITDA to debt ratio of 4.6x at the end of December. However, EBITDA is likely to fall to about $650M in 2014. The company needs to use its cash flow to lower debt or risk its leverage ratio spiking higher. The long-term target is about 4.0x.
Natural gas transportation and storage revenues are falling
Boardwalk Pipeline Partners is seeing its natural gas transportation and storage revenues come under severe pressure, blaming "market headwinds". Favorable contracts are expected to reset at lower rates in 2014 due to the new sources of natural gas, Marcellus and Utica, lowering margins on natural gas transportation and storage. Boardwalk Pipeline Partners noted that it actually saw this situation deteriorate during the last few months of 2013. The company expects these market conditions to persist for the next 12 to 24 months.
Bluegrass Pipeline project will need growth capex
Boardwalk Pipeline Partners will likely need to use its internal cash flow to fund parts of the capex requirements of its planned Bluegrass pipeline. Loew's (NYSE:L), the GP of Boardwalk Pipeline Partners, is helping out the company, offering a $300M subordinate loan. However, given that the company is basically now locked out of the capital markets, due to both a low unit price and high debt ratios, it will need to fund the rest with its own cash flows.
While many of these problems are more or less Boardwalk Pipeline Partners only issues, many MLPs also have high debt levels. That being said, it appears as if Boardwalk Pipeline Partners may simply have the wrong assets in the wrong locations.
Let us take a look at Boardwalk Pipeline Partners' operations: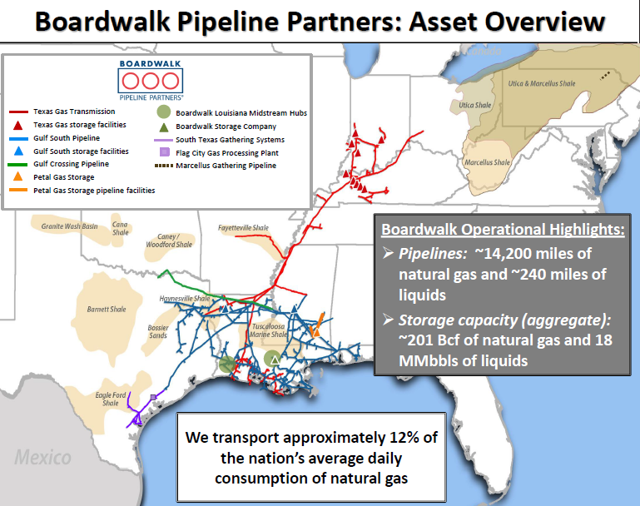 Notice a problem? Boardwalk Pipeline Partners clearly has infrastructure in the wrong place. Basically, the company has zero presence in the growing Utica and Marcellus shale plays. These are by far the areas of growth for US natural gas production.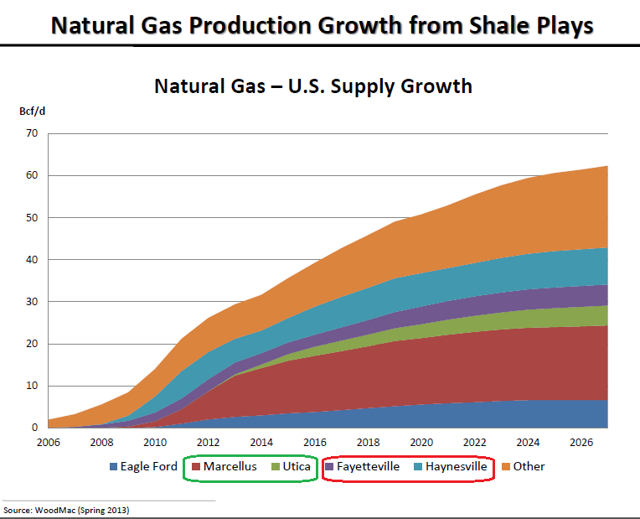 The company does have assets in the Fayetteville and Hayneville areas. However, these areas are home to ancient legacy dry natural gas production, with little growth potential due to high costs. Some estimates point towards $5.00 to $6.00 per MCF levels before new natural gas production is viable in these regions.
Over on Twitter, some are pointing the finger at El Paso Pipeline Partners (NYSE:EPB) as the next possible midstream MLP blowup. Much like Boardwalk Pipeline Partners, El Paso operates natural gas pipelines and storage facilities, though with a much greater focus on pipelines.
However, these fears seem to be way overblown. Yes, El Paso has faced some lower rates for its contracts and pipelines tariffs, resulting in lower distribution growth in 2014.
However, given that El Paso is part of the much larger Kinder Morgan (Kinder Morgan Energy Partners (NYSE:KMP) and Kinder Morgan Inc (NYSE:KMI)) family of companies, its will likely have much better avenues for both growth and financing. In addition, Kinder Morgan Inc is a very supportive GP, often waiving IDRs to support its MLPs growth projects.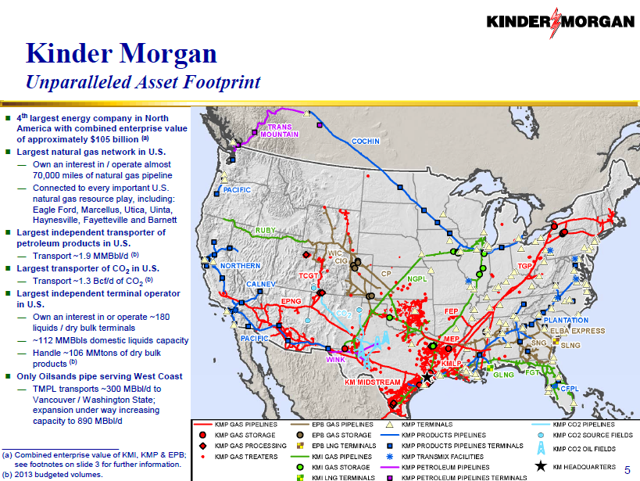 Conclusion
Overall, it appears as if many of Boardwalk Pipeline Partners problems are specific to it only and not at all widespread among the midstream MLPs. Yes, some midstream MLPs will suffer due to the changing natural gas dynamics in the US. However, others will benefit greatly.
I would argue that some blame should also go to Boardwalk Pipeline Partners' managers. The company gave no prior inclination or warning that its core business was under so much pressure. Yes DCF trends in 2013 were poor and the coverage ratio was under 1.00x. However, no one could have foreseen a 80% plus distribution cut being in the cards.
In every industry there are winners and losers. In this case, Boardwalk Pipeline Partners appears to have been on the wrong side of the secular shift in US natural gas production.
Disclaimer: The opinions in this article are for informational purposes only and should not be construed as a recommendation to buy or sell the stocks mentioned. Please do your own due diligence before making any investment decision.
Disclosure: I am long KMI. I wrote this article myself, and it expresses my own opinions. I am not receiving compensation for it (other than from Seeking Alpha). I have no business relationship with any company whose stock is mentioned in this article.