Executive summary:
General Motors trades at less than nine times forward earnings even though the US car market has materially improved.
Shares have consolidated in recent weeks because of profit-taking and a short-term earnings miss.
Compensation packages for management setting the right incentives to drive long-term shareholder value.
_________________________________
General Motors (NYSE:GM) delivered decent results for the fourth quarter of 2013 as well as the full-year. Even though the operational- and financial performance of the auto giant was strong, shares continue to trade weakly amid a short-term adjusted earnings per share disappointment. Large-cap car manufacturers have sold off lately even though this seems to be quite undeserved. General Motors just posted its fourth year of profits in a row and showed sizable improvements in operating cash flow in both its Automotive and Financial unit. I think the current weakness in the auto sector offers an interesting, contrarian entry point. General Motors is trading at very low earnings multiples suggesting that investors benefit from a huge margin of safety.
Twelve month trailing share performance
General Motors marked a new 52-week high at $41.85 in December as shares ended a three-month uphill run which started at the beginning of the fourth quarter. General Motors has given back nearly all gains achieved in the fourth quarter and now trades at $35 once again.
(Source: Yahoo Finance)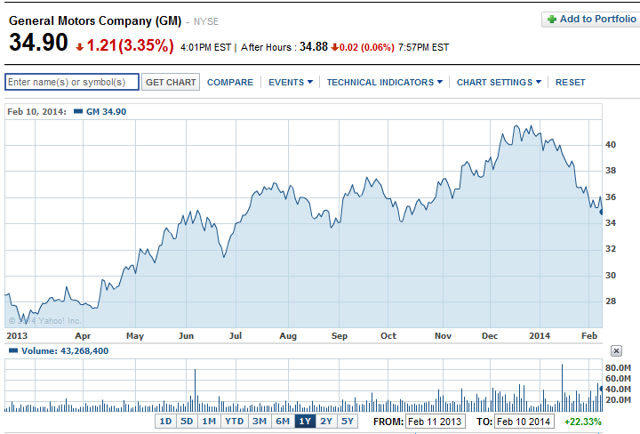 However, General Motors' weak share price development isn't an isolated event. Many investors used the beginning of the earnings season to reevaluate their portfolios and take profits. Ford Motor (NYSE:F), another one of my absolute favorite large-cap companies because of its extremely low earnings- and cash flow valuation as well as its first-class car portfolio, and Toyota Motor (NYSE:TM) also have consolidated since the beginning of the year. Given the recent retreat in equity valuations I now believe General Motors makes a very attractive value proposition for long-term investors who aren't in it for a quick trade.
(Source: Yahoo Finance)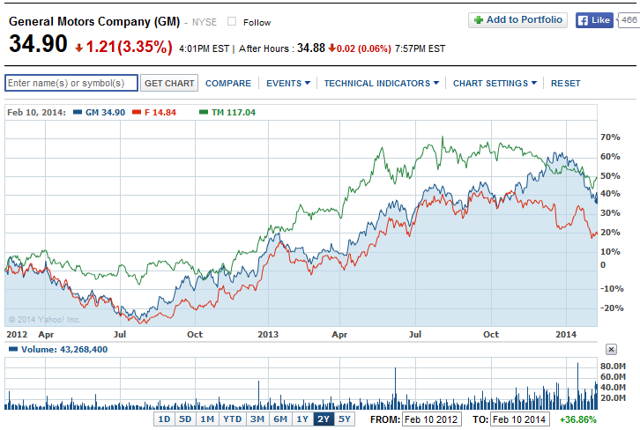 Incentive structures driving long-term shareholder value
Short-term events oftentimes cloud the long-term prospects of a company. Unfortunately, this is a repeating pattern in the stock market and investors are well advised to pay less attention to headlines and exaggerated news events. Apparently, the controversy surrounding the $14.4 million pay package for General Motors' CEO Mary Barra currently captures the attention of investors. I think Barra receives a balanced pay package consisting of appropriate short- and long-term remuneration components. A low salary, a higher short-term bonus and the bulk of compensation tied up in long-term stock compensation align management interests with those of shareholders. With the government out of General Motors, the company can now implement compensation practices that incentivize long-term shareholder value generation.
Performance results
General Motors reported fourth quarter revenues of $40.5 billion slightly above the $39.3 billion achieved in the fourth quarter of 2012 (up 3%). Full-year revenues increased to $155.4 billion vs. $152.3 billion in fiscal year 2012. Fourth quarter diluted EPS came in at $0.57 compared against $0.54 in the fourth quarter of 2012 (an increase of 6%). 2013 full-year diluted EPS stood at $2.38 reflecting a decline of 18% from the $2.92 reported last year.
General Motors' adjusted EBIT skyrocketed from $1.2 billion in Q4 2012 to $1.9 billion in Q4 2013 (a jump of 58%). For the full-year 2013 General Motors delivered an adjusted EBIT of $8.6 billion vs. $7.9 billion in 2012 (up 9%). Cash flow from operations in General Motors' Automotive segment rebounded nicely as well: $0.5 billion in Q4 2012 compare to $2.8 billion in Q4 2013. In 2012 GM reported net operating cash flows of $9.6 billion which rose to $11.0 billion in 2013 (up 15%).
While General Motors delivered a short-term earnings miss -- GM reported an adjusted EPS of $0.67 vs. analyst estimates of $0.88 -- the trend in GM's operating cash flow is very encouraging: Consolidated operating cash flows stood at $8.2 billion in 2011, at $10.6 billion in 2012 and at $12.6 billion in 2013. GM's operating cash flow has grown 24% each year or 54% in total highlighting the strong rebound of the struggling American car industry.
I think the discussion about US car manufacturers often neglects how important and robust the domestic car market is. While Europe remains a challenge -- we got the same idea when Ford Motor presented 2013 results -- General Motors North America delivered a whopping 87% of GM's total adjusted EBIT in 2013.
(Source: General Motors CY 2013 results presentation)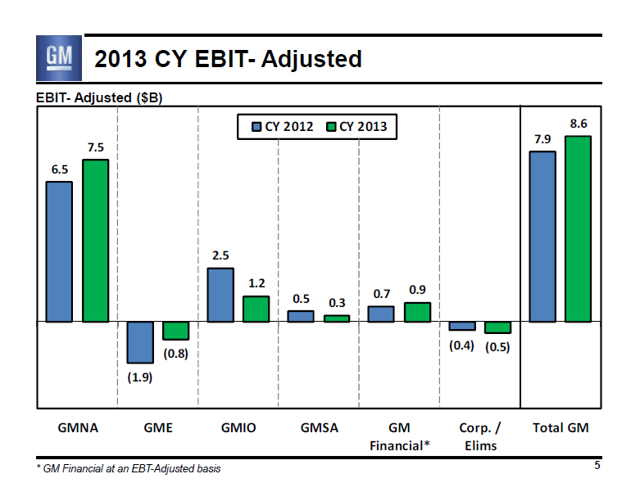 Valuation
According to Nasdaq General Motors trades at a forward P/E ratio of merely 8.5 and a P/S ratio of 0.31. Both valuation multiples indicate that investors seem to have a reserved attitude with respect to General Motors. In fact, current valuation multiples remind me of American International Group (NYSE:AIG). Both AIG and GM were saved by the American taxpayer and subsequently had to put up with extensive pay restrictions. While the government exit for both companies has not been the powerful catalyst that I expected, the long-term prospects of General Motors and American International Group are great. Both companies are market-leaders in their respective industry, progressed through brutal restructuring programs and can now implement compensation policies that incentivize long-term shareholder value generation. I think General Motors has not yet achieved a valuation that reflects the impressive comeback the company has staged since 2010.
Conclusion
American car manufacturers like General Motors and Ford Motor really have outperformed expectations over the last years. Few investors would have believed just three years ago that these companies will literally be selling millions of cars a year. Especially astounding is that General Motors now achieved record results in the aggressive US auto market: GM's North American business presented a record adjusted EBIT of $7.5 billion in 2013 compared to $6.5 billion in 2012 (an increase of 15%). General Motors' resurgence in America serves as another reminder that dead companies often live longer. Although General Motors has underperformed consensus earnings expectations in the short-term, the company is clearly back in the game. With a low forward earnings multiple of less than nine investors still get a bargain with a significant margin of safety. Long-term BUY.
Disclosure: I am long GM, F, AIG. I wrote this article myself, and it expresses my own opinions. I am not receiving compensation for it (other than from Seeking Alpha). I have no business relationship with any company whose stock is mentioned in this article.