Executive summary:
Shares in Ford have dropped after disappointing January sales.
Shares now yield 3.37%.
Share repurchase would boost EPS, lower cost of dividends.
High yield provides downside protection.
_________________________________
Ford (NYSE:F) has been one of my favorite companies for some time now and after having dropped over 10% in the past 3 months, shares in Ford are now trading at only $14.84. At these levels, investors are rewarded with a dividend yield of 3.37%. Ford's stock price has been quite volatile in the past year, with a 52-week range of $12.10-$18.02.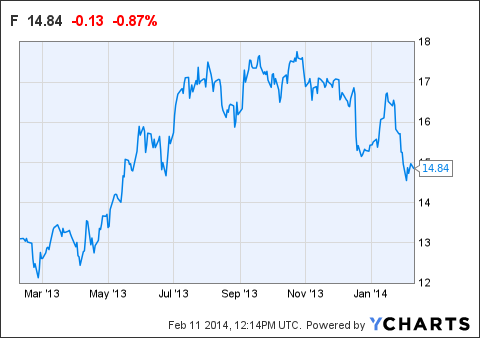 Ford's stock price was negatively affected by disappointing sales in January. However, this was mostly due to some very bad weather in the largest sales regions. People just don't go out to buy a new car when it's freezing cold outside. This could, however, have a positive effect on sales in February, as these sales haven't gone to competitors, they've just been delayed.
Ford's results in fiscal year 2013 were nothing short of amazing, mostly thanks to the North America segment, which saw its revenue go from $79.9 billion in 2012 to $88.9 billion in 2013. The operating margin for Ford North America was down slightly, from 10.4% to 9.9%. However, higher wholesales more than made up for this. The company expects a lower level of profit in 2014 for the North America segment, as the launch of new models will lead to production downtime and thus, lower operating margins.
Meanwhile, the second largest segment, Europe, saw revenues increase from $26.6 billion to $27.9 billion, while the operating margin went from -6.6% to -5.8%. Ford expects its European segment to be profitable by 2015.
Analysts expect Ford's earnings per share to be around $1.36 in 2014, as losses in Europe continue. However, the average analyst forecast for 2015's earnings per share stand at $1.93. This means investors getting in now will only be paying 7.7 times expected earnings per share in 2015.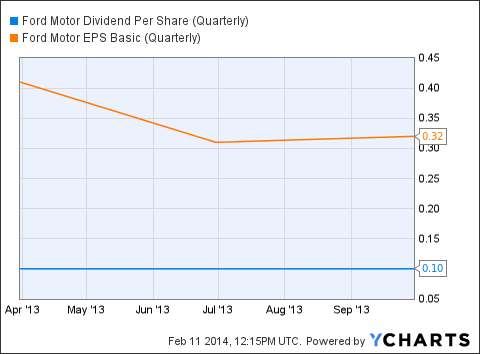 F Dividend Per Share (Quarterly) data by YCharts
Ford's dividend of $0.125 appears low when compared to the amount of money the company is making, but the low current price per share means the dividend yield stands at a very respectable 3.37%. A dividend increase to $0.15 would push the yield up to over 4%.
Considering the low prices Ford is currently trading at, I wouldn't be surprised if the company would repurchase some of its own shares. This would push up EPS, while reducing the cost for dividends. Financing such an operation shouldn't be a problem, as Ford has around $25 billion in cash and marketable securities. Buying back stock would show investors Ford is committed to returning cash to them, which should increase investor confidence.
I consider Ford's dividend to be very safe. A low payout ratio, combined with a huge amount of cash is a great protection for the dividend. An extra bonus is the fact a high dividend yield offers some protection to the stock price. At the current price of $14.84, the stock just can't go much lower before the dividend yield gets so extremely high investors won't be able to resist it, thus providing the stock with a safety margin.
Disclaimer: I am not a registered investment advisor and do not provide specific investment advice. The information contained herein is for informational purposes only. Nothing in this article should be taken as a solicitation to purchase or sell securities. Before buying or selling any stock you should do your own research and reach your own conclusion. It is up to investors to make the correct decision after necessary research. Investing includes risks, including loss of principal.
Disclosure: I am long F. I wrote this article myself, and it expresses my own opinions. I am not receiving compensation for it (other than from Seeking Alpha). I have no business relationship with any company whose stock is mentioned in this article.