Energy giant Chevron (NYSE:CVX) posted lackluster fourth-quarter results January 31. Though we were largely expecting the results (given the pre-announcement earlier in January), we were quite disappointed with the performance of the company's balance sheet, as the firm has now swung from a net cash position to a net debt position.
Part of the reason we hold Chevron in the portfolio of the Dividend Growth Newsletter originates from its pristine balance sheet, which we view as a necessity for us to hold onto a commodity-producing entity through the course of the economic cycle (especially for dividend growth). However, we can't really say Chevron's balance sheet is pristine anymore, as its $16.2 billion in cash at the end of 2013 now falls materially short of the $20.4 billion debt load. This is a marked difference from just last year when cash and cash equivalents stood more than $8 billion more than total debt ($20.9 billion versus $12.2 billion).
Chevron's cash flow is largely to blame. The firm's cash flow from operations in 2013 came in at $35 billion (down from $38.8 billion in 2012), but capital and exploratory expenditures overwhelmed cash inflows, jumping to $41.9 billion (compared to $34.2 billion) and resulting in negative free cash flow. Chevron's budget for total capital and exploratory expenditures is $39.8 billion for 2014 ($35 billion, excluding the company's share of affiliates' expenditures), likely to exceed cash from operations. With capital spending on the rise, pressuring free cash flow, we wouldn't be surprised to see further balance sheet erosion at the energy giant in the quarters ahead.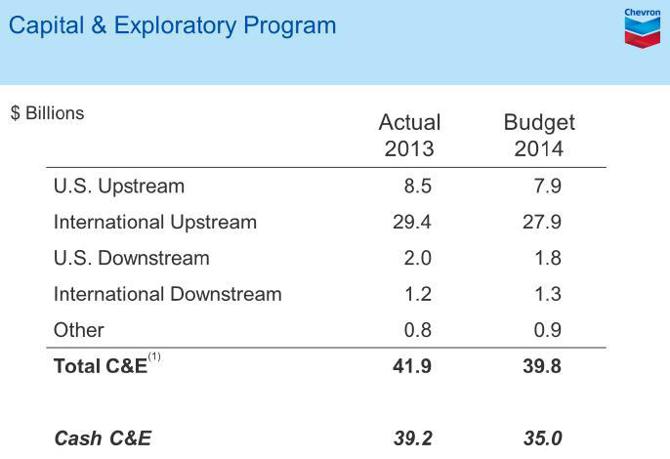 Image Source: Chevron
Still, we need to keep things in perspective. The company registers investment-grade ratings of AA from Standard & Poor's and Aa1 from Moody's, so in fact, its balance sheet health is still quite good. However, we find that the firm's deteriorating cash position on the balance sheet makes it a less-attractive dividend growth investment over the long haul than it once was. Even though Chevron retains capacity for future dividend increases, the "cushion" is shrinking when we'd prefer to see it growing.
Valuentum's Take
Chevron continues to be a rock-solid energy giant, but our thesis for holding it in the Dividend Growth portfolio (its pristine balance sheet) is starting to be challenged. Even though the company continues to put up solid returns (2013 ROCE = 13.5%) and its trailing three-year average reserve replacement ratio has been 123% of net oil-equivalent production, both crude oil prices and refining margins will continue to be volatile. For any commodity-producer to make the cut for the Dividend Growth portfolio, excess cash on the balance sheet is a necessity to handle funding through the ups and downs. We're not rushing to exit the position in the shares, but we would look to Chevron as a source of cash in the portfolio if another opportunity presents itself.
Disclosure: I have no positions in any stocks mentioned, and no plans to initiate any positions within the next 72 hours. I wrote this article myself, and it expresses my own opinions. I am not receiving compensation for it (other than from Seeking Alpha). I have no business relationship with any company whose stock is mentioned in this article.
Additional disclosure: CVX is included in the portfolio of our Dividend Growth Newsletter.