Before the cloud there was 'just' the web. And in the web, there were large web sites and web apps (think someone like Citrix (NASDAQ:CTXS) who needs to deliver enterprise apps on scale). Both these kinds of web services faced highly variable traffic, and needed to scale up or down to the traffic. This is where companies like F5 Networks (NASDAQ:FFIV) historically added value as their Application Delivery Controllers (or ADCs) smoothed out the application traffic across multiple servers resident behind the services offered by Fortune 1000 companies.
ADCs in particular and network optimization in general, have lately become a very competitive space over time. The usual networking suspects such as Cisco (NASDAQ:CSCO), Juniper (NYSE:JNPR) and Radware (NASDAQ:RDWR) are fighting it out for the attention of a healthy but short of meteoric (single-digit margin) growth market. As hardware appliance providers in this space, network optimization vendors have faced two concerns over the last year:
the softening of the network (and associated services) from the emergence of Software Defined Network (or SDNs) changes the game of network optimization from hardware appliances to software services. The market views this transition as having an unknown (possibly negative) impact on margins
web to cloud - The move from private banks of servers to data center and cloud, imply both new requirements (e.g. protection against new kinds of attacks) and new architectures (e.g. data center scale)
So why am I positive on F5? It has to do with the transition in F5's product suite (and therefore valuation), its strengths in execution and stock technicals.
Market Disconnect. Over the last few years, FFIV was a networking vendor and priced accordingly (the median Price-to-Sales in Networking is X). As a result of both company initiatives and industry trends, FFIV has turned into a security vendor. On the one hand, growth in the number of security attacks at the application level (as opposed to the packet level), has nudged application level vendors such as FFIV have had to incorporate security features to accommodate customer needs. On the other hand, FFIV has anticipated both SDN and security trends and responded proactively. As they have ramped into App Security, Next-Gen Firewalls, DDOS, and Mobile Firewalls FFIV has gone from networking vendor to security vendor. As Brian Modoff of Deutsche Bank calculates below, this transition moves FFIV from being slightly overvalued (in networking) to slightly undervalued on an Enterprise Value to Sales basis. Fair value on this basis puts FFIV in the mid-$120s.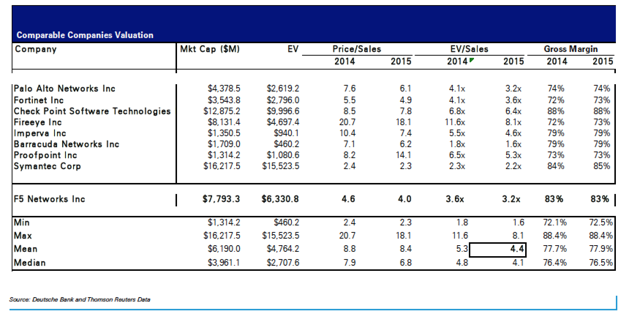 Strength in Execution. Can FFIV deliver on this rather large set of transitions? A common impediment for stock performance is either the lack of excitement for a company's product (e.g. Dell) or the inability of a company to back up its exciting marketing (a problem Intel (NASDAQ:INTC) has grappled with in the recent past). The study below from 451 Research indicates that FFIV does well on both counts. As a shareholder, this means that I have a margin of safety in FFIV's projections - something I look for in any stock where I am not paid a dividend to wait.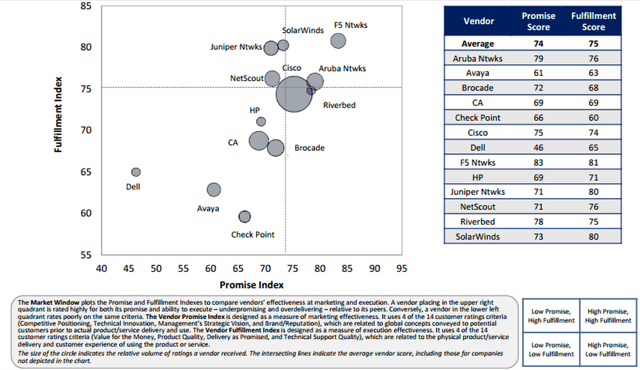 Timing, Valuation, Seasonality. As indicated by the LookSee FFIV analysis, now is not a bad time to look at FFIV. Seasonality indicates that winter and spring are kind to FFIV. The chart technicals (below) indicate that FFIV is breaking out of a trading range, with an upside in the $130-140 range. Analyst price targets range from $110 to $130, somewhat in line with the numbers mentioned in the previous point.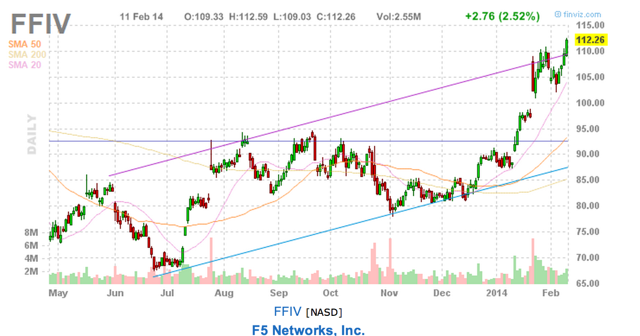 All in all, FFIV is a good company in a good situation. While it isn't the screaming buy it was in the mid-80s, I see it having room to run (especially if you wait for a dip to the $105 range). As always, treat this as a data point and do your own homework.
Disclosure: I am long FFIV. I wrote this article myself, and it expresses my own opinions. I am not receiving compensation for it (other than from Seeking Alpha). I have no business relationship with any company whose stock is mentioned in this article.