Yesterday I wrote an article that countered Sam Zell's comments in an interview with Betty Liu of Bloomberg. Zell said:
…there are also a lot of $800 million, $700 million REITs that have no scale, have no liquidity, and I think only obfuscate the clarity of the picture. And I would expect over the next 20 years we will have more and more consolidation as the REIT industry continues to grow.
Zell went on to say that unless a REIT is a big enterprise with institutional coverage, it's not significant. The billionaire added:
Today anything under a couple billion dollars is not relevant and doesn't have liquidity. And in the recent, the reason REITs exist is to provide capital to the real estate market. And you can't provide capital if you don't have liquidity.
I completely understand Zell's argument and while I don't agree that there should be 30 REITs in the universe, I do understand the concept that market share is all about shelf space and you only get a slice of every dollar in the Index. However, if REIT-dom consisted of the largest 30 REITs, there would be virtually no competition and investors would not be able to take advantage of diversification among the various property types and geographies.
One of the things that I do agree with what Zell said is that "REIT's exist is to provide capital to the real estate market." Accordingly, there are a number of small-cap and mid-cap REITs that have provided investors with attractive opportunities and outsized performance. Zell suggests that "over the next 20 years we will have more and more consolidation as the REIT industry continues to grow." Let's hope he is right about that and if you really believe in Zell, it may be time to "double down" on the mid-cap REITs.
It May Be Time for a REIT Rebound
Mr. Market is always looking for value and as evidenced by the REIT results in January, it seems that the mysterious market mover has unfairly penalized REITs. While REITs were either ignored or dumped from portfolios late last year, Mr. Market helped to fuel the S&P 500's rocket ascent last year. However, in January, investors took a closer look at non-REITs and opted to ease up on the pedal steering the ship closer to ground. However, there's more to the story as Brad Case, VP of Research at NAREIT, explains:
The bigger story is that investors are starting to be more reactive to macro-economic improvement and not solely on the direction of interest rates as they were last year starting in May. It's not that the market ignores interest rate rises but improvements in the economy are more important. For some reason last summer investors ignored the macro-economic improvements and focused only on interest rates.
Of course that means that REIT valuations have improved dramatically over a year ago - REITs experienced price contraction (P/FFO) multiples at a time when the broader equity market saw massive P/E multiple expansion. By pricing REITs at more sound levels, Mr. Market has assumed that rising Treasury yields will have a negative impact on property values. However, the public market has underestimated the potential for cash flow growth to offset rising yields.
It seems now that there is significantly more clarity around QE tapering and I believe that higher Treasury yields are now priced into current valuations. If Mr. Zell is right (about consolidation), it's possible that 2014 will see more M&A activity as assets can be bought at a premium to their current share value. We're already starting to see that with the recent merger of American Realty Capital Properties (ARCP) and Cole Real Estate Investments (NYSE:COLE); as well as the announced acquisition by Essex Property Trust (NYSE:ESS) to buy BRE Properties (NYSE:BRE).
So maybe, just maybe, Zell is right and 2014 could be the year of the Mid-Cap REITs.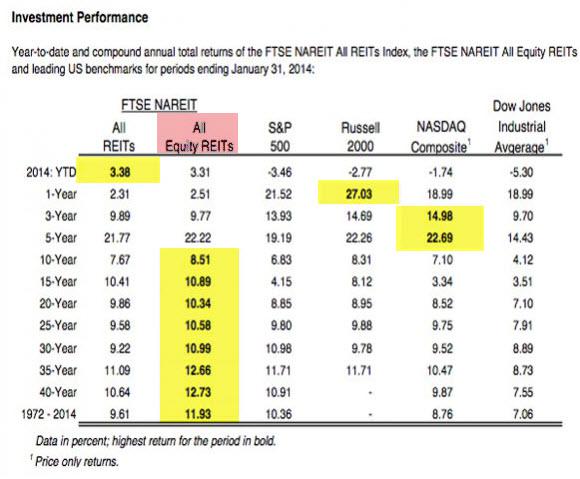 It May Be Time to Double-Down on Mid-Cap REITs
It should be no surprise that when the REIT market begins to rally it will be led by the institutional buyers that have a much higher degree of analyst coverage and much lower risk tolerances. Alternatively, Small and Mid-cap REITs have always been seen as more risky bets than large caps.
They often do not have the diverse revenue streams or stable cash flows that allow them to weather difficult economic environments (like their larger-cap counterparts). They are also more susceptible to wide swings in price due to lower trading volumes. This greater volatility deters action and often invites selling.
The lack of Wall Street coverage and investor interest can also result in shares remaining undervalued - especially in down markets - for extended periods of time. By "flying under the radar," these so called "less relevant" REITs offer better potential for growth over the long term. Due to the decreased institutional support, there's a better chance that the REITs will result in an underestimation of operational health and growth prospects. As Mr. Zell points out, there will be "more and more consolidation as the REIT industry continues to grow."
Maybe the billionaire investor has offered us "average folks" a clue as to where we should invest our hard earned cash in 2014. After all, I would like to increase my wealth and Sam Zell has certainly demonstrated a track record for making money. If Zell is right, and a wave of consolidation is coming, we need to examine some potential opportunities that we can capitalize on.
Let's start with the hottest sector: the Triple Net REITs. There are a number of "up and coming" REITs that could get "gobbled up" this year including Spirit Realty Capital (NYSE:SRC), Lexington Realty Trust (NYSE:LXP), Chambers Street Properties (NYSE:CSG), and STAG Industrial (NYSE:STAG). Within the last year I have written on all of these companies and you can learn more by clicking on the names. The obvious consolidators are American Realty Capital Properties , Realty Income (NYSE:O), National Retail Properties (NYSE:NNN), and W.P. Carey (NYSE:WPC).
The next hottest sector is Health Care. There are three dominating diversified Health Care REITs that are creating a wave of a consolidation: Ventas Inc. (NYSE:VTR), HCP, Inc. (NYSE:HCP), and Health Care REIT (NYSE:HCN). Here are a few potential takeover targets: Healthcare Trust of America (NYSE:HTA), Medical Properties Trust (NYSE:MPW), Omega Healthcare Investors (NYSE:OHI), and BioMed Realty (NYSE:BMR). You can read about any of these REITs by clicking the names above.
Two other Mid-Cap REITs to consider: Retail Opportunity Investment Corp. (NASDAQ:ROIC) and Highwoods Properties (NYSE:HIW). ROIC is a shopping center REIT that invests in three west coast markets (CA, OR, and WA) and HIW is an Office REIT that owns and operates properties throughout the southeastern US.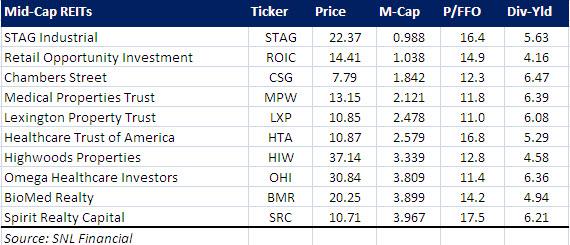 In closing, Zell's right - most of the Large-Cap REITs are getting the attention as the premium brands are attracted to the "big money" indexed buyers. This strong overall performance, relative to the broad market, has resulted in equity REIT shares that are continuing to trade at more pricey valuation premiums, with the catalysts being durable income, improving portfolio operating fundamentals, healthy capital structures, and the potential benefits as a hedge against, eventual higher interest rates and inflation.
Equity REITs continue to be more widely utilized by an increasingly broader investor base as part of an overall "growth and income" strategy, as opposed to income only. Accordingly, many equity REITs are trading at higher valuations and prudent investors should consider the Small and Mid-Cap REITs that are often overlooked by the Wall Street analysts.
Ben Graham always tried to buy stocks that were trading at a discount to their Net Current Asset Value, oftentimes the ones being ignored by Wall Street and the investing public for no good reason in spite of stellar results year after year. In other words Graham would buy stocks that were undervalued and hold them until they became fully valued. As he wrote in The Intelligent Investor (in 1949):
The determining trait of the enterprising investor is his willingness to devote time and care to the selection of securities that are both sound and more attractive than the average. Over many decades, an enterprising investor of this sort could expect a worthwhile reward for his extra skill and effort in the form of a better average return than that realized by the passive investor.
So in closing, maybe Sam Zell is right. Maybe we're now seeing the first wave of a REIT consolidation. I don't agree with him that there will be 30 REIT conglomerates in the future, but we should never underestimate a man who has turned a nickel into $4 billion. Just maybe 2014 is the year of the Mid-Cap REITs!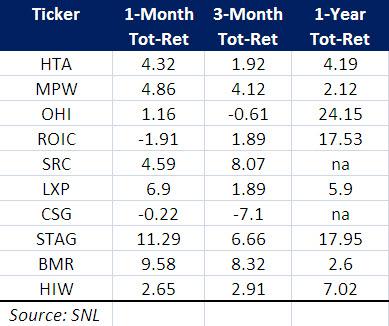 My REIT Newsletter: Check out my REIT newsletter HERE.
Disclaimer: This article is intended to provide information to interested parties. As I have no knowledge of individual investor circumstances, goals, and/or portfolio concentration or diversification, readers are expected to complete their own due diligence before purchasing any stocks mentioned or recommended.
Disclosure: I am long O, DLR, VTR, HTA, STAG, UMH, CSG, GPT, ARCP, ROIC, MPW, HCN, OHI, LXP, KIM. I wrote this article myself, and it expresses my own opinions. I am not receiving compensation for it (other than from Seeking Alpha). I have no business relationship with any company whose stock is mentioned in this article.