(Editors' Note: This article covers a stock trading at less than $1 per share and/or with less than a $100 million market cap. Please be aware of the risks associated with these stocks.)
The stock discussed in this article is a microcap. Investing in this type of security involves significant risk. Microcap stocks are prone to higher levels of volatility and tend to have fewer shares traded per day. Due to the lack of liquidity, there is the potential for a small amount of volume to significantly impact the stock price. Timely trade execution is also a risk when investing in microcap stocks. Microcaps tend to be in weak financial positions, which can pose a going-concern risk. Losses from investing in microcap stocks can be substantially greater than in larger-sized stocks due to the risks outlined above.
The biotechnology industry is the most volatile industry in the equity capital markets, and is the most exciting, in my opinion. At one end of the spectrum, there is Celsion Corporation (CLSN), which lost 80 percent of its value following the news that the primary endpoint in its Phase III study was not met. At the other end, there's the rare BioRunUp that starts around $0.40 and climbs to over $6.00 in under six months, as was the case with Peregrine Pharmaceuticals (NASDAQ:PPHM). There is nothing like the emotional swings of the biotech industry, and if timed appropriately, some of the biggest gains can be realized. However, as noted above, there is the potential for catastrophic losses to occur and can be career-ending if proper risk management is not used. Appropriate position-sizing is important when investing in biotech stocks. Investors should only risk what they can afford to lose or use options to hedge.
Mast Therapeutics, Inc. (NYSEMKT:MSTX) is a biopharmaceutical company with its lead drug in a pivotal Phase III study for sickle cell disease. Much has been written about the company's lead drug, MST-188, and a recent Seeking Alpha article on the drug can be found here. Although I am bullish on the company based on MST-188 and its potential application in sickle cell disease, acute limb ischemia, stroke and heart disease, I believe the recent acquisition of Aires Pharmaceuticals could be a game changer.
Aires is a clinical-stage pharmaceutical company focused on developing therapies to treat pulmonary vascular disorders such as pulmonary arterial hypertension (NYSE:PAH) and pulmonary hypertension due to heart failure. Its lead drug is Aironite (AIR001), which is an aerosolized, sustained-release formulation of nitrite. The compound is delivered to the areas of the heart and lung experiencing reduced oxygen and blood flow through a hand-held nebulizer. The drug is delivered through the nitric oxide pathway, one of the three most established pathways to target PAH. AIR001 is a novel drug and works by disrupting the biological cycle related to the thickening of the arterial walls in the lungs. This leads to reduced pressure on the lungs and destruction of the cells causing blockage of the arteries. The destruction of these cells prevents the disease from progressing further. AIR001 has been granted orphan designation by the U.S. Food and Drug Administration and the European Medicines Agency for the treatment of PAH. The drug also has other potential applications in cystic fibrosis, pneumonia and other respiratory infections, transplantation, heart failure and other cardiovascular indications. A drug that's already on the market and is also delivered through the nitric oxide pathway is Revatio. Revatio was developed by Pfizer, Inc. (NYSE:PFE) and contains the same medicine as in Viagra. According to IMS Health, U.S. sales of Revatio pills were $338.7 million for the 12 months ended September 30, 2012. Although this statistic is a little outdated, I feel it serves as a good frame of reference for the potential sales level of AIR001.
Under the terms of the stock-for-stock acquisition, Aires will receive consideration consisting of six percent of Mast's outstanding stock. In exchange, Mast will receive 100 percent of Aires' common stock. From what I've read so far about the acquisition, the transaction will not be taxable. Mast is not obligated to pay Aires any milestone payments. At the time of writing this article, Mast has 102.71 million shares outstanding and a closing stock price of $0.85. This equates to a purchase price of about $5.2 million. Aires is a privately-held company, so I was unable to analyze its balance sheet. The press release announcing the acquisition indicates that net cash of about $3 million is expected to be contributed by Aires once the deal is closed in Q1 2014. Aires had been conducting a proof-of-concept Phase II study with AIR001 in PAH, but ran out of funding and had to stop the study. 20 patients in the study had received AIR001 for up to 365 days, and Mast intends to review and release the safety and efficacy data from these subjects in Q2 2014. Aires had also been conducting a Phase IIa investigator-sponsored study, which is still ongoing at the University of Pittsburgh. Mast intends to add pulmonary hypertension due to heart failure to this study in a small subset of patients, and indicated that the study readout could come as early as next summer.
Prior to selling to Mast, Aires had an agreement with Novartis International Pharmaceutical Limited, a subsidiary of Novartis AG (NYSE:NVS). The agreement gave Novartis an exclusive option to acquire Aires following the successful completion of a Phase II clinical study of AIR001 in treating PAH. The deal also gave Novartis an exclusive worldwide license to AIR001. The total amount of potential payments to Aires was $250 million. However, in October 2013, Novartis terminated the agreement, which is what lead to the sale to Mast. According to Aires, Novartis terminated the deal because the company is undergoing significant restructuring. The timing of Novartis walking away from AIR001 coincides with the announcement of its restructuring. A good article describing the restructuring can be found here. I was unable to find a press release by Novartis directly indicating why it walked away from AIR001. However, based on the timing of the restructuring and the fact that neither Phase II study of AIR001 has been completed leads me to believe that Aires' reason for the agreement termination is correct.
Before the acquisition of Aires, Mast had a consensus analyst price target of about $2.00. I feel these targets need to be adjusted upward due to the potential peak annual sales of AIR001. Piper Jaffray, the only firm that asked a question on the acquisition conference call, has a price target of $1.00. I would expect this target to be revised upward in the near future, and this could send the stock price much higher. Just look at what happened to Rexahn Pharmaceuticals, Inc. (NYSEMKT:RNN) when an analyst slapped a $3.00 price target on the stock back in January. Another important point that was mentioned during the acquisition press release was that Mast still expects to initiate its MST-188 Phase II study in acute limb ischemia in the later part of this quarter. Mast has a number of upcoming catalysts, as mentioned at the Seventh Annual OneMedForum, and I do not think the stock price will be under $1.00 for much longer.
Mast recently entered into a sales agreement with Cowen and Company, Inc. to sell up to $30 million of its shares through an at-the-market stock offering. On the conference call announcing the acquisition, there was no direct mention made of the ATM offering. On the call, Mast's CEO indicated that development costs for AIR001 in 2014 are expected to be around $2 million. This estimate could change if Mast decides to initiate its own Phase II study in AIR001. This scenario could occur if the data from the 20 subjects is strong. I feel this would be very positive for the stock, because it would further validate AIR001. Based on the current path, Mast has sufficient cash to fund operations through 2014 without the ATM agreement. As of December 31, 2013, Mast had over $44 million in cash on its balance sheet and has a burn rate of about $5 million per quarter. I expect this rate to increase as more sites are opened in its EPIC Phase III study and its Phase II study in ALI is initiated. This ATM agreement may have been what caused the stock price to sell off after gapping up in the morning of the acquisition announcement, as investors fear further dilution. However, based on Mast's current cash position and development plans, I do not feel this offering will be used in the near future unless Mast's development plans for AIR001 change.
Due to the recent acquisition of Aires at a rock-bottom price, I feel Mast is significantly undervalued, with a market capitalization of only 84.73 million at the time of writing this article. At the time of writing this article, the analyst price targets for Mast are only based on NPV analysis of peak sales of MST-188 in sickle cell disease. I feel the peak sales of AIR001 for PAH range from $250 to $339 million. According to the FDA, over 1,700 drugs have orphan designation and over 300 have been approved. This equates to an approval rate of 17.6%, and I used this as my discount rate since AIR001 is designated as an orphan drug for use in PAH. Assuming Mast decides to start its own Phase II and potentially Phase III study for AIR001, I forecasted the yearly costs and potential release date of 2020. See this link for where I got the averages for Phase II and III length and cost. For sales, I forecasted out for seven years, which is how long FDA exclusivity is for orphan drugs. I estimate peak sales being reached by 2023, which is the midpoint of the range listed above. Sales are net of operating costs of 30 percent. Based on this net present value analysis and about 103 million shares outstanding, this yields a price target of $1.62 due to AIR001 for PAH. Add this to the current $2.00 consensus price target, and it is clear that Mast is significantly undervalued based on the potential of its pipeline.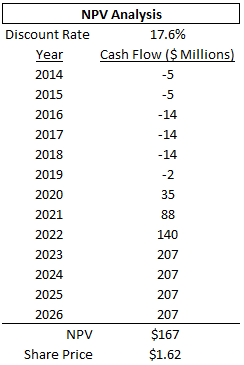 Disclaimer: I am not an investment advisor and do not provide specific investment advice. This article is for informational purposes only and is not a buy or sell recommendation. I do not attest to the accuracy of the information in this article. Please consult your investment advisor before making an investment decision.
Disclosure: I am long MSTX. I wrote this article myself, and it expresses my own opinions. I am not receiving compensation for it. I have no business relationship with any company whose stock is mentioned in this article.