I've been bullish on Ford (NYSE:F) since I first started writing about it in mid 2013. Over the last couple of weeks, I've established a small long position in the company representing about 6% of my portfolio based on the recent market dip and the company's declaration of its dividend.
Year-to-date, Ford has been stagnant with the rest of the broader markets - down 2.9% in 2014. Over the last three months, Ford has seen an even broader correction, down 10.3% after running up to its multi-year highs in the $17 range.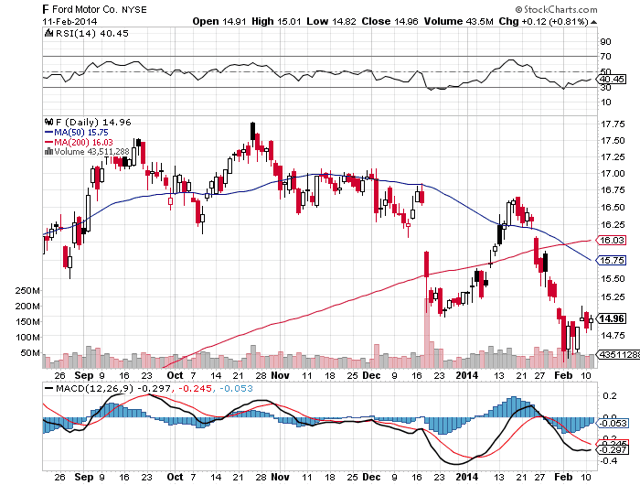 A good part of the ongoing thesis I have behind buying and adding Ford on dips revolves around the company being able to turn itself around overseas and get traction in both Europe and Asia. Just two days ago, here is what I commented about U.S. automakers Ford and General Motors (NYSE:GM):
Bearish complaints against both companies have focused on rising inventories and incentivized selling doing more harm than good for both companies. Also, bulls and bears alike point out the exposure both companies have overseas and in China. Bears call it exposure, bulls call it opportunities for growth. China has the world's largest automobile market.
I had commented in several of my past articles that Ford had redesigned its Chinese website, invested in opening a new factory, and placed a big bet on the China auto market. So far, that gamble is one that continues to pay off for the auto maker.
This morning, Ford announced very impressive sales in their China market for January 2014. Today's press release read:
Ford China gallops into the Year of the Horse with record January sales, posting 53 percent growth and sales of 94,466 wholesale vehicles, compared to 61,567 in January 2013.

Ford China passenger car sales which include imported cars accounted for 72,598 vehicles, a year-on-year sales increase of 63 percent compared to 44,439 sold in January 2013.

With its clever technology, great design, quality, renowned safety features and leading fuel-efficiency, Ford Focus sales continued to lead growth. In January, sales of the Ford Focus nameplate reached 36,385 cars, growing eight percent compared to 33,632 sold during the same period last year. According to data from IHS Automotive, Ford Focus was the top selling nameplate in the passenger vehicle market in China in 2013.
Aside from that, Ford has seen its European sales growing and margins improving. The company has forecast Ford Europe to turn a profit in 2015. I like this news. Put simply, the company is growing where is has to grow.
Although there is some concern by the bears that incentivized selling is starting to pick up amongst the auto makers, bulls argue that the levels of incentivized sales are nowhere near what they were in 07-08.
Ford's news comes on the heels of General Motors' announcement yesterday that they're also finding traction in China:
In January, General Motors and its joint ventures set an all-time monthly sales record in China with sales of 348,061 units, an increase of 12.0 percent from January 2013, the previous record month.

Domestic sales by Shanghai GM and SAIC-GM-Wuling and their Buick and Wuling brands all reached all-time highs as well in January.

Shanghai GM sold 171,856 vehicles in China, an increase of 11.4 percent year on year. SAIC-GM-Wuling sold 172,852 vehicles, as domestic demand for its products increased 13.9 percent on an annual basis. Demand in China for FAW-GM's products dropped 26.1 percent on an annual basis to 3,319 units.
As my thesis starts to pick up some traction, Ford continues to look like a strong buy to me. The lower the stock price drifts, the better the yield on the company's dividends, making for a nice security blanket.
This news, combined with the mind blowing fact that the government got the debt ceiling deal done with little or no fuss, makes me glad that I bought Ford on this last dip. I will continue to add accordingly.
Best of luck to all investors.
Disclosure: I am long F, GM. I wrote this article myself, and it expresses my own opinions. I am not receiving compensation for it (other than from Seeking Alpha). I have no business relationship with any company whose stock is mentioned in this article.