In today's Oxen Group recap, we will be looking at Sirius XM (NASDAQ:SIRI) as well as Sprint Nextel (NYSE:S) in our company news section. In our Deeper Look, we will examine Sirius XM since our last update at the beginning of the year to cover the company's latest earnings report and update our model. In our Company News, we will look at the recent earnings report on Sprint and give our take on that as well as developments around their acquisition of T-Mobile US (NASDAQ:TMUS). We cover SIRI year-round, and we follow Sprint on a limited basis. As always, we will also do our market overview, charting the markets, and market recap.
Market Overview
The market was soaring on Tuesday as investors digested comments from Fed Chair Janet Yellen in her first testimony to Congress in her new role. The indices in the market broke through key resistance lines as well to help power the market higher. The comments came out at an important juncture after the Fed agreed to another round of taper at a rate of $10B in the latest FOMC Meeting. At the same time, however, employment figures have been very weak and economic data has looked more bleak to start the year. Her comments we thought were mostly on par with expectations, but her overall more dovish language as well as the market searching for something to rally on used the moment to buy and break through key resistance areas.
Here are some of the highlights from Yellen's speech:
- Yellen noted that she would continue to back current policy with taper improving at the rate of economic expansion.
- She noted that recent volatility in global markets has been noted but it's not a "substantial risk to the US economic outlook."
- She also noted that the Fed will maintain 0% interest rates well beyond the 6.5% unemployment rate as it is not sufficient employment, and she noted that the "labor market is far from complete."
- Yellen is also aware of the many Americans that are out of work for more than 6 months as well as high percentage that prefer a full-time job but can only find something part-time.
The speech is coming in about as we expected. She is remaining dovish, but she is also following Fed policy line to a T. Some analysts were hoping Yellen might break a bit more dovish, but she seems to be sticking with what the Fed has been saying all along. Her comments about understanding that the unemployment rate is not a good indicator of employment levels that are satisfactory is a nice win for the markets.
Tuesday morning and Monday evening, we had several key companies report earnings. None were market makers, but some can be very important to their sector/industry. Key companies reporting this morning or last evening were CVS Caremark (NYSE:CVS), Sprint Nextel, and Rackspace Hosting (NYSE:RAX). We will cover Sprint in more detail, but CVS and RAX were interesting reports.
CVS beat EPS just slightly and missed slightly on revenue, but the company saw pharmacy same-store sales rise 4% as well as overall revenue jump 5%. The company reaffirmed their previous 2014 outlook at 4.36 - 4.50 EPS, which is slightly below the estimates from analysts at 4.47. The company noted they will complete their $4B share repurchase program and raised its 2014 FCF guidance. Rackspace appears to be today's main earnings loser after the company reported EPS at estimates with only a slight beat in EPS. The drop may be mostly tied to the company's CEO Lanham Napier retiring, but the lack of significant sales growth and outperformance hurt the name.
As of 3:15PM, the Dow Jones (NYSEARCA:DIA) was up 220 points. The Nasdaq (NASDAQ:QQQ) was up 49 points, and the S&P 500 (NYSEARCA:SPY) was up 23 points.
Deeper Look
Sirius XM
In today's Deeper Look, we will be looking at Sirius XM after their latest round of earnings. We want to examine the company's latest results, discuss their main catalysts for 2014, and update our pricing model to reflect recent results. Coming into today, we had a Buy-rating with a $5 price target.
We have maintained our price target of $5 and want to update our analysis.
Main Catalyst
In our latest update to SIRI in December, we moved our price target to $5 from $4, and we upgraded the stock from Hold to Buy. In that conversation, we moved our price target to $5 based on the following:
Yet, 2014 for Sirius will be about several things. First off, adding more customers. As Sirius continues to be optimized for vehicles, and those vehicles become used cars, the company's potential customer base rises. Another 2M user adds in 2014 is definitely probable. Costs, though, will stay relatively flat in 2014 through 2015. Howard Stern and the NFL are set, and the company does not see music royalties rising until 2017. So, margins should expand in the coming year as well. Additionally, more users means fixed costs have a smaller impact.
This change in our strategy has to do with main catalyst of SIRI shifting as is its cooperation with OEMs is the key to Sirius. The company has switched its business from a retail model to one where it subsidized manufacturers to place its satellite radios in new vehicles and offer their customers free trials. As a fact, the revenue generated by subscription is largely dependent on the volume of trials. Thus, the main part of Sirius' success and failure will be based mostly on connected vehicles strategy will be a major motive to increase the revenue of SIRI in the following years.
SIRI is now seeking corporation with key Asian and European OEMs. Last year, they announced penetration increases at Toyota (NYSE:TM) and Honda (NYSE:HMC), and recently they extended their agreement with Nissan (OTCPK:NSANF) through 2018. Nissan North America is also significantly increasing penetration of Sirius XM factory installed technology across the entire Nissan model lineup. A search at one Nissan location in the USA showed that just 3 out of 217 cars were equipped with satellite radio. Thus, significantly increasing the number of satellite radios will help Sirius build loyalty with Nissan buyers. The same situation with other OEMs. Thus, the penetration rates for Sirius are still quite significant. Without counting other manufacturer, Nissan, Toyota and Honda own 7.5%, 14% and 9.5% of the auto manufacturer market share, respectively. This ensures a broad market and great potential for the trials to keep growing.
Currently, the company has satellite offerings in 50M cars through their production in new cars. In the next ten years, that rate is expected to go from 50M to 150M. Tripling the revenue in ten years is a great long-term revenue stream, which means an 11.61% CAGR.
Another positive is a deal with Agero:
We should also notice that Agero agreed in August to sell its connected vehicle services business to Sirius XM Radio. Company officials of Agero said they work with more than 100 corporate clients including 75% of the new passenger vehicles sold in the U.S. And the connected vehicle unit of Agero is the leading provider of innovative telematics services, offering safety, security and convenience services for drivers and end-to-end, turnkey solutions for automakers. Following the acquisition, Sirius XM will provide connected vehicle services to more automotive manufacturers -- including Acura, BMW, Honda, Hyundai, Infiniti, Lexus, Nissan and Toyota - than any other telematics provider.
According to Jim Meyer, Chief Executive Officer, Sirius XM:
The acquisition of Agero's connected vehicle business is a natural fit for Sirius XM. As the world's leading provider of in-vehicle subscription services, SiriusXM is uniquely positioned to offer world-class end-to-end telematics services.
Clearly, this acquisition will accelerate Sirius XM's move towards connected vehicle services market. It accelerates its development of its own platform for connected vehicle services and supports the fast growing field of connected vehicle. It gives SIRI a leading position against its competitors in this new market, and will be a core part of their long term growth strategy in connected cars.
With these movements, the company expects connected vehicles to deliver close to $100 million of revenue in 2013, and they expect to grow this at strong double digit rates over the next several years. According to the CEO of SIRI, "We ran about 13 million total trials in 2013, and we expect this number to be over 15 million in 2014." That is a 15.38% growth rate. We can expect an even large number as the market are getting mature.
Price Target Analysis
In our pricing model we came up with a target price point of $5 for SIRI, which is a 43% growth from its current share price. We used an optimistic model which included consistent revenue and operating income growth as well as an ideal tax situation for SIRI.
Operating Income - We project operating income to increase from $1.195B in 2014 to $1.695B in 2018 with a CAGR of 9%. This is well below their CAGR of 46% for the previous 5 years and below most other analysts. While we are very bullish on the company's growth potential, we have some worries about macro conditions for auto sales as well as pressure from Apple (NASDAQ:AAPL) and Pandora (NYSE:P) to curb would be buyers from purchasing SIRI. While growth for the company looks promising, it is highly unlikely for the company to maintain the growth rate that they had when rebounding from consistent losses.
Taxes - SIRI is in a unique situation where they can benefit from their past struggles. When forecasting their tax rate, we assumed a 0% tax rate because the company had been carrying over deferred taxes on their balance sheet. The company can use this asset to offset any taxes for the near future.
Shares - The company currently has 6.385B shares outstanding and has made no announcement regarding expansion or reduction of this.
CapEx/Depreciation - We expect these to stay relatively similar to recent figures. While SIRI has ambitious plans of growth, they have announced that they have refinanced their liabilities and plan to continue to use these as a means for financing their growth.
When all these factors are taken into account, we predict a target price of $5. We used a DCF analysis model with a cap rate in the 3-4% range showing a growth name that should be discounted less for strong future growth. This price target speaks volumes to the turnaround of the company compared to years past and the potential that it holds. While we believe this model takes an optimistic stance on the company, there is nothing that concerns us to think otherwise.
Risk/Variance
The most pressing risk for Sirius is growing and upcoming competition, specifically Apple's announced iOS in the car. Depending on how this product plays out for AAPL, it may have an effect on our forecast. However, with Sirius so well established in the market, Apple entering the market will not have a major determent on Sirius's growth plans, but we worry about the consumer to a degree. We are weary but not letting it affect our model greatly at this time.
Company News
In today's company new section we will be looking at Sprint. The company reported earnings this morning that were better than expected and helped push shares higher (but shares did drop from the open) by about 2%, as of writing this. The company reported EPS at -0.26 versus expectations at -0.32. The company beat revenue expectations as well coming in at 9.14B versus 8.99B expectations. The company's operating loss improved by 22%, and they saw a $300M gain in EBITDA.
While the results were solid, the company still lost money. Analysts/investors, though, should avoid paying too much attention to this as the key to the company includes continuing to grow subscribers, cutting costs/improving margins, and retaining plans that can grow the company. The company had a solid net subscriber at 682K and 58K postpaid, and the company noted that they plan to cover 250M people with 4G LTE by mid-year (a tremendous growth potential catalyst). The company sold over 20.5M smartphones for the FY and 95% of postpaid subscribers bought a smartphone.
Dan Hesse, CEO, was not talking about the potential merger with TMUS, however, which was disappointing. He did, though, note that the company was focused on the family and the "Framily" plan:
We recently launched the innovative Framily plan too. We've now made family plan benefits available to a growing segment of the U.S. population, households with fewer than three people, that were previously underserved by family plans. An especially creative aspect of Framily is that it incentivizes our customer base to recruit new customers into their group. In just the first day in the market, we generated over 400 million Framily social media online impressions. We've only been in the market for a month, and Framily is currently only available in Sprint-branded channels, but we are pleased with early adoption of the Framily plans. Our field sales reps are energized by the early customer response, and we are encouraged that more than 60% of gross additions on Framily to date are choosing the unlimited data and annual upgrade buy up option.
So, how do we rate the earnings report and 2014 prospects for Sprint moving forward.
Sprint outperformed the U.S. wireless market in 2013 with a growth of more than 41% on share price. Certainly, Sprint has benefited from its merger deal with Japan's SoftBank (OTCPK:SFTBF), Clearwire (CLWR) and its massive spectrum, as well as expected deal to buy T Mobile USA. Especially the last one. Yet, recently, the stock has struggled as the TMUS deal has become less certain and could end up being scrapped as the FCC does not look inclined to approve the deal.
Also, according to the Q4 2013 Results Transcript, full year adjusted EBITDA of $5.4 billion grew 13% over the past year and represents the first annual increase in adjusted EBITDA generation since the year following the merger with Nextel in 2005. We see this as a great sign that the company is starting to see control over costs and can grow margins from here. The Softbank merger and Clearwire spectrum add are high costs, but the company looks to be turning a corner and being able to manage these continued costs of competition along with creating profits.
Obviously, the merger with TMUS is a major plus for Sprint if it can occur. At this moment, Sprint is the third largest mobile carrier in the U.S. with around 55 million subscribers, and T-Mobile is the fourth largest with 45 million. AT&T and Verizon dominate the market, both of which claim twice as many subscribers as Sprint and T-Mobile individually. If the merger of Sprint and T-Mobile is achieved, it will bring them at par with Verizon and AT&T and can create a more competitive environment in the U.S. wireless service market. The FCC, though, appears uninterested, and recent details show that the company may be reconsidering as well.
If the deal between Sprint and T-Mobile goes through, Sprint will have a larger user base for sure. As a consequence, it will also help overcome the high cost of building and maintaining networks in the capital-intensive wireless industry. The merged entity is estimated to save $5 billion in annual costs.
The biggest challenge of the Sprint-T-Mobile deal is the regulatory concerns. In 2011, the Federal Communications Commission (FCC) blocked the proposed sale of T-Mobile to AT&T for $39 billion. The second challenge is the technology problem. Sprint and T-Mobile have different networks. And last time when Sprint merged Nextel's iDen with its own network, it faced integration and technological problems. And the third challenge is from other competitors like DISH Network which is also eyeing T-Mobile.
This deal is definitely something to keep an eye on moving forward, but we believe the market is pricing in a no deal currently, giving the stock significant upside and limited downside. We recommend buying shares on today's news and writing a bull put spread to hedge risk.
Position: S, Long and S, May2014, 7/6 Bull Put Spread
Target: $10 for stock and 0.00 in spread (potential gain of 14%)
Charting The Markets
Examine today's market charts in the DIA, QQQ, SPY, Russell 2000 (NYSEARCA:IWM), Gold (NYSEARCA:GLD), and McClellan Oscillator (NYMO).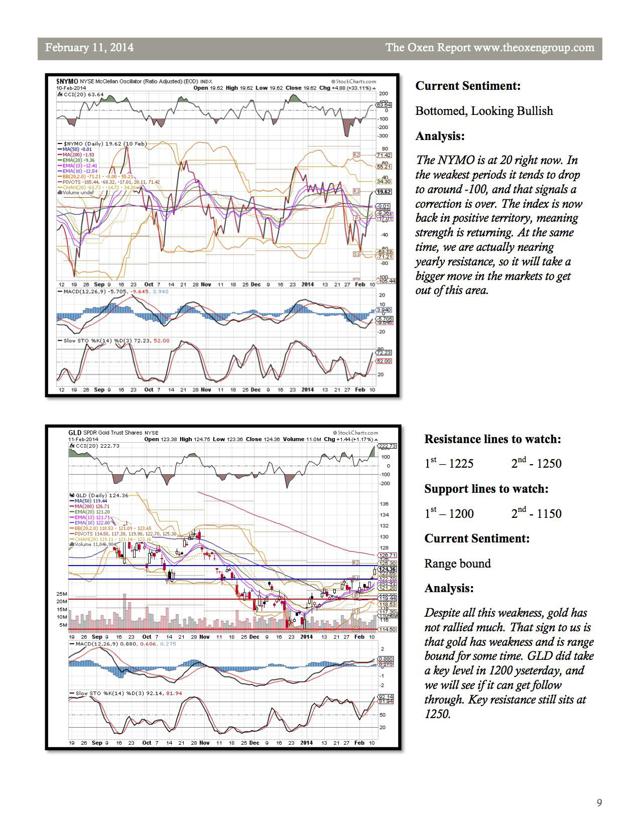 Wednesday's Outlook
Wednesday will be interesting to see if we get follow through in the market or consolidate. If we drop tomorrow, it is a bad signal to us that strength today was transitory and more trade-based. If we continue to rally, we should watch some of the key resistance lines we mentioned in Charting The Markets. The keys to the day will be based in earnings, foreign data, and follow through from today's Fed comments.
On the earnings front, we have a key report tonight from TripAdvisor (NASDAQ:TRIP) and key reports tomorrow AM from Deere (NYSE:DE) and Lorillard (NYSE:LO). None are major market movers, but TRIP will be key to online travel while DE can help move the farm and farm machinery industry. Economic data is sparse again at home, but we have a crucial report in China on their trade balance. This weekend's liquidity news has helped China bounce back as well as domestic markets. A strong report there would help immensely with some follow through. Expectations are for it to drop $23.5B from $25.6B. Additionally, we get a semi-important Euro-Zone Industrial Production report that is supposed to show 1.8% growth year/year for December.
Outside of that, the market will be focused on today's rally and potential technical levels to watch. It's not a super busy day, so the chances for the market to do as it pleases is definitely there. A follow through will show some definite bull strength and will give us more confidence that this reversal is for real and could test previous resistance levels.
Disclosure: I have no positions in any stocks mentioned, and no plans to initiate any positions within the next 72 hours.
Business relationship disclosure: I have no business relationship with any company whose stock is mentioned in this article. The Oxen Group is a team of analysts. This article was written by David Ristau, one of our writers. We did not receive compensation for this article (other than from Seeking Alpha), and we have no business relationship with any company whose stock is mentioned in this article.