To start the year, a lot of investors were seeking answers as to the direction the market (NYSEARCA:DIA) (NYSEARCA:SPY) was going to head for 2014. Many had subscribed to the fact that we were definitely going to be seeing a correction with the way that January had come and gone. The U.S. markets had pulled back in a big way, the Nikkei (NYSEARCA:NKY) was looking shoddy, earnings were coming in light due to weather, and sentiment amongst the talking heads on CNBC was dreary at best.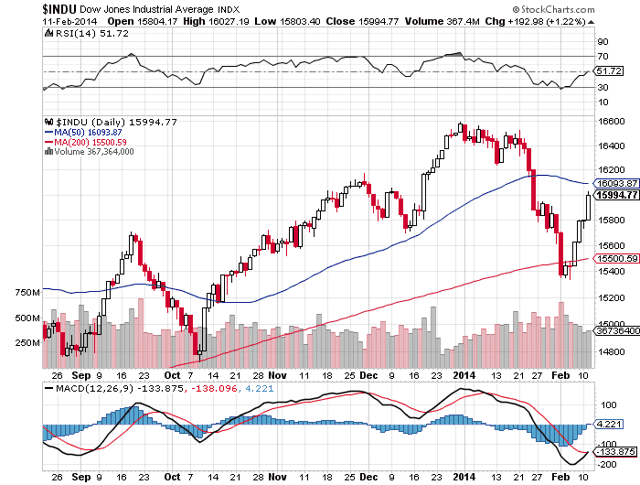 Click to enlarge
Even just days ago, I made the argument to expect a bit of short-term volatility (NYSEARCA:VXX) in these coming weeks before I expected the market to right itself and finish the year with 3-7% gains. I'm still arguing that equities will see the same gains this year, but it's looking like we might not get that short-term volatility that I was looking for.
If we continue through this year, this market will turn out to be one of the biggest bull markets in history. I'm happy that I bought a bit on this recent dip, as I now think the Dow is going to find itself back on a path towards 16,500.
We've had three things unfold over the last couple of days that have shifted my 6-12 month outlook on the equity markets. Here are the three reasons that point to why we stay bullish:
1. Yellen Delivers
Although definitely lengthy, and sometimes not exactly riveting, new chairperson Janet Yellen delivered on her remarks in front of Congress yesterday. Although I'm not sure I could sit and listen to her talk for more than 10 minutes (she's a bit of a "slow talker"), she delivered exactly what the market was looking for and the indices rallied accordingly yesterday.
Yellen stressed continuity between Bernanke's plans for the economy and her own - a dovish sentiment towards the markets that should stoke the equity fire a bit for investors.
Traders on the floor have said this morning on CNBC that general sentiment amongst the floor traders has changed to the positive since Yellen's remarks - even though Wednesday's futures have been back and forth pre-market.
Companies like 3M (NYSE:MMM), Alcoa (NYSE:AA), and SodaStream (NASDAQ:SODA) led the way for the markets on Tuesday.
2. China Doing Its Part
In addition to China supporting companies like Ford (NYSE:F) and GM (NYSE:GM) by allowing them to grow, this morning it was reported that China posted blowout trade numbers:
The country's exports jumped 10.6 percent in January from the year-ago period, compared to a Reuters forecast for a 2 percent rise and higher than the 4.3 percent rise recorded in December.

Imports, meanwhile, rose 10 percent in the month, versus expectations for a 3 percent rise and compared to the 8.3 percent gain in the month before.

This leaves the country with a trade surplus of $31.9 billion for the month, the Customs Administration said, compared to the $23.7 billion forecast by Reuters.
Although many people are attributing the numbers to the Lunar New Year holiday, it's still going to push the markets here if the Asian markets respond well to the news.
3. Government Officials Access, Locate, and Use Their Brains with Regards to Debt Ceiling
Yellen came right out and said it yesterday - a default would be catastrophic.
I would have bet a good portion of my life savings that the government was going to make a giant fuss out of raising the debt ceiling, ala the crap-burger they fed to the markets in October of 2013. As a matter of fact, I just wrote about what I thought was going to happen in a recent article on volatility:
First, the debt ceiling is approaching yet again - and there's no doubt in my mind that the boobs in our government on both sides of the aisle are going to find a way to turn it into a travesty of some sort - before eventually sorting it out the days before we default. We get this same story every time we have a debt ceiling issue: the deadline approaches, the government makes fools out of themselves, the markets get skittish. Then, at the last minute, some pork laden bill gets pushed through to handle it and the markets rally.
Yesterday, I nearly spit out my daily "sharpener" (read: excuse to drink at 2PM) when I read on the CNBC crawl that a deal was going to get done, sans any kind of attachments:
A divided U.S. House voted Tuesday to let the government borrow enough money to pay its bills for the next year, sending the measure to the Senate in an effort by Republican leaders to avoid another politically damaging legislative impasse over spending.

In the 221-201 vote, less than three dozen of the majority House Republicans joined almost all of the chamber's 200 Democrats to pass the proposal increasing the debt ceiling that lacked any deficit-reduction provisions sought by the GOP's conservative wing.

The vote followed a reversal in strategy by Republican House Speaker John Boehner after he and other leaders pushed the night before to attach a provision repealing cuts to military pensions to the debt limit measure.

President Barack Obama and Democrats rejected any negotiation on what they called the responsibility of Congress to maintain the full faith and credit of the United States by ensuring sufficient borrowing authority to meet all obligations.
Unbelievable. Could this be a sign that both sides of the aisle are tired of making asses out of themselves? Embarrassed by the shutdown? Likely not, but who cares - as long as this deal gets done.
Conclusion
Although the futures on Wednesday morning aren't showing us any type of noticeable strength, these three items are likely to give the market a shot in the back that it needs to stay bullish. As someone who bought the dips over the last few weeks, I'm extremely happy to see these three things all happening in unison.
With plenty of cash still on the sidelines (savings vs. equities), there's plenty of buying power that can still be exercised.
I maintain my outlook of 3-7% growth for the year.
Best of luck to all investors.
Disclosure: I am long AA, F, GM, SODA. I wrote this article myself, and it expresses my own opinions. I am not receiving compensation for it (other than from Seeking Alpha). I have no business relationship with any company whose stock is mentioned in this article.