Flexion Therapeutics Inc. (NASDAQ:FLXN), a specialty pharmaceutical firm, pursuing the development and commercialization of long-acting injectable pain therapies, plans to raise $65 million in its upcoming IPO on Wednesday.
The Burlington, Massachusetts-based firm will offer 5.0 million shares at an expected price range of $12-$14 per share. If the IPO can find the midpoint of that range at $13 per share, FLXN will command a market value of $192 million.
FLXN filed on January 8, 2014.
Lead Underwriters: BMO Capital Markets Corp, Wells Fargo Securities LLC
Underwriters: Janney Montgomery Scott LLC, Needham & Company LLC
Overview of Flexion Therapeutics
FLXN is a specialty pharmaceutical firm that aims to develop and commercialize novel, long-acting, injectable pain therapies; the firm is currently targeting anti-inflammatory and analgesic therapies for osteoarthritis. FLXN's lead product candidate is FX006, a sustained-release intra-articular treatment for osteoarthritis patients that combines a common steroid with polylactic-co-glycolic acid in order to provide sustained therapeutic concentrations in the joint, along with a sustained analgesic effect.
The firm has completed a Phase 2b dose-ranging trial for FX006 that revealed a significant improvement in pain relief over the current standard of care. The firm plans to initiate a confirmatory 2b trial in Q2 2014 before moving on to a Phase 3 clinical development. FLXN is also developing a pair of additional candidates: FX007, designed to relieve post-operative pain, and FX005, a pain reliever for end-stage osteoarthritis patients. See product pipeline below.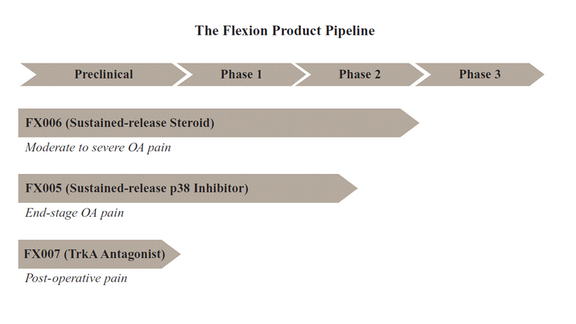 (Source: flexiontherapeutics.com/approach/pipeline/)
Valuation
FLXN offers the following figures in its S-1 balance sheet for the nine months ended September 30, 2013:
Revenue: $0.00
Net Loss: ($14,496,239.00)
Total Assets: $22,972,308.00
Total Liabilities: $9,413,540.00
Stockholders' Equity: ($61,247,445.00)
FLXN's lack of revenue and substantial losses are typical of a pre-commercial pharmaceutical firm, and should not be taken as an indicator of the firm's future success or failure. FLXN will not be able to turn a profit until it has commercialized one or more of its products.
Business
If approved, FX006 would have to compete with current methods of treatment for osteoarthritis, including hyaluronic acid therapy and immediate-release steroids. Perhaps of greater concern are the numerous pharmaceutical firms that currently have osteoarthritis products in advanced stages of development, many of which have significantly greater financial and technical capacities than FLXN. These competitors include Fidia Farmaceutici S.p.A, Ampio Pharmaceuticals, Inc (NASDAQ:AMPE), Carbylan BioSurgery, Inc, Merck & Co (NYSE:MRK), and Allergan, Inc (NYSE:AGN).
Management
Co-founder Michael D. Clayman, M.D. has served as the President and CEO of FLXN since 2007. He previously worked for Eli Lilly and Company, where he was most recently Vice President, Lilly Research Laboratories, and General Manager of Chorus, Lilly's early-phase development accelerator. Dr. Clayman also served as an Assistant Professor in the School of Medicine at the University of Pennsylvania. He is the recipient of the Physician Scientist Award from the National Institutes of Health. Dr. Clayman holds from Yale University and an M.D. from the University of California, San Diego School of Medicine. Following an internship and residency in Internal Medicine at the University of California, San Francisco Moffitt Hospitals, Dr. Clayman completed clinical and research fellowships in Nephrology at the University of Pennsylvania.
Conclusion
We're positive on this IPO but would only recommend taking a small position given the large number of biotech offerings available to investors this year.
FLXN is still a long way from commercializing FX006, and even if it successfully manages to do so, it will face stiff competition from current osteoarthritis treatments, and from better-established firms developing future treatments. There's no guarantee that any of the firm's products will be approved by the FDA at this point in the clinical process (see product pipeline above). Though the firm does have an impressive executive team, we feel this IPO is only appropriate for aggressive investors.
Disclosure: I have no positions in any stocks mentioned, but may initiate a long position in FLXN over the next 72 hours. I wrote this article myself, and it expresses my own opinions. I am not receiving compensation for it (other than from Seeking Alpha). I have no business relationship with any company whose stock is mentioned in this article.