Executive summary:
Total's Q4 results show a 4% revenue drop compared to last year.
The company's free cash flow is negative due to heavy capex spending, which is offset by divestments
Total reiterates its production target of 3M boe/day in 2017, which would be a 31% increase over the 2013 production rate.
Quarterly dividend is increased by 3.4% to 0.61/share, resulting in a 5.5% dividend yield, reconfirming Total as a dividend play.
_________________________________
Introduction
It's been a while since I reported on Total (NYSE:TOT) after I reduced my exposure in October, and today I'm revisiting the company to see if the Q4 results have proven me wrong. I will provide my view on the financial results and the company's balance sheet. Thereafter I will discuss the short-term and longer term outlook for Total which will result in my investment thesis at the end of this article.
All images in this article were sourced from the company website and its Q4 financial results.
My view on the financial results
In the fourth and final quarter of financial year 2013, Total reported a revenue of $65B, which is approximately 1% higher than the same period last year. This is quite remarkable, as the average price of Brent crude actually decreased by one percent compared to the same period. The main reason for this revenue increase is the EUR/USD exchange rate, as the US Dollar depreciated by approximately 5% versus the Euro (which is the currency Total officially reports in, being a French company) to an average of $1.36 per euro. If we for instance look at the revenues in Euro, you can clearly see a 4% drop.
For the full year 2013, Total's revenue was 189.5B EUR ($259B) which is approximately 5% lower than in 2012. Fortunately the company was able to reduce the purchases (net of inventory variation) so the effect on the net income was relatively limited as the net income dropped by "just" 2.2B EUR ($3B) (which is approximately 20% lower than last year's net income).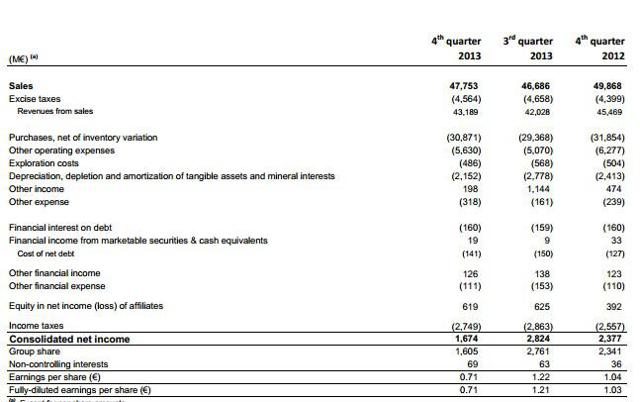 Most of my readers know I also like to glance over the cash flow statements, as I strongly believe these statements give investors an excellent summary of the strength of the underlying business. So when looking at Total's cash flow statement, you can clearly see the company was actually free cash flow negative, as its operational cash flow of 21.4B EUR was not sufficient to cover the 22.4B EUR in capital expenditures. This shortfall was mainly funded by the disposal of other assets. However, it's not a good sign to see that Total has entered into the free cash flow negative territory and needs to rely on divestments to cover its capital expenditures and dividends, so I'm really hoping the company's long-term investment plan will pay off and that Total will effectively be able to produce 3 million barrels of oil per day in 2017 which would be an increase of 31% compared to the 2013 numbers.
My view on the balance sheet
Moving over to the balance sheet, Total's total assets increased to 173.5B EUR ($237B), but so did the net debt-to-equity ratio, which is still very decent at 23.3% as of year-end 2013. The working capital position was also extremely healthy as Total had a working capital of 16.5B EUR ($22.5B) with a current ratio of 1.37 which indicates Total has sufficient current assets to cover its current liabilities.

As of year-end, the book value per share increased to 32 EUR/share ($43.68), based on 2.27 billion outstanding shares. This means the company is trading at 1.25 times its book value, which is very decent if Total can indeed grow its output by more than 30% in just 4 years.
Outlook
I'm not particularly impressed with Total's 2013 results, but I do acknowledge that the negative free cash flow situation is just temporary, as Total is investing heavily to increase its output to 3 million barrels of oil-equivalent by 2017. I really hope Total will be able to achieve this goal (which is likely as all assets which are expected to contribute to the production increase are already in production or under development), as I still own some shares.
Total also announced a dividend increase to 0.61EUR/share ($0.83) per quarter, which is a 3.4% increase compared to the current dividend of 0.59EUR/quarter ($0.80).
Investment Thesis
If investors look at the 2012 and 2013 results and cash flow statements of Total, there isn't much to be excited about. However, I would like to emphasize that Total is going a phase where it invests heavily in production increases which should come to fruition by 2015 and 2017 where the company is respectively targeting a 13.5% and 31% production increase over the 2013 numbers.
I don't regret selling some shares in October last year, but I will very likely keep my current position and could increase it on a dip (or through writing put options). As I expect further dividend increases down the road, I still think Total deserves a place in every dividend investor's portfolio.
Disclosure: I am long TOT. I wrote this article myself, and it expresses my own opinions. I am not receiving compensation for it (other than from Seeking Alpha). I have no business relationship with any company whose stock is mentioned in this article.