Executive summary:
The cost of healthcare is rising, and that includes the costs involved in every aspect of appendicitis.
Venaxis, Inc. (NASDAQ:APPY) is a micro cap stock that has a product that could generate significant revenues and earnings.
Healthcare providers are always seeking new diagnostic tests that might cut down the need for expensive and potentially harmful CT scans.
Steve Lundy, CEO of Venaxis, Inc., responds to my questions.
_________________________________
There have been a number of articles written about Venaxis, Inc. (APPY) by other authors here on Seeking Alpha, and I would urge all readers to check all of them out, including the company website. I myself would like to point out a few facts before I get into the interview I have had with the CEO of Venaxis, Steve Lundy.
Fact#1: The cost of a patient visiting a hospital and showing signs of appendicitis are extremely high. It does NOT matter if the patient has appendicitis or not!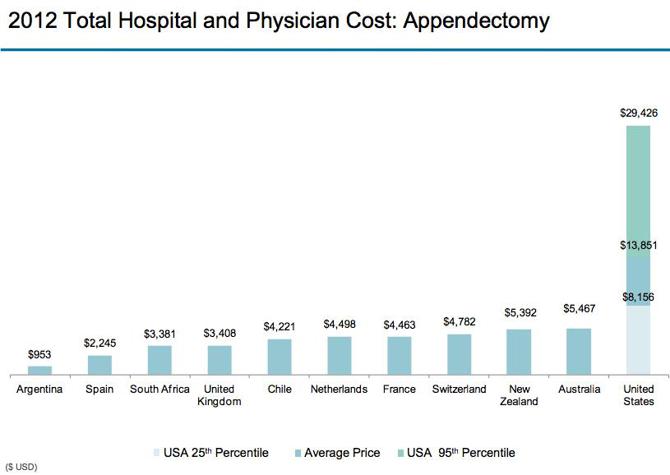 Fact#2: If approved, the simple blood test that Venaxis now has in its final clinical trail, APPY1, will cost roughly 10% of a CT scan and is simple to administer. Once accepted by the healthcare community, it could generate enormous revenues and profits globally for this tiny company.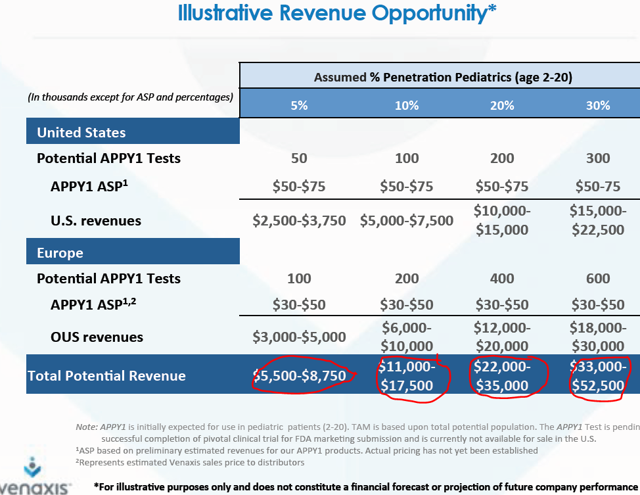 Source: Venaxis
Fact# 3: The use of CT scans has rapidly increased, and the potentially harmful effects could spread with even greater use.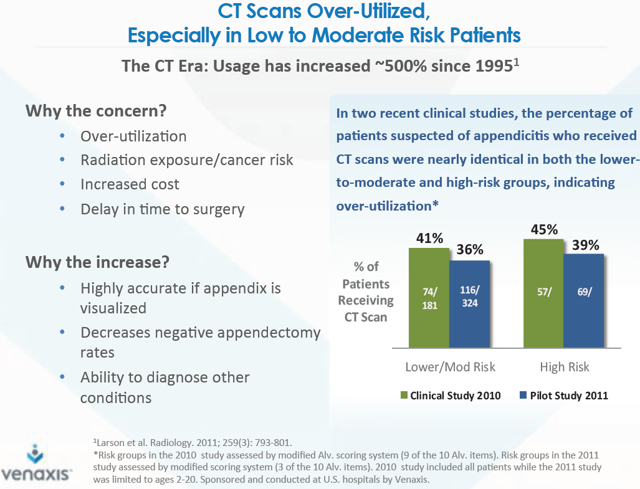 Source: Venaxis
Our Interview
There is no better way that I know of to dig a bit deeper into a company than by having an interview with the CEO. Steve Lundy has made himself available to me exclusively for Seeking Alpha today:
RS: Steve, thank you for taking the time to answer some of my questions that could help investors decide whether or not to own shares of APPY.
SL: My pleasure Alan, I hope to be able to answer all of your questions to the extent I am able to.
RS: Projecting forward, what is your first year achievable revenue goal for APPY1?
SL: Alan, we are not guiding on revenue at this time. We are focused on executing on market development so we can accelerate product adoption. We will continue to update investors on our progress.
RS: Ok, the anticipated patient cost of this test is said to be roughly $75.00. What kind of margins are we looking at? Can you give us an idea?
SL: Certainly, we anticipate 80+ percent margins for the consumable (ongoing revenue) business.
RS: Has there been, or will there be, any conversations with insurance companies, or even the Federal government, as it pertains to the Affordable Care Act, as having this test become the 1st diagnostic standard required by hospitals/doctors etc... prior to the more expensive diagnostic tests?
SL: So, our goal is to demonstrate the value of APPY1 with our early adopter hospitals and take this body of evidence to payors and others at the appropriate time. Our early market development efforts indicate that prospective savings in hospitals that adopt APPY1 could be significant.
RS: It appears that this test can save the entire healthcare system plenty of money. What would be the reasons the FDA does NOT approve the product?
SL: Assuming our clinical trial produces acceptable results (we anticipate releasing top line data - which is blinded to us at this time - in early March), we believe we have a good path towards FDA clearance/approval.
RS: Aside from hospitals, what other facilities are being considered as target customers?
SL: Of course, but at this time we are focused on the hospital market. Down the road, we will look at the clinic and clinician office market.
RS: Are there any other uses for APPY1, and is there an APPY2?
SL: We are focused on our current indication (aid in ruling out appendicitis) but yes, we are currently developing a plan for next generation products, Alan.
RS: The age group most affected is between ages 2-20. Are more of the patients who would receive this test first the youngest of the group and why?
SL: We believe that the highest value for the APPY1 test is in this age range, particularly as CT scans are harmful for younger patients. Appendicitis is also more prevalent in the younger patient population.
RS: Given that this is the only product you are counting on to deliver revenues and earnings for now, have you been talking to larger companies in the diagnostic field to either merge with, or for the company itself to be bought out?
SL: We dialog with many companies in our space. We are continually investigating ways to increase access to the market and find other ways to partner, which would help achieve our strategic objectives.
RS: When and if the FDA gives the final approval, when can we expect to see revenues and earnings?
SL: We have CE mark in Europe and have already reported revenue there. We will continue to report revenue and earnings on a quarterly basis.
RS: As I understand, the last clinical trial of 2000 patients has been filled. Can you give us an idea of how the tests went? Are you ready to present the findings to the FDA?
SL: Patient enrollment is complete. We are now closing out all of our hospital sites and getting all the data to our external statistical analysis group. When they have completed the analysis, the data will be "unblinded" to the company and we will report the results publicly. We will then complete the FDA filing package and submit to FDA.
RS: From a financial standpoint, how far can the current cash available take the company at the current burn rate?
SL: We have sufficient cash to carry the company into early 2015 assuming we execute to our current plan.
RS: Are there any patent issues, or pending litigation that investors need to be aware of?
SL: No.
RS: Can you offer any final comments for our readers?
SL: Of course Alan, we continue to receive excellent feedback and enthusiasm for APPY 1 from hospitals and clinicians in Europe and the US. We continue to believe there is significant need for a simple blood test to help guide patient management. This a pivotal year for Venaxis as we transition into a commercial operations phase. From an investor standpoint, we envision several significant events taking place this year --- announcement of top line data in the US trial, FDA submission, potential FDA clearance, and continued progress in Europe.
RS: Thank you very much Steve, for your directness and candor. I am sure the investment community will appreciate it as well.
My Bottom Line
My personal opinion on this stock is that the rewards are worth the risks. I am personally long with common shares.
If/when there is FDA approval, I believe I have presented the bullish case, and having the CEO answer some pointed questions should help investors decide on whether or not APPY is a speculative stock for their own portfolios.
There are many risks involved with this stock, as with most micro-cap stocks, up to and including a total loss of investment dollars. Keep in mind that the company has only one product presently and it has not concluded clinical trials. Be aware of the risks. Anything can happen, of course.
As always; Read, Decide, Invest!
Disclaimer: The opinions of the author are not recommendations to either buy or sell any security. Please remember to do your own research prior to making any investment decisions.
Disclosure: I am long APPY. I wrote this article myself, and it expresses my own opinions. I am not receiving compensation for it (other than from Seeking Alpha). I have no business relationship with any company whose stock is mentioned in this article.