Having monitored recent developments concerning our short selections, we reaffirm the following picks: RealPage (NASDAQ:RP), ITT Educational Services (NYSE:ESI), and hhgregg (NYSE:HGG). We continue to believe that these companies will decline in market value in 2014.
RealPage
RealPage develops on-demand software (i.e., software-as-a-service or SaaS) for property managers of housing communities. The software is designed to reduce costs by automating various administrative functions related to property management. Moreover, the software is designed to improve marketing, pricing, and revenue for property managers. Aside from software, RealPage offers value-added services.
While RealPage performed well in the early stages of its business model, we believe the stock is overvalued when regards to future growth prospects. Specifically, RealPage focuses on multi-family dwellings-where growth is not as strong as historical levels (see figure below). In addition, property management as a whole is not growing much either. With record-low mortgage rates and an improving economy, more people will seek to become home buyers and avoid renting.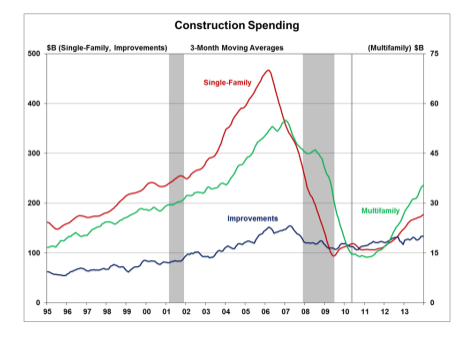 (Source: National Association of Homebuilders eyeonhousing.org)
In these market conditions, RealPage is further pressured by competition from rivals, both large and small. Investors may wish to focus on RealPage's Generally Accepted Accounting Principles (GAAP) financial reports, rather than any non-GAAP information included in those reports.
As of market closing on Tuesday, February 11, RealPage was trading at $21.07. Since we first wrote about RealPage on December 17, 2013, the stock has fallen approximately 6 percent (see chart below). We expect the stock to continue falling in 2014. Our price target for RealPage remains $16.75, about 20 percent lower than its recent closing price.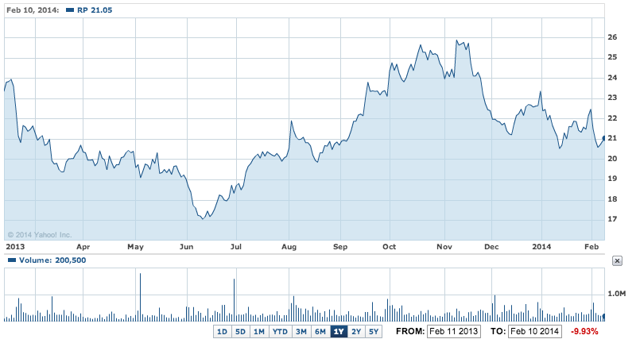 (Source: Yahoo! Finance)
ITT Educational Services
ITT Educational Services is a for-profit education provider with aggressive marketing campaigns. ESI offers both undergraduate and graduate degree programs through a network of for-profit ITT Technical Institutes and through Daniel Webster College. Recently, the company has been the subject of a government regulatory investigation, and several high-profile news articles, concerning its student-loan practices. See headlines from the NYTimes and WSJ.com, respectively, below:

(NYTimes: 18-Jan-2014)

(WSJ.com: 27-Jan-2014)
According to the New York Times, the Consumer Financial Protection Bureau (CFPB) has issued a warning to the company that it may be engaging in "unlawful acts or practices relating to the advertising, marketing, or origination of private student loans." The article states that ESI intends to "vigorously defend itself." Like other for-profit higher-education providers, ESI is facing tough scrutiny from government regulators.
We are concerned about ESI's future prospects as employers tend to favor graduates from more traditional educational institutions. In addition, consumers are growing increasingly skeptical about the socio-economic benefits of higher education altogether. Since we wrote about ESI on January 23, the stock has dropped approximately 33 percent (see chart below), and we expect this downward pressure on ESI's stock price to continue.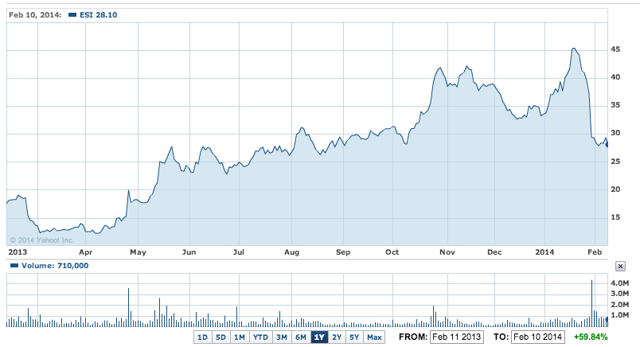 hhgregg
Since its founding in 1955 as a retail store in Indianapolis, Indiana, hhgregg grew over the years and went public in July of 2007. It now has 229 stores in 20 states. The company focuses on home appliances and consumer electronics.
Like Best Buy (NYSE:BBY), hhgregg faces the problem of shoppers sampling the merchandise in the company's stores, yet purchasing online at lower prices from Internet-based competitors. While the U.S. economy is improving, consumers are still slow to make purchases at traditional retailers as they can often get a better deal online. Consumers are still visiting traditional retailers like hhgregg, but they are not willing to spend as much as they have in the past.
In such an environment, hhgregg may need to scale back its store footprint in order to survive. Since we wrote about hhgregg on January 29 (link here), the stock has declined about 26 percent (see chart below). We reaffirm our short recommendation on hhgregg. We believe that this company will continue to experience difficulty.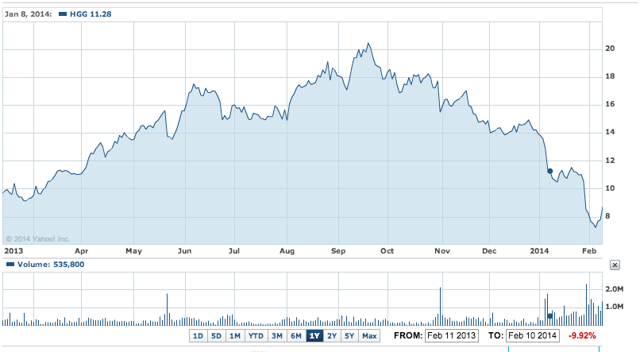 (Source: Yahoo! Finance)
Disclosure: I am short RP. I wrote this article myself, and it expresses my own opinions. I am not receiving compensation for it (other than from Seeking Alpha). I have no business relationship with any company whose stock is mentioned in this article.