Executive summary:
Lower-than-expected production guidance for 2014 has driven shares of Chesapeake Energy unreasonably lower.
Adjusted production growth of 8-10% y-o-y doesn't justify the recent sell-off.
Capital expenditure adjustments are the right move to increase free cash flow profitability.
Chesapeake is a concentrated shale play with operations in high-impact drilling regions with long-term growth potential.
_________________________________
Chesapeake Energy Corporation (NYSE:CHK) released its production outlook on February 6, 2014 which sent the share price of the company sharply lower as its 2014 guidance came in lower than what analysts expected. Shares of the $16 billion energy player immediately tanked by up to 8% after production figures were released even though the stock managed to reclaim part of its lost territory and climb back up to $24.59 on February 7, 2014. However, shares are down substantially as a combination of a market sell-off in oil- and gas companies and a lower-than-expected production guidance took a toll on Chesapeake's share price. Since its 52-week High at $29.06 at November 4, 2014 Chesapeake's stock price is down about 15%.
(Source: Yahoo Finance, click to enlarge)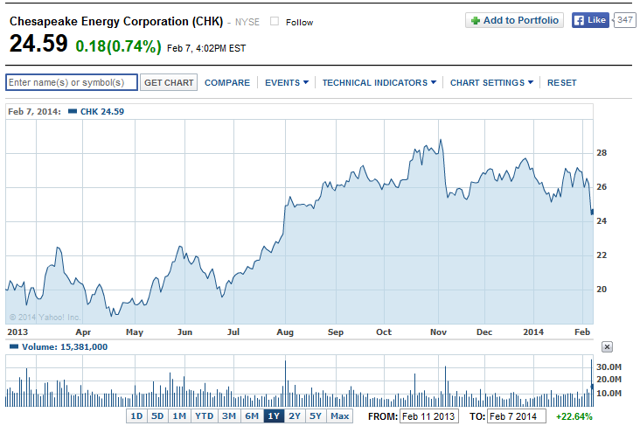 No panic - Guidance isn't that bad at all
Chesapeake Energy announced on February 6, 2014 that is expects absolute production growth of 2-4% in 2014 and projects adjusted production growth (excluding asset sales) of 8-10%. Given a 2013 adjusted production of 229 mmboe, 8-10% adjusted production growth rates in 2014 would lead to a full-year production of 247-253 mmboe. Natural gas liquids will account for the largest y-o-y percentage increase with a projected adjusted production growth rate of 44-49%, while oil production should increase between 8-12% and natural gas between 4-6%.
It is particularly noteworthy that the company intends to scale back on capital expenditures in 2014 which directly targets my earlier criticism about Chesapeake Energy's low free cash flow profitability. I have previously asserted that the need for higher free cash flows necessitates a consolidation of Chesapeake's capital expenditures. On September 27, 2013 I have written an article about Chesapeake Energy (here) with respect to its free cash flows. An excerpt of the relevant article section is presented below:
For many companies in the materials sector large capital outlays for growth investments and lower operating cash flows compressed free cash flows and justified the correction of valuations we have seen across the board. Chesapeake addresses those free cash flow concerns by cutting back on capex and concentrating on core drilling and completion capex which will account for roughly 81% of total investment spending.
High capital expenditures can, to some extent, cloud the underlying enterprise value as free cash flows used for deriving a company's intrinsic value are lower than they would be without inflated investment activity. Chesapeake Energy has announced that it intends to incur capital expenditures of $5.2-5.6 billion in 2014 which represents an estimated y-o-y decline of more than 20%. Estimated 2014 capital expenditures of $5.4 billion (midpoint of guidance range) would represent just 40% of average capex of $13.4 billion incurred from 2010-2012. It is also not new information that the company sells select oil- and gas assets if they no longer fit into Chesapeake Energy's development portfolio.
Scaling back capital expenditures, realigning investment spending with underlying profitability and selling non-core assets are the right moves for the company and its shareholders and should improve Chesapeake's financial condition materially over the coming quarters.
Operational footprint highly attractive
After Chesapeake Energy shares sold off sharply in early November 2013 and the company's intentions to show investment discipline became clearer, I recommended Chesapeake to investors mainly because of its highly attractive shale oil- and gas exposure. I am optimistic with respect to Chesapeake's high-impact Eagle Ford- and Marcellus North operations which have high potential to substantially increase average net production over the next years.
(Source: Chesapeake Energy Outlook 2014 investor presentation, click to enlarge)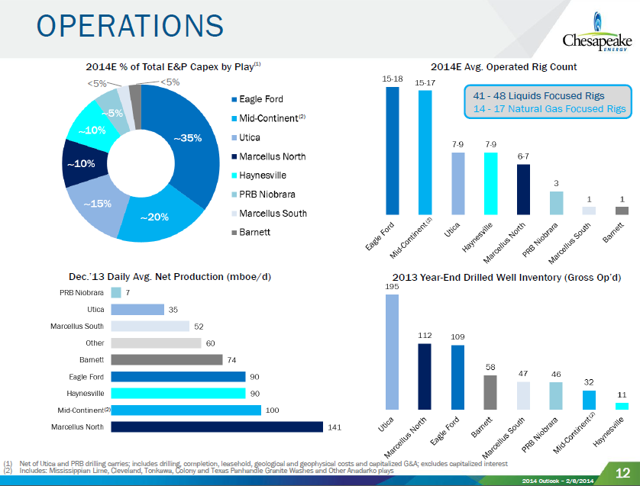 Conclusion
Adjusted production growth of 8-10% is everything but disappointing. Chesapeake's shale oil and gas footprint remains highly attractive and the company has promising operations in Marcellus North, Mid Continent, Haynesville, Eagle Ford and Utica all of which have the potential to drive production growth.
Adjusting and lowering capital expenditures while concentrating on liquidity and improving balance sheet strength are the right steps to alleviate investor concerns about low free cash flow profitability which has been an issue in the past. The exploration company also remains committed to bringing down per-unit production costs by 10% and G&A expenses by 25% in 2014 which seems ambitious.
Chesapeake Energy is reducing costs, adjusting capex, improving free cash flow and strengthening its balance sheet all the while the company trades at just twelve times forward earnings which seems to be too low given the growth prospects of the company. Investors who desire exposure to a fast-growing shale player that creates a set of catalysts for itself might want to consider Chesapeake Energy. Long-term BUY.
Disclosure: I have no positions in any stocks mentioned, and no plans to initiate any positions within the next 72 hours. I wrote this article myself, and it expresses my own opinions. I am not receiving compensation for it (other than from Seeking Alpha). I have no business relationship with any company whose stock is mentioned in this article.