Executive summary:
Ford Motor is best value in the large-cap US car manufacturing sector.
The company trades at unreasonably low cash flow- and earnings multiples despite record profits in the US and a large net cash position.
Ford Motor currently trades at only 6.45 times estimated 2014 free cash flow to equity.
Ford Motor's intrinsic value (based on FCFE) is approaching $35 per share.
_________________________________
Ford Motor (NYSE:F) is a jewel among car manufacturers. The car company just presented record profits for its operations in North America as well as Asia/Pacific/Africa and delivered its highest pre-tax profit in its Automotive sector in more than ten years. At the same time Ford Motor gained market share in the aggressive, promotion-driven US car market and achieved record market share in China. Ford Motor also holds $24.8 billion in gross cash and $9.1 billion in net cash in its Automotive unit. And I ask myself: Don't these results justify a premium valuation? Apparently the market disagrees: Ford Motor trades at only 7.65x forward earnings and an estimated forward P/FCFE ratio of 6.45 (see below).
The recent market sell-off contributed to the blatant mispricing of Ford Motor which makes the company an even more attractive long-term investment. General Motors (NYSE:GM) as well as Toyota Motor (NYSE:TM) also corrected markedly in January 2014. The pull-back in share prices of large-cap auto manufacturers appears to be a good opportunity to snatch up industry-leading car manufacturing franchises at very low earnings- and cash flow multiples.
(Source: Yahoo Finance)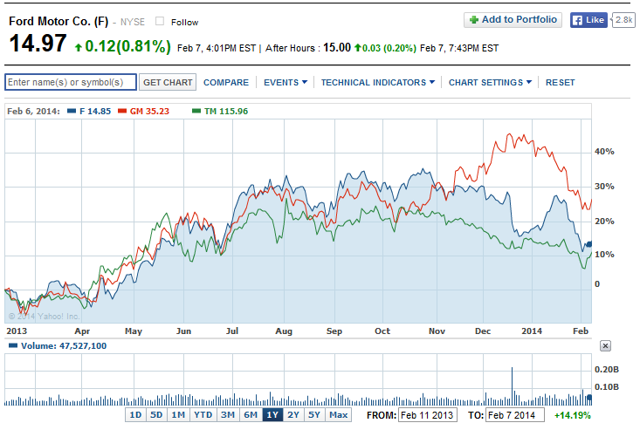 Intrinsic value estimate
In the table below I have summarized Ford Motor's historical operating-, core investing- and selected financing cash flows for fiscal years 2010-2012. The table includes a free cash flow to equity reconciliation to determine Ford's P/FCFE ratio. In addition, I have included my cash flow estimates for Ford Motor's fiscal year 2013 as well as my updated cash flow estimates for 2014.
I estimate that Ford Motor can achieve about $9.5 billion in free cash flow to equity in 2014 which is 4.3% higher than my previous estimate of $9.1 billion. With roughly 4.1 billion diluted shares outstanding this translates into an estimated free cash flow to equity per share of $2.32 (an increase of 3.6% compared to my prior FCFE/share estimate of $2.24).
Ford's low valuation is reflected in a forward P/FCFE ratio of only 6.45 and an initial free cash flow yield based on estimated 2014 cash flows of 15.50%. These very attractive ratios are not really surprising since auto companies trade at extraordinarily low earnings multiples as well. Ford Motor presently trades at less than eight times forward earnings which substantiates the low cash flow multiples derived in the table below.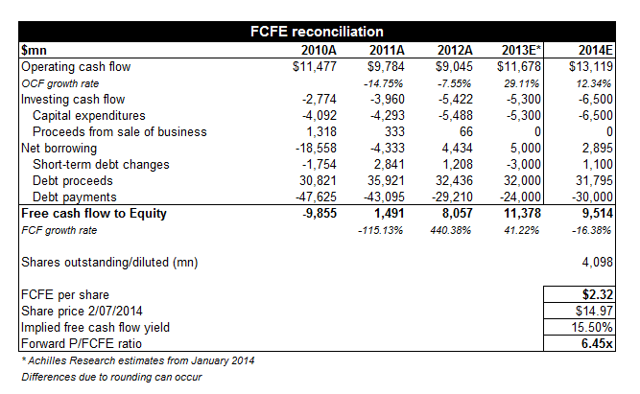 Applying a discounted free cash flow model assuming equity capital costs of 10% and a conservative terminal growth rate of 3%, Ford's intrinsic value comes out at $34.47 per share. Given the January decline in share prices of auto companies, Ford Motor now has substantial upside potential of 130%.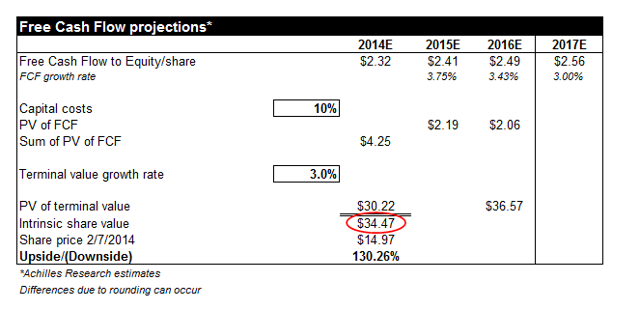 Conclusion
In the latest article about Ford (here) I have quite aggressively argued that the company trades at an almost ludicrous earnings multiple of 7.65 while the company achieves strong financial results, defends its market share in a booming US auto market and has a large net cash position that further limits downside risk. Ford Motor's cash flow strength further highlights that the company has substantial appreciation potential considering an estimated forward P/FCFE ratio of merely 6.45 and an outstanding initial free cash flow yield of 15.50%. The discounted free cash flow model suggests that Ford Motor has an intrinsic value approaching $35 per share. Ford Motor trades at seriously depressed earnings- and cash flow multiples while its financial and operational results clearly merit a meaningfully higher equity valuation. Strong BUY.
Disclosure: I am long F, GM. I wrote this article myself, and it expresses my own opinions. I am not receiving compensation for it (other than from Seeking Alpha). I have no business relationship with any company whose stock is mentioned in this article.