Executive summary:
High dividend stocks are outperforming in the New Year after significantly underperforming the market in 2013.
Lorillard is offering a good combination of a generous yield and reasonable valuations.
Stock is cheaper than overall market based on forward PE even with above average revenue growth.
Today's early sell-off is offering good entry point on a slight miss in earnings.
After being significant underperformers during 2013's 30% rally, dividend sectors & stocks are outperforming in 2014 in what is starting out to be a much more volatile year for investors. Interest rates have declined along with the market over the past six weeks which is supportive of dividend payers as well.
My portfolio of high yielding real estate investment trusts (REITs), master limited partnerships (MLPs) and even the occasional business development company (BDC) has performed very well in 2014 and this portion of my portfolio is showing a gain in the New Year even as the overall market is down for the year currently.
I also invest in high yield opportunities in other sectors of the market. Lorillard (NYSE:LO) might be interesting as a slight disappointment in quarterly earnings results provides a better entry point. In early trading Wednesday the stock is down ~5%.
Even this slight dip would provide a level where Lorillard would give income investors a solid 4.5% yield. The company is also a consistent hiker of its payout. Lorillard has raised its dividend by more than 60% over the past five years.
The company posted earnings this morning of 82 cents a share, 4 cents below consensus estimates. This was still above last year's 79 cents a share. Lorillard's revenues for the quarter also came in somewhat below expectations. However, margins rose 70bps to a record 14.9%.
The company is growing faster than one would expect from a cigarette maker. Revenue growth should come in between 8% to 10% annually over the next 18-24 months according to analysts. The consensus forecast calls for just 4% year-over-year growth in the S&P 500 in 2014.
In the quarter, company management also stated distribution of its blu eCigs increased to 136K retail outlets and new lower-priced rechargeable kits also helped stoke demand. The stock sells at a very reasonable five year projected PEG (1.31) for a high yielder.
Despite solid growth prospects, the shares are priced under 14x forward earnings; a slight discount to the overall market multiple (~15x forward earnings). Finally, the company has done a great job growing earnings even through the financial crisis (See Chart).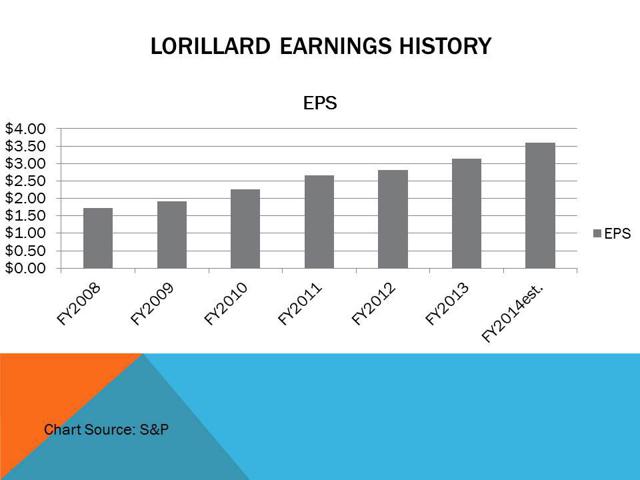 I expect this earnings growth to continue and any sell-off today is a good place to start accumulating shares. Dividend growth should continue in line with earnings growth over the long term. S&P has a "Buy" rating and a $54 a share price target on LO. Combined with a 4.5% dividend yield, this would be a solid overall return in 2014 in what is likely to be a much more challenging year for investors than 2013. ACCUMULATE
Disclosure: I have no positions in any stocks mentioned, but may initiate a long position in LO over the next 72 hours. I wrote this article myself, and it expresses my own opinions. I am not receiving compensation for it (other than from Seeking Alpha). I have no business relationship with any company whose stock is mentioned in this article.