Organovo (NYSEMKT:ONVO), a medical laboratory and research company which uses 3D printing technology to print human tissue, recently released its quarterly results. We initiated coverage at the start of 2014 with a long term buy rating. This is an update on the company's recent financial results and highlights. We will explore and evaluate some recent developments and their implication on the future prospects of the company.
Reporting Highlights
Revenue: As we mentioned in our previous report, Organovo generates its revenues mainly from collaborations and grants. It has continued to do so and did not post any service revenue for the current quarter or year. The products of the company are in the development stage so no revenue is expected from product sales until the start of 2015. The graph below shows the revenue trend of the company.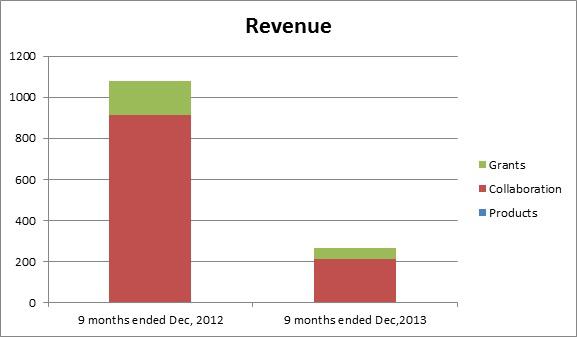 The graph indicates a decline in revenues from collaboration and grants. As revenues from grants and collaborations are volatile and do not follow any pattern, we cannot really label it as a trend but it does signify that the confidence of collaborators was not as high as it was in 2012. However, it could be quite the opposite in the year 2014. The point is that revenue is not an important metric for a company in the product development phase; assets and cash position are more crucial in judging the position of the company. Organovo is expected to launch its first product in late 2014 and therefore, product revenues are expected to begin in 2015.
Balance Sheet Metrics
Assets of Organovo increased from around $17 million to $52 million in the nine months ended Dec, 2013. This was mainly because of an increase in the cash and cash equivalent balance of the company.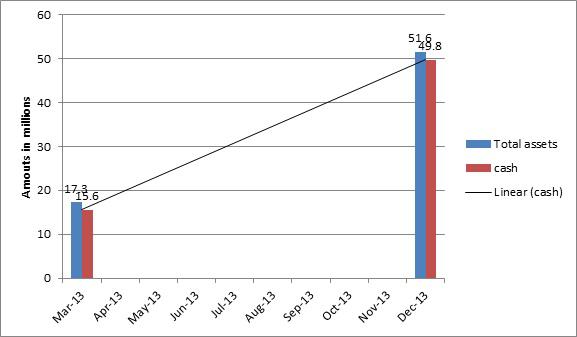 The cash position of the company improved primarily due to proceeds from issuance of stock and partly due to a favorable movement in the fair value of warrant liabilities of the company. The acid test reveals that the company's liabilities are covered by around a 17x cash balance, meaning that Organovo has enough cash to finance its research and development. In our opinion, this is what matters most for a company in the research and initial development phase. The finances of the company can support its R&D in the short term and it is a going concern.
Recent Development
For a pictorial presentation of Cross-section of multi-cellular bioprinted human liver tissue please click here.
3D Liver Tissue
Organovo was recently involved in the development of liver tissue that can be used for drug testing and, eventually, transplants. For now, the short term objective is to make this 3D liver available for preclinical drug testing. The company delivered 3D liver tissue to an external laboratory as a key opinion leader (KOL) for experimentation; this marks the achievement of a significant step in the launch of 3D liver tissues.
"This is an important milestone for Organovo R&D," said Organovo Chief Technology Officer and Executive Vice President of Research and Development Dr. Sharon Presnell. "In developing these tissues, we have gone through a careful set of research studies involving many individual tissues, and greatly increased our ability to produce them. By the end of January, we expect to have bioprinted nearly four hundred 3D Liver tissues during the month."
Organovo is planning on launching the 3D liver product in December 2014. If it receives a positive response from the KOL, as it most likely will, this product is expected to generate solid revenue streams in the years to come. Analysts estimate this revenue to be around $15 million in 2014. Moreover, with the launch of the liver product for clinical trials the company can set foot in the $7 billion preclinical research service market. The company anticipates that preclinical toxicology testing services can command prices in excess of tens of thousands of dollars per compound. Hence, the launch of its first product is a promising sign in its future growth.
Other Tissues
Organovo is also working on other tissues including cancerous breast tissue, kidney tissue and eye tissue (recently announced a collaboration agreement). The company claims that its 3D printed cancerous breast tissue is less susceptible to drug test toxicity than a conventional cancer cell construct when exposed to the same dose for the same period of time. This means that the tissue constructed by the company is relatively more compatible for preclinical drug testing.
Recent Collaborations
Organovo recently announced that it will collaborate with two institutes namely National Center for Advancing Translational Sciences (NCATS) and National Eye Institute (NEI). Both institutes come under National Institute of Health (NIH). The collaboration is intended to assist in the development of tools and tissues that can be of help in preclinical drug trials which would lead to the more effective medicine for several diseases. The main focus of the collaboration is to construct live tissues that are architecturally correct and behave exactly like the human tissue."This technology could provide us with a renewable and easy-to-manipulate source of functional eye tissue," said NEI Director Paul A. Sieving, M.D., Ph.D."Printable eye tissue could be used to identify disease pathways and to screen for and discover new therapeutic drugs."
These highlights and the financial position of Organovo reveal several points.
Organovo does not have any going concern problems and it has the resources to support its research and development for a time span of around 2 years without further grants.
The development of 3D liver tissue is a promising growth and will generate revenues in the near future.
Development of other tissues, like cancerous breast tissue and collaborations to create eye tissue are major developments that will place Organovo in the market of preclinical drug testing for the long run.
The company's stock is by no means speculative because one product is in the pipeline and others are in development. The comparable behavior of 3D tissue to human tissue makes it the most preferred choice for preclinical testing and hence, Organovo is expected to experience growth in this segment of the industry.
Projections
As Organovo is launching a project in late 2014, we have projected the revenues and income by assuming that at least two more products will be launched in the next couple of years and that the revenues will be sustainable. We used the $15 million estimated revenue and $ (0.20) EPS as a starting point.

This is just a simple projection and it does not take into account the disruptive nature of Organovo's product launches. There is not sufficient evidence to give a price target for the company's stock but one thing we can be sure of is that its upcoming products will have a material impact on the quality of preclinical drug trials.
Bottom Line
Organovo is primarily a biotech research company that uses 3D printing to produce tissue samples. Therefore, it should not be viewed in the context of 3D printing; rather it should be seen in the same context as biotechnology firms, related bio laboratories and research companies. Organovo's December product launch is pointing to promising growth because of its comparable features to human tissue along with an almost identical response to external stimuli. With other 3D tissues, like cancerous and eye tissue, under development we are confident about Organovo's performance in the preclinical drug trials industry. The stock is not speculative and the company has reasonable future growth prospects and is, therefore, a buy.
Disclosure: I have no positions in any stocks mentioned, and no plans to initiate any positions within the next 72 hours. I wrote this article myself, and it expresses my own opinions. I am not receiving compensation for it (other than from Seeking Alpha). I have no business relationship with any company whose stock is mentioned in this article.
Additional disclosure: Equity Flux is a team of analysts. This article was written by our Technology analyst. We did not receive compensation for this article (other than from Seeking Alpha), and we have no business relationship with any company whose stock is mentioned in this article.