In the wake of unprecedented injections of liquidity into the global financial system, many investors have become concerned about the potential impact of inflation on asset values. But to anyone who sells sugar for a living, any concerns about inflation might incite rage.
Sugar prices recently fell to their lowest price in more than ten months on speculation that favorable growing conditions in Brazil, the world's largest sugar producer, will yield a record crop. Prices have fallen by more than 40% so far in 2010, a welcome windfall for the food and beverage industry, but a troublesome development for those who grow and sell the "soft" commodity.
The steep slide marks a reversal from pricing trends in 2009, when weather conditions in Brazil also left their mark on prices. After excess rains last year delayed the Brazilian harvest, prices rose sharply, and the entrance of speculators into sugar markets set off a major run-up in prices.
At one point last year several major food companies fanned the speculative flames by sending a letter to the Secretary of Agriculture warning that the US could "virtually run out of sugar" if import restrictions weren't eased. After prices doubled in 2009, most analysts knew that the sugar high couldn't last, but few anticipated the downward correction would be so severe.
After sliding more than 3% in trading on Tuesday and another 2% early on Wednesday, the iPath Dow Jones-UBS Sugar Total Return ETN (NYSEARCA:SGG) is now down more than 40% on the year, and more than 10% over the last week.
The already reeling SGG took a blow from a different source on Tuesday, as a flight to safe havens sent the dollar higher and commodity prices lower. In addition, an increase to the US sugar import quota of 200,000 short tons (from an original amount of 1.23 million tons) has increased supply and weighed on prices.
Click to enlarge
(Click to enlarge)
Now investors are beginning to wonder if the sugar ETN is a value buy. Flexible farming in many of the world's major sugar producers makes it difficult for prices to remain low for a prolonged period of time. Farmers looking to maximize their earnings will tend to plant less of crops fetching relatively unattractive prices, and more of those that have seen an uptick in prices.
This phenomenon most visibly occurred in India in recent years, as low sugar prices caused farmers to plan bananas instead, ultimately contributing to the big sugar rally of 2009.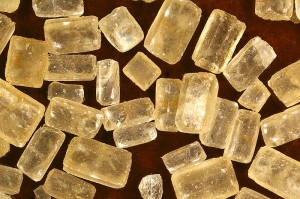 Moreover, some traders see big sugar consumers increasing imports in coming months to replenish dwindling stocks; China, the world's second largest sugar consumer, is currently running a deficit.
Michael McDougall, senior VP at Newedge USA, says:
China will eventually have to increase her imports as will the countries that have let their stocks fall to low levels.
Finally, a reversal of favorable weather trends in sugar-growing regions is always a possibility. While ideal conditions in Brazil and India have boosted output so far this year, sugar supply is disrupted rather easily in many countries, as either too much rain or not enough precipitation can delay harvests and send prices skyrocketing.
Sugar ETF in Focus
SGG is linked to the Dow Jones-UBS Sugar Subindex Total Return, a benchmark comprised of futures contracts on the commodity of sugar. The curve for sugar futures contracts traded on the NYMEX slopes slightly upward, with October contracts trading about 7% above May futures. So an investment in the futures-based SGG faces some slight headwinds. But for investors looking to make a bet on a rebound in sugar prices, it might be the best option available.
SGG charges an expense ratio of 0.75% (see more information about SGG's fundamentals here).
Disclosure: No positions