Bloomberg reported yesterday (April 27) that 2-year Greek sovereign bonds were trading at a yield-to-maturity of 18+%. They have come back some today. The 2-year (May 2012) 5.25% Greek sovereigns are trading at noon today at about 83% of face value (YTM 15.75%). The 10-year (2019) 6.5% Greek sovereigns are trading at about 75% of face amount (YTM 10.85%).
These are not priced at "Argentina" distress levels, in part because they are members of a larger community with a vested interest in their non-default. That may happen, but these are merely junk rates, not outright permanent default rates. Although, at this point, we would prefer US corporate junk to Euro denominated junk, to take on only credit risk, but not also currency risk and a larger dose of political risk.
Two US corporate junk bond funds (HYG and JNK), for example, have yields to maturity of 8.09% and 8.72% respectively, with average maturities of 5 years and 6.5 years respectively. The Dollar is a better bet than the Euro at the moment, and the US economy is improving faster than the European economy, making US corporate junk still perhaps a better bet than European sovereign junk.
If the Greek bonds do tank, however, they could be a good opportunity. We find it difficult to believe that Germany and France, in particular, could afford to let Greece go down the drain, knowing that other weak sisters might be not be too far behind — and then lookout below if Spain's bonds hit the skids.
Europeans will have to pay one way or the other — pay for Greece's direct irresponsibility, or pay for European irresponsibility in management of its membership — but pay they must. If that view is correct, then a deep discount Greek bond, when and if available, could be a good speculative play.
These two yield curve charts — one for the US and one for Europe — show Europe with very short-term rates somewhat higher than the US, similar intermediate term rates, but a decline in rates from 20 to 30 years, whereas the US rates continue to rise after 30 years. You can compare overall European sovereign rates to Greek rates, by looking at these charts and the rate quotes above for the 2-year and 10-year Greek bonds.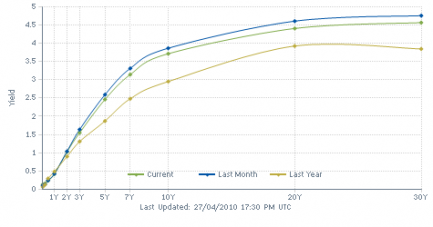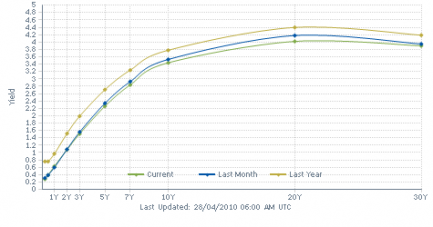 These charts for the Dow Jones Greek stock market index add perspective to the news swirling around the Greek sovereign credit crisis, and how it is impacting equities prices in that country.
click images to enlarge
Greece Domiciled Companies Trading in the US:
The symbols for eleven Greek companies with share prices of $5 or more, daily Dollar trading volume of $1 million or more and available in the US are: SB, NMM, NM, DRYS, DSX, CPLP, ANW, EXM, TNP, OTE, CCH. We express no view on any of these companies, and are simply enumerating them for those interested in examining them further.
Holdings Disclosure: As of April 27, 2010, we hold HYG in some managed accounts, but do not have current positions in any other securities discussed in this document in any managed account.
Disclaimer: Opinions expressed in this material and our disclosed positions are as of April 27, 2010. Our opinions and positions may change as subsequent conditions vary. We are a fee-only investment advisor, and are compensated only by our clients. We do not sell securities, and do not receive any form of revenue or incentive from any source other than directly from clients. We are not affiliated with any securities dealer, any fund, any fund sponsor or any company issuer of any security. All of our published material is for informational purposes only, and is not personal investment advice to any specific person for any particular purpose. We utilize information sources that we believe to be reliable, but do not warrant the accuracy of those sources or our analysis. Past performance is no guarantee of future performance, and there is no guarantee that any forecast will come to pass. Do not rely solely on this material when making an investment decision. Other factors may be important too. Investment involves risks of loss of capital. Consider seeking professional advice before implementing your portfolio ideas.