Executive summary:
BofA's underlying asset quality has shown significant progress over the last quarters.
Despite fundamental improvements and a stronger balance sheet, BofA still trades at a 19% discount to book value.
The company has become an outperformer in terms of share price performance.
BofA serves as a great contrarian example that share prices turn around when investor perception changes.
_________________________________
Bank of America's (NYSE:BAC) share price has shown extraordinary resilience since the beginning of the year. While other financial stocks tanked in January and February, Bank of America still quotes close to its 52-week High of $17.42 marked in mid-January. The recent market consolidation didn't affect Bank of America at all.
While this is clearly a positive for BofA shareholders, it is particularly astonishing how investors changed their perception of the company over the last two years. BofA has been one of the worst performers in the financial sector during and after the financial crisis due to its ill-advised acquisition of Countrywide. The stock got particularly hammered in 2011 due to BofA's gigantic mortgage exposure which threatened to rip huge holes into BofA's balance sheet.
In any case, investors started to change their perception of the bank as the company appeared to bring its legal disputes to an end. The $25 billion national mortgage settlement certainly was a milestone and BofA's $1.7 billion settlement with MBIA (NYSE:MBI) with respect to soured mortgage-backed securities in May 2013 also helped in convincing investors that the worst is over. While BofA will still be hit by lawsuits pretty regularly, it is unlikely that prospective lawsuits will have the psychological impact they had after the financial crisis hit.
The change of investor perception has been pivotal and BofA has made a classic turnaround. The company is now a frontrunner in share price performance for large-cap commercial banks.
Twelve month trailing share performance
BofA has recovered very gradually and consistently throughout 2013 marking one 52-week High after another. Accompanied by improving financial results in 2013, shares of the $178 billion banking giant started to reflect that investors were moving from a negative to a positive earnings outlook.
(Source: Yahoo Finance, click to enlarge)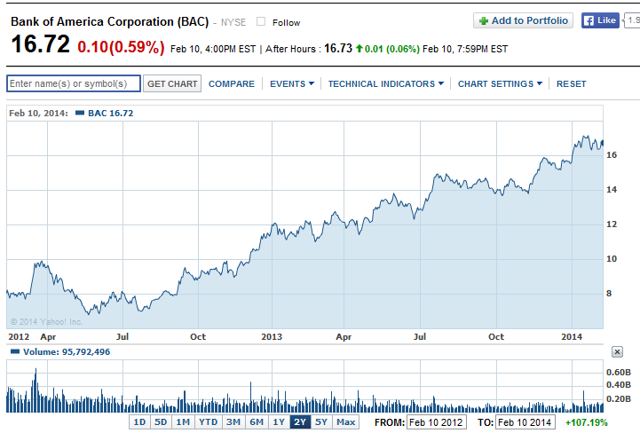 Click to enlarge
Quite interestingly, BofA has outperformed Citigroup (NYSE:C) as well as Wells Fargo (NYSE:WFC) over the last two years. Wells Fargo is a banking firm that has repeatedly been singled out by Warren Buffett, founder of investment company Berkshire Hathaway, as a supremely run banking organization. Wells Fargo has produced a two-year return of 50% which is massively outperformed by BofA's 107%. Citigroup also gained 50% over the most recent two-year performance measurement period.
(Source: Yahoo Finance, click to enlarge)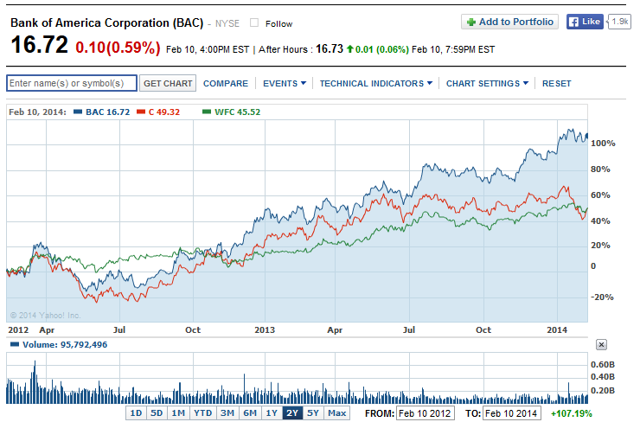 Click to enlarge
Performance results point towards higher future earnings
I think discussions about BofA and Citigroup often miss that these two companies are essential financial institutions in the US financial sector. Companies in the financial sector are increasingly intertwined and the financial industry would look radically different today without BofA and Citigroup. BofA is a strong deposit franchise, a large mortgage lender and has industry-leading wealth management business. The company is systemically important and while this leads to higher capital requirements, it is also a competitive advantage.
BofA's asset quality- and earnings trends have clearly improved over the last year (see below). BofA presented consistent progress on a variety of fronts: Higher Consumer and Business Banking net income in the fourth quarter of 2013 due to lower provision expenses, lower long-term debt, higher capital ratios, lower net charge-offs and gradual increases in book value per share.
Looking at BofA's fourth quarter 2013 results, I think the following slide from BofA's earnings presentation is the most important slide of the entire slide deck. It is the most important because it contains the exact same information that was instrumental in driving down BofA's stock price after the financial crisis. The important take-away here is that BofA's asset quality has improved materially: Net charge-offs decreased 48% to $1.6 billion vs. $3.1 billion in 4Q 2012. Provision for credit losses also declined a whopping 86% from $2.2 billion in 4Q 2012 to $0.3 billion in 4Q 2013. I would think that BofA has worked through the majority of issues resulting from the financial crisis.
(Source: Bank of America 4Q 2013 Financial Results presentation, click to enlarge)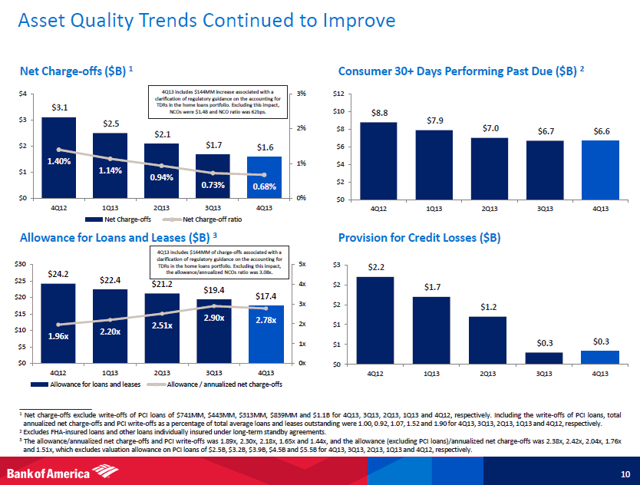 Click to enlarge
Valuation comparison
BofA today is in much better shape than just two years ago. Asset quality is improving and its balance sheet has materially strengthened as evidenced by its increasing Basel 1 Tier 1 common capital ratio (11.19% as of 4Q 2013). At the same time, BofA is still cheap based on a forward P/E ratio and based on its discount to book value.
BofA trades at only ten times forward earnings and at a P/B ratio of 0.81. Stocks of financial institutions have historically traded at a premium to book value especially in phases of exuberance. BofA reported a total book value per common share of $20.71 for the fourth quarter 2013 which represents a sizable discount to book value of 19%. Despite the increase in share price over much of 2013, investors are still not overpaying for shares of BofA.
The following two charts depict the forward P/E and P/B ratios for BofA, Citigroup and Wells Fargo. The respective peer group averages are also reproduced and aim to highlight that the entire peer group appears to be undervalued.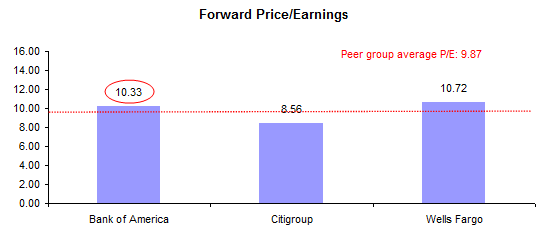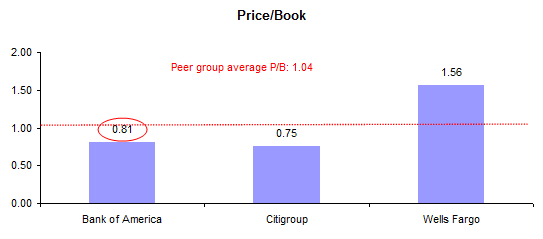 Many investors might resent that BofA isn't paying a 'real' dividend. BofA and Citigroup both pay a symbolic dividend of $0.01 per share per quarter which is an immediate reflection of the deep-cutting impact the financial crisis of 2008 had on the companies. A dividend of $0.01 clearly isn't a criterion for purchasing the shares of BofA, but the potential resumption of a substantially higher dividend is. Investors are likely to show more interest in BofA when the company announces a higher dividend (I expect a yield of around 2% in 2014/2015). A dividend resumption would be the clearest sign yet that the company is leaving the aftermath of the financial crisis behind and is turning a new chapter.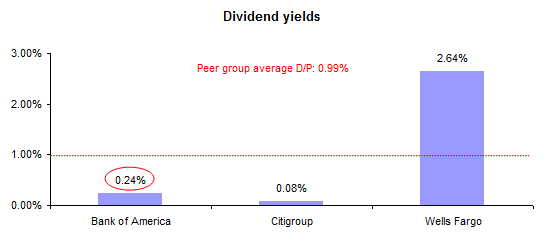 A summary table containing valuation metrics is provided below:

Click to enlarge
Conclusion
Bank of America has shown real strength in the volatile stock market environment lately. The bank was beaten down, particularly in 2011, as a consequence of extreme negativity about BofA's earnings outlook taking hold in the investor community. Many of the overriding legal issues have been resolved and the company has improved fundamentally in 2013. With a Tier 1 common capital ratio 11.19% BofA is well-capitalized. Its underlying asset quality trends have also been positive: Net charge-offs, provision for credit losses and allowances for loans and leases have declined considerably over the last four quarters. In addition, BofA's long-term debt has been declining by 9% y-o-y to $250 billion. The progress the bank has made serves as a powerful reminder that investors should not prematurely write a company off no matter how bad the current situation looks.
BofA is doing all the right steps to become a leaner and more focused company. As soon as the US economy gains in momentum, accompanied by lower unemployment- and higher interest rates, the year-long restructuring progress should pay off for the company. A dividend resumption could also be a major catalyst for the stock attracting new investor crowds. With a P/E ratio of barely above ten and a 19% discount to total book value, investors still getting a good bargain with a great margin of safety. Long-term BUY.
Disclosure: I am long BAC, C. I wrote this article myself, and it expresses my own opinions. I am not receiving compensation for it (other than from Seeking Alpha). I have no business relationship with any company whose stock is mentioned in this article.