Nationstar Mortgage Holdings, Inc. offers significant upside!
Nationstar Mortgage Holdings, Inc. (NYSE:NSM) has recently been subjected to a "bear-raid" by a NY-based investment research firm that allegedly is coordinating their attack with a very large and prominent NYC hedge fund. The analyst who wrote the investment report formerly worked at the same NYC hedge fund. The same investment research firm has previously provided investors with incredible entry points into a number of companies including FAF, BBEP, KMI, and LNCO. All of the so called "short-ideas" subsequently recovered after the "bear-raid", handsomely rewarding the fundamental investors who analyzed the companies and bought immediately after the stock sold off concurrent with the bear-raid.
Company Description
Nationstar Mortgage Holdings, Inc. is a leading non-bank residential mortgage servicer with servicing capabilities across the residential mortgage product spectrum. Nationstar's clients include national and regional banks, government organizations, securitization trusts, private investment funds and other owners of residential mortgage loans and securities. Through its subsidiaries, Nationstar Inc. is engaged primarily in the servicing of residential mortgage loans for others and the origination and selling or securitization of single-family conforming mortgage loans to government-sponsored entities (or GSE) or other third-party investors in the secondary market. Nationstar's integrated originations platform complements and enhances its servicing business by allowing Nationstar to originate and recapture a significant portion of its servicing portfolio as loans are paid off over time. Nationstar has a joint venture with KB Home, one of the large homebuilders in the US, called Home Community Mortgage, which focuses on originating loans to potential homebuyers. Nationstar also offers a broad array of fee-based services to the real estate and mortgage industries, via their suite of ancillary businesses which they operate as Solutionstar. Solutionstar provides mortgage-related services spanning the life cycle of a mortgage loan to leading financial institutions and originators.
Servicing - Nationstar specializes in what it refers to as "high-touch servicing approach" and provides mortgage investors two ways to partner with NSM.
Primary Servicing: Primary servicers act as servicers on behalf of mortgage owners and directly own the MSRs, which represent the contractual right to a stream of cash flows (expressed as a percentage of UPB) in exchange for performing specified mortgage servicing functions and temporarily advancing funds to cover payments on delinquent and defaulted mortgages. NSM grows its primary servicing portfolio principally by acquiring MSRs from banks and other financial institutions under pressure to exit or reduce their exposure to the mortgage servicing business. NSM acquires MSRs on a standalone basis and also developed an innovative model for investing on a capital light basis by co-investing with financial partners in "excess MSRs." Excess MSRs are the servicing fee cash flows ("excess fees") on a portfolio of mortgage loans after payment of a basic servicing fee. In these transactions, NSM provides all servicing functions in exchange for the basic servicing fee, then share the excess fee with its co-investment partners on a pro-rata basis.
Subservicing: Subservicers act on behalf of MSR or mortgage owners that choose to outsource the loan servicing function. In NSM's subservicing portfolio, it earns a contractual fee per loan it services. The loans it subservices often include pools of underperforming mortgage loans requiring high touch servicing capabilities.
Originations - NSM has a fully integrated loan originations platform to complement and enhance its servicing business. A key determinant of the profitability of the primary servicing portfolio is the longevity of the servicing cash flows before a loan is repaid or liquidates. NSM's originations efforts are primarily focused on "re-origination," which involves actively working with existing borrowers to refinance their mortgage loans. By re-originating loans for existing borrowers, NSM retains the servicing rights, thereby extending the longevity of the servicing cash flows; this is referred to as "recapture." NSM's goal is to recapture ~50% of its portfolio runoff. An additional benefit of originations is that the refinanced loans typically have lower interest rates or lower monthly payments, and, in general, subsequently refinance more slowly and default less frequently, so they generally improve the overall quality of NSM's primary servicing portfolio.
The investment research firm made several "bear" arguments advocating investors short NSM's stock. I will address each of the arguments here and refute them based on the fundamental research work I have conducted on NSM.
NSM has provided 2014 adjusted EBITDA per share guidance of $13.50-$15.00 and EPS of $4.50-$6.00 with the servicing segment contribution 70% of the 2014 adjusted EBITDA and EPS guidance. The guidance was based on an average servicing portfolio for 2014 of $440 billion at approximately 11 basis points pre-tax margin, and a $20 billion origination at a 125 basis point pre-tax margin.
Bear argument: Servicing profitability guidance for 2014 is unachievable as NSM's servicing profitability has averaged less than 3 basis points for the last seven quarters.
NSM's average servicing profitability was 6 basis points in Q3 2013 and has averaged approximately 5 basis points in the last seven quarters. The flawed bear argument incorrectly ignores the Excess Spread Financing costs associated with NSM's Excess Spread transactions. In 2012 an IRS Private Letter Ruling approved excess servicing spread acquired by a REIT as qualified REIT income. "Excess Mortgage Servicing Rights", is the difference between what the servicer receives and what it cost the servicer to manage the portfolio. NSM has sold excess cash flow generated from its portfolios to Newcastle Investment Corp. Under GAAP accounting NSM records the acquired servicing rights on forward residential mortgages on their balance sheet with changes in the fair value recorded on their income statement, while the sale of the excess spread is treated as a financing transaction. The liability is reflected at fair value each reporting period and the resulting mark-to-market adjustment (MTM) is included on NSM's income statement. Likewise the Mortgage Servicing Rights (Pending:MSR) is also carried on NSM's balance sheet at fair value and the corresponding MTM adjustment is reflected on NSM's income statement. The bear argument in what I would characterize as misleading excluded the MTM adjustment on the Excess Spread Financing liability while including the MTM on the MSRs. This is misleading as it distorts NSM's servicing profitability. In fact as shown below if we include the MTM on both MSRs and the excess spread financing, average servicing profitability was 6 basis points in Q3 2013. As mentioned consistently by Nationstar in its press releases investors should correct calculations of servicing pretax income before market to market, and servicing pretax income before market to market and ramp expenses.

Bear argument: Nationstar's servicing business was unprofitable in 2013 and had minimal profitability in 2012.
NSM's servicing business was profitable in both 2012 and 2013. As noted above the bear thesis is incorrectly excluding the MTM on the excess spread financing transactions that NSM has entered into. If we adjust for the MTM NSM generated significant revenue growth in its servicing business in 2013 as shown below.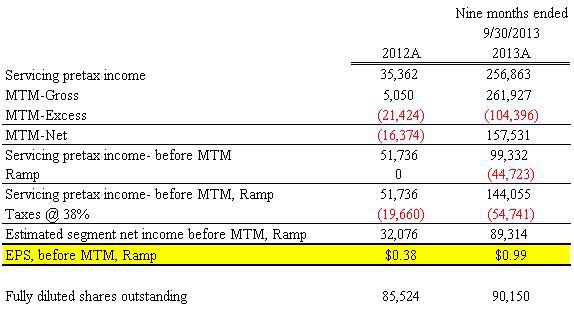 Bear argument: Nationstar servicing business is declining as it guided to $100B in acquisitions by the end of 2013.
NSM's in providing 2014 guidance clearly stated that it assumed a $440 billion average UPB portfolio. In fact NSM's CEO, Jay Bray on the company's Q3 2013 earnings call stated, "Overall, financial institutions continue to signal their desire to shed additional servicing assets. Our servicing portfolio pipeline remains robust with bulk in excess of $400 Billion and flow in excess of $55 Billion. We have clear visibility into our pipeline and believe 25% could transact in the next 90 days." That is very different from the bear argument that they guided to $100B in acquisitions by the end of 2013!
In my opinion given that NSM ended Q3 2013 with a $415 billion pro-forma UPB portfolio, a $440 billion average UPB portfolio for 2014 is setting a fairly low hurdle. NSM's origination business is expected to capture approximately 50% of their own portfolio run-off and assuming a 10-15% run off rate the amount of UPB that NSM will have to acquire to achieve their hurdle is fairly low at ~$90B as shown below:

Bear argument: Nationstar's origination business, SolutionStar has negligible value.
NSM's SolutionStar business provides various ancillary services including default processing, title, valuation and includes SolutionStar's real estate business and its online portal which facilitates the disposition of REO properties, and the Equifax Settlement Services businesses. This is the most underappreciated of the NSM bull thesis as a potential for a spin-off of Solutionstar as NSM has previously discussed offers significant upside not priced into the stock.
NSM has provided guidance for 2014 SolutionStar revenue at $400mm and using Altisource Portfolio Solutions SA (NASDAQ:ASPS), spun off from Ocwen, operating margins of ~40% we can extrapolate pretax earnings of $160mm or ~$1.16 in EPS just from SolutionStar. If we use a multiple of 15x (ASPS trades at ~15x 2014 EPS) SolutionStar is worth ~$17.40 which means NSM servicing business is worth ~$12, the residual value. At ~$12 you are acquiring NSM's servicing business at less than 3x its earnings for 2014. The SOTP analysis makes NSM a very compelling buy!
Bear argument: Nationstar's servicing profitability is declining.
This bear thesis is simply wrong. Shown below is a graph of servicing pretax profitability bps before MTM which clearly shows that Nationstar's servicing profitability trend line is positive, and in fact NSM is achieving its goal to reduce servicing costs and enhance margins in 2014. Simply put, "a picture is worth a thousand words!"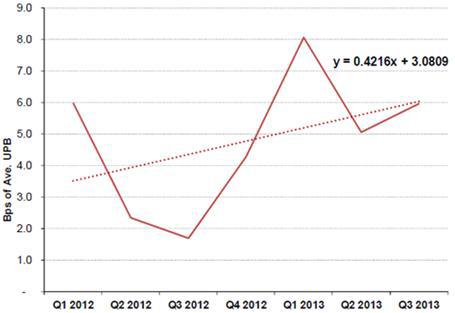 Disclosure: I have no positions in any stocks mentioned, and no plans to initiate any positions within the next 72 hours. I wrote this article myself, and it expresses my own opinions. I am not receiving compensation for it. I have no business relationship with any company whose stock is mentioned in this article.