Executive summary:
Shares in Procter & Gamble (NYSE:PG) have underperformed the S&P 500 (NYSEARCA:SPY) over the past 12 months.
Foreign exchange has had a negative effect on sales in recent quarters.
Dividend yield already over 3%, set to go even higher.
_________________________________
Investors in Procter & Gamble have seen the price of their shares go up and down several times in the past 12 months. An investment in P&G exactly 12 months ago would've returned only 1.99% (excluding dividends), underperforming the S&P 500 by a large margin as can be seen in the graph below.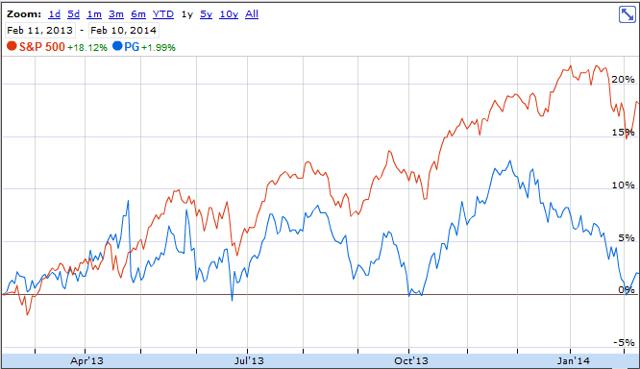 (Picture from Google Finance)
Analyst estimates for Procter & Gamble's earnings per share for this year average $4.27, meaning the company is now trading at a forward price to earnings ratio of 18.1. At the current dividend of $0.60 per quarter, shares in PG yield 3.11%. However, the company has a long history of paying growing dividends. Dividend increases are usually announced in April. The dividend growth rate has been dropping in recent years and I wouldn't expect too much of this year's dividend increase either as the company is suffering from some headwinds from foreign exchange. A dividend increase to $0.64 would increase the yield to 3.31%, while the payout ratio for the current fiscal year would be only 58.1%, which is slightly lower than last year's payout ratio of 59.3%.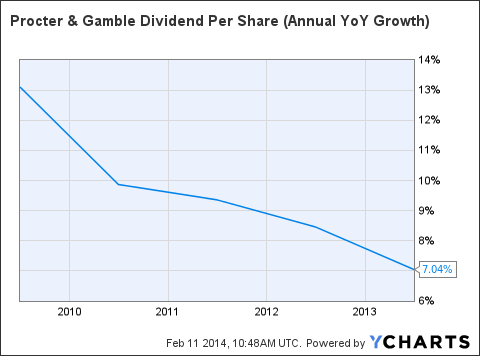 PG Dividend Per Share (Annual YoY Growth) data by YCharts
Procter & Gamble buys back huge amounts of shares. The number of outstanding shares has dropped from as much as 3.4 billion in 2007 to only 2.7 billion today. In the first 6 months of the current fiscal year, the company spent $4 billion buying back its own shares.
PG's balance sheet doesn't look too impressive at first sight, with both its current ratio and quick ratio well below 1.0. However, the company does have $8.5 billion in cash and cash equivalents. Furthermore, the balance sheet could easily be repaired by not buying back shares for a few quarters.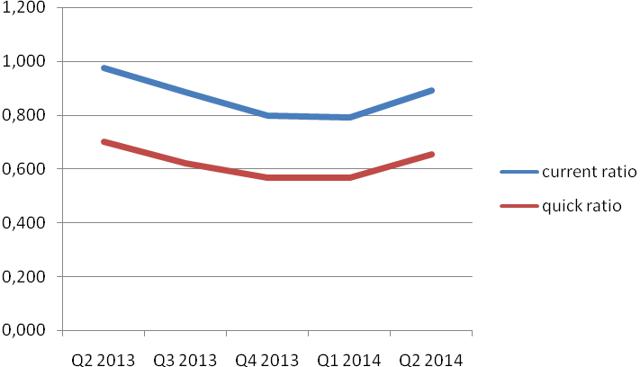 Data from PG's Balance Sheet
As a dividend growth investor I look for companies that pay reliable dividends and Procter & Gamble, having increased its dividend for 57 years in a row, fits into this category perfectly. Currently yielding over 3% already, the dividend is set to increase even more in years to come. Dividend growth has been slowing down in recent years but share repurchases should grow EPS enough to be able to keep the dividend growth rate stable at the current level. Procter & Gamble's shareprice has been down lately due to its two most recent quarterly reports showing disappointing results. Selling your products in 180 different countries will always lead to some level of currency risk, and right now PG is experiencing quite a bit of trouble because of this. In the 2nd quarter 2014, volume was up by 3%. However, with foreign exchange impacting sales by 3%, net sales were flat. This has caused investors to steer clear of the company, dropping the price per share to the point where the dividend yield is just too good to miss.
Disclosure: I have no positions in any stocks mentioned, but may initiate a long position in PG over the next 72 hours. I wrote this article myself, and it expresses my own opinions. I am not receiving compensation for it (other than from Seeking Alpha). I have no business relationship with any company whose stock is mentioned in this article.