In this article, I will be discussing Alliance Resource Partners' (NASDAQ:ARLP) annual results, which were released on Jan. 28. This will be followed by the company's current valuation based on statistics and charts (provided by gurufocus.com) followed by my conclusion.
Company Information
Alliance Resource Partners is a diversified producer and marketer of steam coal to major United States utilities and industrial users. It's the nation's first publicly traded master limited partnership involved in the production and marketing of coal. Mining operations began in 1971 and since then have grown, through acquisitions and internal development, to become the third-largest coal producer in the eastern United States.
What Happened in 2013
The company has achieved record financial results for 2013 by setting new benchmarks for coal sales, production volumes, revenues, net income, and EBITDA for the year. Its revenues increased by 8.4% to a record of $2.2 billion, accompanied by a net income increase of 17.3% to a record of $393.5 million. This happens to be the 13th consecutive year it has announced record profits.
Below I will list the regional sales results for the fourth quarter of 2013 compared to the same quarter of 2012 in percentage terms. The figures are in millions, except per-ton data.
Illinois Basin
Tons sold: 2013 - 7.789; Change: (1.2)%
Coal sales price per ton: 2013 - $52.82; Change: 0.3%
Central Appalachia
Tons sold: 2013 - 0.521; Change: 22.3%
Coal sales price per ton: 2013 - $81.85; Change: 1.8%
Northern Appalachia
Tons sold: 2013 - 1.506; Change: 5.2%
Coal sales price per ton: 2013 - $58.98; Change: (0.8)%
Total
Tons sold: 2013 - 9.816; Change: 0.3%
Coal sales price per ton: 2013 - $55.31; Change: 0.6%
Valuation
Price/Earnings - 10.90
Price/Book - 3.80
Price/Sales - 1.40
Peter Lynch Fair Value: $83.85
The image below represents the revenue growth over the past five years.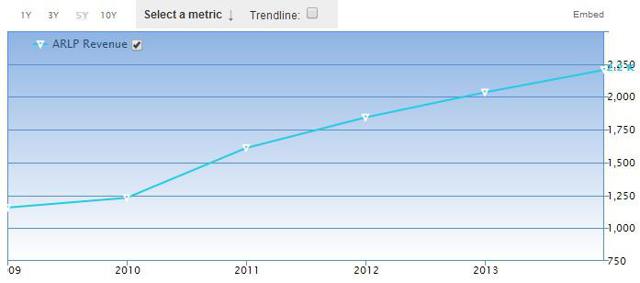 Click to enlarge
The image below represents the earnings per share and dividends per share over the past five years.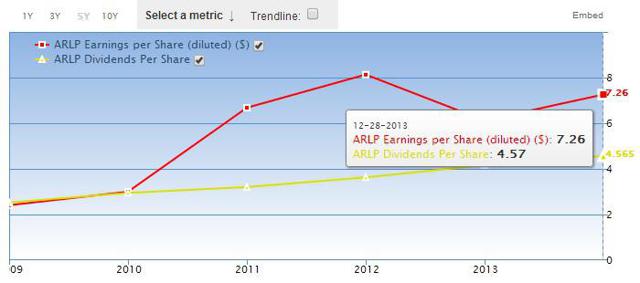 Click to enlarge
Five-Year Average Revenue Growth Rate: 16.50%
Five-Year Average EPS Growth Rate: 25.20%
Five-Year Average Dividend Growth Rate: 12.80%
Consecutive Annual Dividend Increases: 11
Current Dividend Yield: 5.77%
Yield On Cost: 10.59%
Dividend Payout Ratio: 43%
Balance Sheet Strength: Strong
Conclusion
The company has shown exceptional growth in all areas, making this a great investment for any dividend growth investor wanting exposure to the coal mining industry.
However, there are some areas you need to be concerned about as an investor. In developed countries, governments have been pushing toward other resources for energy such as natural gas, geothermal, and solar power to reduce our carbon footprint. Leaders within the European Union have set targets to reduce emissions to 20% below 1990 levels by 2020, followed by plans of an 80% reduction by 2050.
You can take comfort in the fact that this is not fully endorsed by emerging markets such as China or India, as it is estimated their coal demand will grow by 4% a year through 2020 (as indicated by Bloomberg). There is also the concern of its debt levels that need to be addressed before they become problematic. Long-term debt is currently at $848 million compared to the current free cash flow of $376 million.
If you take these factors into consideration when deciding whether to invest in Alliance Resource Partners, your chances of producing a loss are quite minimal. You could diversify in a natural gas company that may stand to benefit from geopolitical actions, therefore playing both sides of the fence, metaphorically speaking. The stock was recently trading around $81.07 and is well-positioned to make an all-time high by breaking through $83.30, especially when Peter Lynch's Fair Value metric is pointing at $83.85.
Due to the record growth it's achieving, not only is this a capital appreciation stock it's also an income stock that focuses on rewarding shareholders. Be that "naughty" person who gets a lump of coal for Christmas. The returns maybe one of the best presents you'll receive this year, and hopefully many more.
Disclosure: I am long ARLP. I wrote this article myself, and it expresses my own opinions. I am not receiving compensation for it (other than from Seeking Alpha). I have no business relationship with any company whose stock is mentioned in this article.