As a dividend investor who is always on the lookout for a higher-yielding income-driven play, I've decided to shift my focus to the oil and gas drilling and exploration sector, and highlight a number of reasons behind my decision to remain long on shares of Breitburn Energy Partners, L.P. (BBEP).
#1 Recent Trend Behavior Signals A Continued Uptrend
On Monday, shares of BBEP, which currently possess a market cap of $2.02 billion, a forward P/E ratio of 19.07 and a dividend yield of 9.70% ($1.97), settled at a price of $20.31/share. Based on their closing price of $20.31/share, shares of BBEP are trading 0.62% above their 20-day simple moving average, 3.32% above their 50-day simple moving average, and 12.77% above their 200-day simple moving average. These numbers indicate a short-term, mid-term and long-term uptrend for the stock which generally translates into a moderate buying mode for both near-term traders and longer-term investors.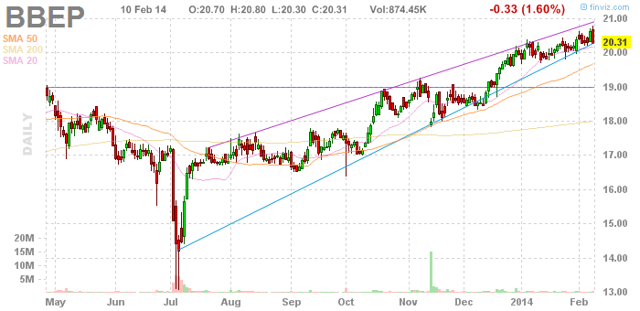 Click to enlarge
#2 Comparative Ratios Set Breitburn Apart From Its Peers
Even though the above referenced numbers indicate a long-term uptrend for the stock, I actually think the current share price of $20.31/share offers investors a considerable point of entry, especially since shares are trading at a much better forward P/E ratio than a number of its sector-based peers. For example, Breitburn's Forward P/E ratio was 19.07 based on its Feb. 10th close, whereas the forward P/E ratios of EV Energy Partners (NASDAQ:EVEP) (+6.92), Enerplus Corp. (NYSE:ERF) (+11.86) and MarkWest Energy Partners (NYSE:MWE) (+28.79) were all considerably higher, and at a level (25 points or higher) some income-driven investors may find unattractive.
| | | | | |
| --- | --- | --- | --- | --- |
| Company Name | Symbol | Price (02/10/2014) | Forward P/E Ratio | Variance |
| Breitburn Energy Partners | BBEP | $20.31 | 19.07 | 0.00 |
| EV Energy Partners | EVEP | $34.14 | 25.98 | +6.92 |
| Enerplus Corp. | ERF | $19.21 | 30.93 | +11.86 |
| MarkWest Energy Partners | MWE | $69.87 | 47.86 | +28.79 |
#3 If Second Half Guidance Is Met, Breitburn's Monthly Distribution Could Increase
Since November 5, 2010, the partnership has increased its distribution in each of the last twelve quarters, with the most recent quarterly increase having taken place in November of 2013. That being said, and beginning in January of this year, Breitburn Energy Partners adjusted its distribution to a monthly payout of which its January and February distributions have both been $0.1642/share or $1.97 on an annualized basis.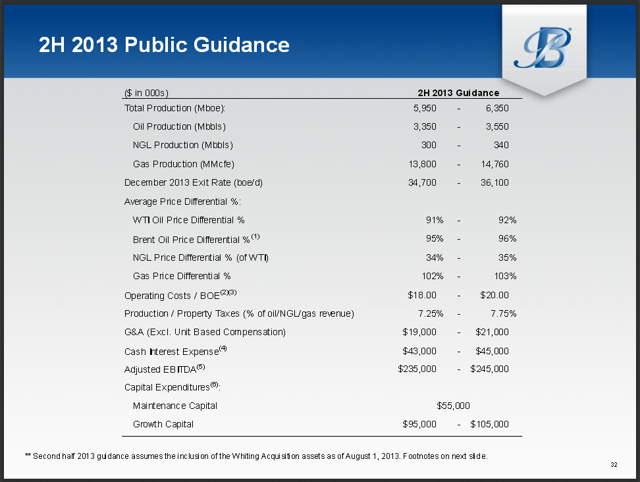 Click to enlarge
(Source: 2013 Wells Fargo Annual Pipeline, MLP, and Energy Symposium)
What can we, as shareholders, expect to see in terms of any increase in the partnership's distribution over the next 12-24 months? I strongly believe that if the partnership meets and/or exceeds its second-half projections in terms of total production (5,950-6,350 Mboe), its Adjusted EBITDA ($235 million to $245 million), and at least a 2%-4% reduction in overall capital expenditures, there's a very good chance we could see an increase in its monthly distribution.
Risk Factors (Most Recent 10-K)
According to the Partnership's most recent 10-K there are a number of risk factors investors should consider before establishing a position Breitburn Energy Partners. These risk factors include but are not limited to:
#1 - The partnership may be unable to compete effectively with other companies in the oil and gas industry, which may adversely affect its ability to generate sufficient revenue that would further be used to pay distributions to its unit-holders.
#2 - Future oil and natural gas price declines may result in a write-down of the partnership's asset carrying values.
#3 - The partnership's inability to replace its reserves could result in a material decline in both the number of reserves it currently holds and its overall production, which could adversely affect its financial condition.
#4 - The partnership's derivative activities could result in financial losses and a reduction in income, which may adversely affect its ability to pay distributions to its unit-holders.
#5 - The partnerships estimated proved reserves are based on many assumptions that may prove to be inaccurate. Any material inaccuracies in these reserve estimates or their underlying assumptions could materially affect the quantities and the present value of the partnerships reserves.
Conclusion
For those of you who may be considering a position in Breitburn Energy Partners I'd keep a watchful eye on a number of things over the next 12-24 months as each could play a role in both the partnership's near-term and long-term growth. For example, near-term investors should focus on the recent performance and trend behavior of the partnership while longer-term investors should focus on how well the company's recent acquisition will impact its earnings, especially after its most recent earnings announcement missed estimates by a fairly wide margin.
Disclosure: I am long BBEP. I wrote this article myself, and it expresses my own opinions. I am not receiving compensation for it (other than from Seeking Alpha). I have no business relationship with any company whose stock is mentioned in this article.