Executive summary:
TSN's net profit increased thanks to higher revenues and only slightly higher operating expenses.
Board increases buyback authorization from 9.6M shares to 34.6M shares, which is in excess of 10% of the current amount of outstanding shares.
Free cash flow yield will increase to 7.5% in FY 2015 as Tyson Foods continues to repurchase shares for cancellation.
_________________________________
Introduction
In this article I'll revisit Tyson Foods (NYSE:TSN) which is up approximately 15% since I wrote my previous article. I will once again provide my view on the financial results and the company's balance sheet. Thereafter I will briefly discuss the outlook for 2014 which will result in my investment thesis at the end of this article.
The images in this article were taken from the press release on the Q1 results (which you can find linked below).
My view on the financial results
Tyson Foods reported a total revenue of $8.76B which is a very impressive increase of almost 4.75%. As the operating expenses increased by just 3.2%, the gross profit increased by an astonishing 27% to $685M and the operating income increased by 35%.
The Q1 results were fantastic on all accounts, and this resulted in a net profit of $254M, which is substantially higher than last year's $173M.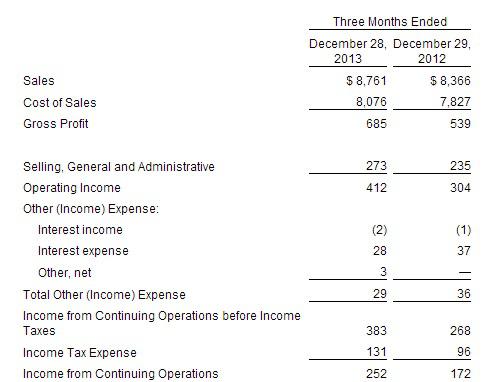 As most of my readers know, I always have a look at the cash flow statements as well, as I strongly believe these statements offer an unique insight in the quality of the underlying business. So when I glance over the cash flow statements, the operating cash flow was a very nice $361M. However, I'd like to single out some non-recurring events, such as the change in working capital and the convertible debt discount. After correcting the operating income for those inputs, it actually increases to $386M. As the total capital expenditures in Q1 FY 2014 were just $140M, Tyson Foods generated $246M in free cash flow in the first quarter.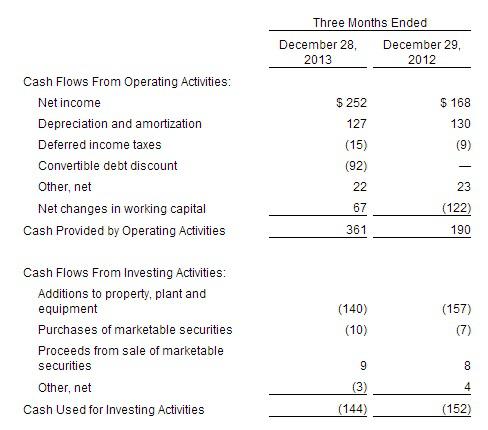 The majority of this free cash flow was used for Tyson's share buyback program, as it repurchased 4.6M shares at a total cost of $159M. As Tyson also preferred to repay $379M of debt, there was a net cash outflow, but this is nothing you should be worried about, as a debt reduction will ultimately benefit the balance sheet.
My view on the balance sheet
Moving over to the balance sheet, at the end of December 2013, Tyson Foods had a very healthy working capital position of $2.62B which is roughly in line with the working capital at the end of FY2013. As the current ratio was exactly 2, Tyson shouldn't have any problem to cover its current liabilities.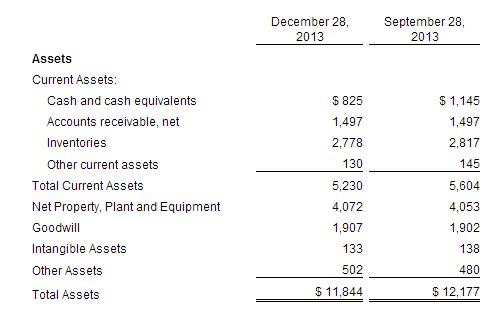 The shareholders equity increased to $6.285B compared to $6.2B at the end of FY2013. As the share count also decreased by 4 million, the book value per share actually increased from $18.03/share to $18.49/share. This means that Tyson is currently trading at approximately two times its book value and almost three times its book value after deducting the value of the goodwill and other intangible assets on the balance sheet.
Outlook
The company expects to increase the output by 1% and combined with a lower price for inputs, the operating margin should expand, which will ultimately benefit shareholders. On top of that, the board of directors has approved to increase the amount of shares to be bought back for cancellation. On top of the 9.6M shares which were allowed to be bought back at the end of Q1, the board has authorized a purchase of an additional 25 million shares, which brings the total authorization at 34.6M shares. At the current share price, this would cost the company approximately $1.3B which could easily be funded through cash on hand and the free cash flow Tyson is currently generating. As there are 340 million outstanding shares, approximately 10% of the outstanding shares could (and very likely will) be bought back with this repurchase program.
Investment thesis
Based on the first quarter results, I have to disagree with fellow author Ron Thomas who thinks Tyson Foods is overvalued. I'm expecting a free cash flow of $775M in 2014, and as Tyson Foods continues to repurchase shares, I am quite confident we'll see a free cash flow per share of $2.60 in FY 2015, which means the company is currently trading at a forward free cash flow yield of approximately 7.5% which is very decent, given that Tyson shows a lot of shareholder love by repurchasing and canceling a substantial amount of its own shares.
Disclosure: I have no positions in any stocks mentioned, and no plans to initiate any positions within the next 72 hours. I wrote this article myself, and it expresses my own opinions. I am not receiving compensation for it (other than from Seeking Alpha). I have no business relationship with any company whose stock is mentioned in this article.