I have to admit, I had pretty high expectations going into Twitter's (NYSE:TWTR) earnings conference. I expected a blowout on earnings, so I bought an out of the money call option, which ended disastrously. The stock tanked by around 20% in after-hours trading following the earnings announcement.
Did earnings change my stance on the company? Not by much. It's a high momentum name as it's the face of advertising for the next century. Just because it caters to a younger demographic doesn't necessarily make it worthless. Procter & Gamble (NYSE:PG) makes a killing on selling diapers (ever heard of Pampers), and Toys R Us (TOYS) does great with Legos. While it's true that the younger generation doesn't command as much economic value as people with fatter wallets in the 35 to 60 year old demographic, the younger generation can grow into a more valuable niche.
GAAP versus Non-GAAP
So I guess I want to start by explaining what Non-GAAP means in the context of web 2.0. Employee compensation is now considered an expense whether you pay them in cash, stocks, stock warrants, options and convertible bonds. This stinks for Silicon Valley startups, because the most common way to attract talented employees is to lure them in with the prospect of the "future." Well when we arrive in the future you find that many web stocks trade at high valuations relative to present earnings. So when these employees take advantage of the stock options by exercising them, it causes EPS figures to look awful.
If the stock is trading at let's say 20 to 30 times sales, the stock is priced for future growth. When the stock trades at such a high valuation, the impact to the financial statement is exaggerated. Twitter provided guidance that it will generate $1.15 billion to $1.2 billion in revenue for its 2014 fiscal year. However, the company also expects stock compensation expenses in the range of $600 million to $650 million. More than half of the company's revenues will be eaten by stock based compensation expenses. Thankfully stock based compensation is an imaginary expense that only exists in the land of generally accepted accounting principles. If you've been keeping your eyes open in accounting class, you'd know that the impact would be to owner's equity rather than cash flow, which is why it's a negligible concern.
Twitter isn't dead money
I guess the greatest advantage to Twitter is being able to track whether or not the message went viral. Many of the people on Twitter are really there to consume content, and when the content is presented in the proper context of what the reader is looking for, the click-through and conversion drastically improves.
CEO Dick Costolo constantly reminded shareholders that the real key to winning in mobile advertising was to promote tweets and profiles with content that people are already looking for. This implies that Twitter's success depends heavily on the advertiser's effectiveness at targeting the intended audience. As advertisers are better able to adapt to the changing advertising environment, click-through-rates will increase, which will directly translate into additional advertising revenue for Twitter.
One of the biggest concerns analysts had during the conference call was the low year-over-year growth in monthly active users (approximately 30%). Sure, we can argue that Twitter can eventually increase the number of users over the next ten years, but analysts weren't really convinced that 241 million active users could grow to over 2 billion in a meaningful window of time. In other words Twitter isn't expected to be the most globally dominant social platform, making it the challenger with Facebook (NASDAQ:FB) being the incumbent.
On the upside, Dick Costolo mentioned that product add-ons should increase Twitter's user base by a pretty meaningful amount in 2014 (Dick didn't give us exact numbers to work with throughout the course of the conference call). If product add-ons are insufficient, Twitter can launch another social app to drive user growth. Currently, Vine is one of the primary growth catalysts behind Twitter, and I believe that a combination of product add-ons and application launches should be sufficient to generate 20% to 30% CAGR for MAUs over the next five years.
Twitter remains one of the better bets on advertising
Advertisers need to go to where the eyeballs are. Sure, when social networking first came around, one of the main reasons for liking it so much was because there weren't any ads. However, that soon changed as it became glaringly obvious that the sheer amount of time paired with the number of users was a marketer's gold mine.
However, one of the things that kept advertisers away from social advertising was the lack of familiarity and the lack of trust for online ads.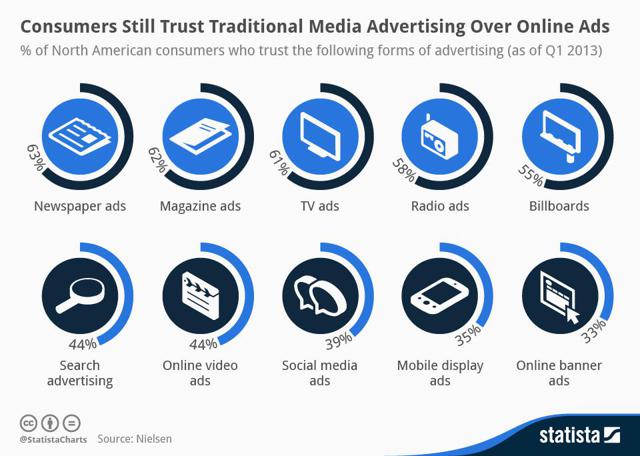 Source: Statista
You really have to be a creative genius to make it work. Advertisers had to figure out a way to pitch a product without sounding like a commercial or infomercial. It reminds me of what Jeffrey Gitomer said about marketing, "people don't like to be sold but they love to buy." In other words, don't sell, just lead them in the right direction, and it's likely that they'll buy something.
The two social platforms (Facebook and Twitter) offer ads in an information-centric environment making ads less of a distraction. This is why Twitter and Facebook are considered to be more valuable than YouTube and Hulu. This is because no one likes being interrupted in the middle of a show with a commercial pertaining to insurance, beers, cars, and etc. It doesn't matter how good, funny, the ads are. I don't want to watch an ad in the middle of my favorite TV show. An advertisement interrupting me with tacos while I'm watching zombies getting blown up 30 seconds earlier is a total nuisance. It has near zero correlation to what I was watching earlier.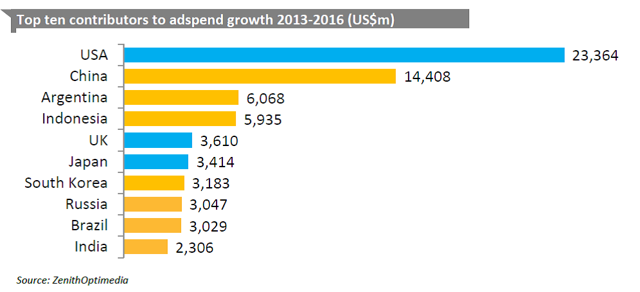 Source: ZenithOptimedia
Zenith Optimedia projects that ad spending will increase by $23 billion over the next three years in the United States, and it's expected to grow at a 5.3% to 5.8% rate globally over the next three years. The growth rate is above projected domestic GDP growth. This is because advertising spending is a rising expense category that cannot be ignored or avoided. Productivity gains reduces the cost of production, but it cannot reduce the cost of selling a product, which puts social media companies like Twitter in a strong position from more of a macro perspective.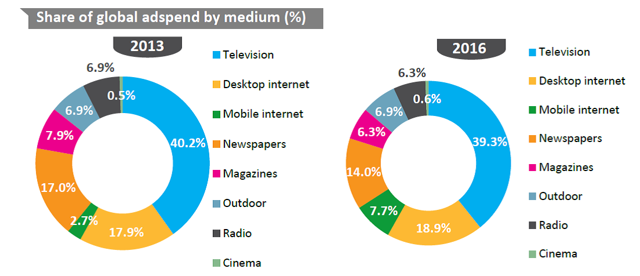 Source: ZenithOptimedia
Mobile internet advertising spending as a percentage of global share is expected to increase from 2.7% to 7.7% by 2016. This closely corresponds to Twitter's abnormally high sales growth (116% year-over-year in Q4 2013). Efficiency gains are the primary driver for digital ad growth. A mix of additional users paired with better monetization per user will generate triple digit sales growth for Twitter in the foreseeable future.
However, the increase in ad-spend doesn't come purely as a result of market share gains, but it also comes as a result of value creation. Mobile-web ad spending accelerates the growth of ad spending in general, and offers companies the potential to sell more. Mobile ads generates efficiency gains, which puts Twitter in a fairly solid position, and makes it one of the better bets on advertising.
Conclusion
If you can look past the GAAP versus Non-GAAP financials, the high valuation, and the quirkiness of the app, Twitter may be the right investment for you. While the MAU growth could have been better in the past quarter, Twitter still reported a fairly successful quarter even though growth was primarily driven by better monetization.
In a future article I hope to project Twitter's earnings and sales growth based on more exact inputs. However, even without a more quantified approach, investing in Twitter is still a no-brainer.
Disclosure: I have no positions in any stocks mentioned, but may initiate a long position in TWTR over the next 72 hours. I wrote this article myself, and it expresses my own opinions. I am not receiving compensation for it (other than from Seeking Alpha). I have no business relationship with any company whose stock is mentioned in this article.