In the first article of this series (please consider: Google Concedes Defeat), I said that Google (NASDAQ:GOOG) sold Motorola to Lenovo (OTCPK:LNVGF) not by its own free will, but as a reluctant transaction necessary for Google to make peace with Samsung (OTC:SSNLF). Google had to weigh whether to go on an all out war with Samsung and become a major Android Manufacturer, or make peace with Samsung, and let it be the production specialist, while Google concentrates exclusively on the Android OS.
The deal as I see is as follows ...
Google would stop all efforts to be a hardware manufacturer, and move away from Samsung's turf, and Samsung would stop trying to compete with Google's app store, and incorporate all of Google's services and apps in its devices. Personally I think Google made a mistake, because Google had a good chance to become very successful in its Motorola endeavor, but it chickened out.
Google can try to downplay the Motorola divestiture all it wants, and pretend that it was a strategic move, but in my mind they took a shot at Apple (NASDAQ:AAPL) and lost.
The question is, does this mean anything for Google in the long term? Furthermore, does it mean anything for Apple, Microsoft (NASDAQ:MSFT) or BlackBerry (NASDAQ:BBRY)?
Let's start with Google. The way I see it, a big part of the premium in Google's stock has always been about the possibility that Google might one day become the Apple of the Android space. Yes I know this sounds farfetched, but it has always been a possibility in my mind.
Motorola Mobile segment revenues were $1.24 billion in Q4 of 2013, compared to $1.51 billion for Q4 of 2012. If Google was actually serious about making devices, over the long term it could have had many billions (perhaps tens of billions) in revenue. But before Google even gave it a try, it gave up. So for beginners, in my mind that warrants that Google's stock should trade a lower premium.
What does the Motorola transaction mean for Apple?
I do not think it means anything. Apple's iPhone ownership increased from 35% in Q4 2012 to 42% in Q4 2013 (according to NDP Group). Together, Apple with Samsung -- that also increased its market share from 22% in Q4 of 2012 to 26% in Q4 2013 -- control about 68% of the total U.S. smartphone market.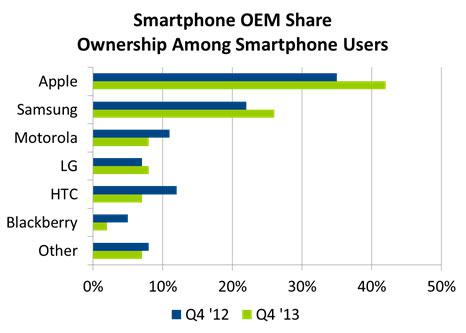 If Lenovo wants a piece of that, not only does it have to make a great device, but it also has to cutthroat everyone in the process. Either way, it will be fighting an uphill battle to get business away from Apple or Samsung. Many other Android smartphone makers have been in the U.S. for many years and have not done much. And above all, Lenovo will try to take business away from Samsung, not Apple.
What does it mean for Microsoft (MSFT)? I don't think it means anything for Microsoft either. Microsoft's WP8 has been gaining market share in the U.S. and in many other places, even as many Chinese smartphone makers have been gaining traction worldwide. So it's basically a fight between the Android crowd and has almost nothing to do with Microsoft. In fact Microsoft has scored some points on Lenovo's own turf. The recent article from fellow S.A. contributor Michael Blair is indicative.
As for BlackBerry (BBRY), it also means nothing. When you have nothing, you have nothing to lose. There isn't much Lenovo can take from BlackBerry. In fact, BlackBerry can only gain if it comes up with a device that sparks attention.
The only company who will be affected in my mind is Google, for they have forfeited their right to ever become a big player in the hardware side of the Android spectrum.
The bottom line
While Google is a very innovative company, most of these innovations have not made it to market (and probably never will). You cannot put a premium on a company simply for being innovative, unless it can translate that innovation into earnings. So far Google has not been able to do that.
Google has about $58 billion in cash and it recently bought Nest Labs for $3.2 billion. Perhaps Nest Labs will be another home run for Google like Youtube was. But if Nest Labs does not copy the Youtube success story, then I do not think Google deserves a 30 P/E, given that many other companies like Apple trade at less than half that multiple.
Finally, another reason to be wary of Google's future prospects is my "Too Big Of A Market Cap Stock" Theory. Google's market cap is about $400 billion. Now I know that a stock's market cap should have nothing to do with its performance, however the higher the market cap, the more difficult it becomes for a stock to go up.
I think that is one of the reasons why Apple is so cheap. However contrary to Google, Apple never had a 30 multiple when it recently reached the $700 mark.
So if I am right, and the market reduces Google's premium, while at the same time Google's market cap will be a deterrent for the stock to perform as it has until now, then Google can continue to increase profits for many years to come, but it might significantly underperform other stocks, as well as its up to now stellar performance.
Disclosure: I have no positions in any stocks mentioned, and no plans to initiate any positions within the next 72 hours. I wrote this article myself, and it expresses my own opinions. I am not receiving compensation for it (other than from Seeking Alpha). I have no business relationship with any company whose stock is mentioned in this article.