Janet Yellen testified before Congressional panel yesterday and accomplished the best possible result. Her testimony not only supported stocks, but it lifted gold as well. For this reason, I'm remaining constructive on the SPDR Gold Trust (NYSEARCA:GLD) here for further upside likely extending through February.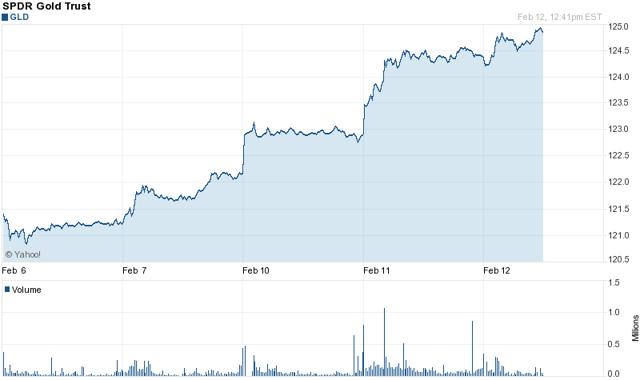 Gold and the SPDR Gold Trust got a lift again Tuesday on the kind words of Fed Chairwoman Janet Yellen. It was paradoxical, though, given that stocks also soared. Here is why. Stocks and gold often trade against one another because of gold's safe haven characteristic, which I believe it has as mankind's default currency. The beta coefficient of the GLD is 0.92 based on three years of data, but I suspect this figure has been lifted by the same Fed factor discussed herein, which has prevailed over the markets over the last few years. That is more clear when studying the beta based off of five years of data; that beta is 0.62.
Correlation moves to 1.0 between gold and stocks when the Fed factor gains weighting. That's because of the positive way Fed dovishness impacts both stocks and gold. A dovish Fed supports lower interest rates and lower costs of capital for companies and consumers, which is a driver for stocks for as long as inflation is not fueled. It also presents question about dollar strength, which is good for gold, a commodity priced in dollars and one that many consider a default currency.
Profiteering traders want the Fed to be as dovish as possible no matter what the economy is doing (there's a sort of denial about inflation). While I think underlying market sentiment remains confident about the economy, traders would like to fool the Fed now with weather-driven fear. While Janet Yellen would not give way on the Fed's asset purchase tapering efforts because of recently soft data, which she (like me) believes may be weather impacted, she also verified that the Fed was not incapable of retracting tapering if data continued soft into spring. A retraction of tapering and/or renewal of higher levels of asset purchases would of course support lower interest rates (for now), which is good for stocks, and soften the outlook for the dollar, which is good for gold. So it's the best for both worlds of stocks and gold.
| | | |
| --- | --- | --- |
| Security | Year-to-Date | 12 Months |
| SPDR S&P 500 (NYSEARCA:SPY) | -1.3% | +19.9% |
| SPDR Gold Trust | +7.4% | -22.0% |
| Market Vectors Gold Miners (NYSEARCA:GDX) | +19.4% | -39.8% |
| iShares Silver Trust (NYSEARCA:SLV) | +4.6% | -35.0% |
| Goldcorp (NYSE:GG) | +21.3% | -25.2% |
At the start of this year, I presciently predicted stocks would decline in January and said gold would benefit. Two weeks into the year, I said the gold run was reinforced by poor employment data, and that gold and the GLD had grown legs to run further as a result. As this same labor data was just reported continuing soft, gold and the GLD were reinforced again.
Also, there is an impetus at the Fed to show continuity through transition because of the confidence the market has in Ben Bernanke. With Janet Yellen, a new face, taking over, investors needed to see as little difference as possible between her and the old boss at the Fed. That's what it got through Yellen's testimony to congressmen on Tuesday. Yellen is therefore serving gold investors here along with equity traders.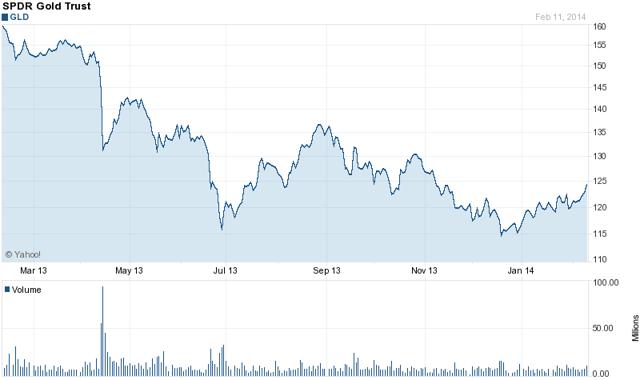 The one-year chart of the GLD illustrates just how significant this year's run has been against last year's fall for the issue. While it seems like the GLD has come a long way, up roughly 7.4% through a little more than a month's time, it's still down near the bottom of where it has traded over the last year. Therefore, there should be little standing in its way to higher ground. Some might look to valuation discussion at this point, but this ETF is so driven by capital flows and asset allocation that valuation is really not even a consideration except at extremes. Many would argue that gold has traded to an extreme, but those same many might also say that it would be on the low end of the spectrum given the current state of uncertainty about the global economy and geopolitical affairs. So, I see further upside for gold and the GLD through February, at which point the market will again raise the radar on employment and Fed monetary policy. At that point, we will take another look.
Disclosure: I have no positions in any stocks mentioned, and no plans to initiate any positions within the next 72 hours. I wrote this article myself, and it expresses my own opinions. I am not receiving compensation for it (other than from Seeking Alpha). I have no business relationship with any company whose stock is mentioned in this article.