Apple (NASDAQ:AAPL) recently decided to toss out a leading bitcoin-based application from its App Store. Blockchain.info, which was removed by Apple, claims to be the most popular bitcoin "wallet." A bitcoin wallet allows users to send and receive bitcoins, similar to the way that an email address enables people to communicate with each other.
Bitcoin is a decentralized digital currency, which was born in the aftermath of the 2008-09 financial crisis. It is created by a network of computers running software that solves advanced mathematical problems. Bitcoin relies on cryptology, and it is sometimes called cryptocurrency. No government prints it. Backers of bitcoin see it as a fast, low-cost payments system that could challenge Visa (NYSE:V), MasterCard (NYSE:MA), Western Union (NYSE:WU), and large banks.
Bloomberg reported that Apple's decision hinged on its requirement that all apps in the App Store must be legal everywhere that they are offered. Certain foreign governments, including China, Russia, and India, have challenged bitcoin's legal status. The United States has not disapproved of the bitcoin experiment. In fact, U.S. officials have been tentatively supportive. But they have also warned consumers about problems that could develop. The United Kingdom (NASDAQ:UK) has adopted a wait-and-see approach on bitcoin.
Technical Glitches Plague Bitcoin
According to the CoinDesk Bitcoin Price Index, which averages exchange rates, the digital currency's U.S. Dollar exchange value increased exponentially in 2013: from $13 in January 2013 to $758 by the end of last December. Recently, however, one of the leading bitcoin exchanges, Tokyo-based Mr. Gox, suspended all bitcoin withdrawals due to technical glitches. The bitcoin exchange rate fell from $856 on February 3 to an intra-day low of $568 on February 10--a drop of 34 percent--before recovering to about $650, according to CoinDesk. Such volatility is not uncommon for bitcoin. See chart below.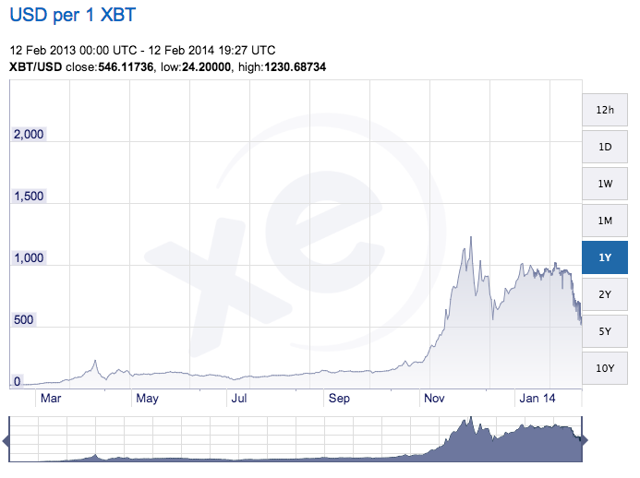 Click to enlarge
(Source: xe.com/currencycharts)
Debate continues over whether the technical glitches were due to an underlying flaw in the bitcoin protocol. Chief scientist at the Bitcoin Foundation, Gavin Andresen, was quoted in the Wall Street Journal as follows: "I would call it a quirk, not a flaw." In making its decision to suspend bitcoin withdrawals, Mr. Gox cited the issue of so-called "transaction malleability." According to the Wall Street Journal, this refers to the potential for small alterations in the digital signatures used inside the computer-generated bitcoin network to authenticate transactions.
This week, Bitstamp became the second major Bitcoin exchange to freeze customer withdrawals. The bitcoin network was the target of a recent denial-of-service (DoS) attack by computer hackers, which contributed to Bitstamp's decision to temporarily stop withdrawals. In a statement, the Bitcoin Foundation indicated: "This is a denial-of-service attack; whoever is doing this is not stealing coins, but is succeeding in preventing some transactions from confirming. It's important to note that DoS attacks do not affect people's bitcoin wallets or funds."
Current Outlook for Bitcoin
In our view, transaction malleability is the beginning of many challenges. While no one knows exactly how the bitcoin experiment will play out, we are concerned about risk. After a spectacular year in 2013, we expect continued difficulty for bitcoin in 2014.
Apple's Decision May Help Shareholders
We were pleased to see Apple take steps to protect their customers. This action ultimately may help all the Apple shareholders.
Disclosure: I have no positions in any stocks mentioned, and no plans to initiate any positions within the next 72 hours. I wrote this article myself, and it expresses my own opinions. I am not receiving compensation for it (other than from Seeking Alpha). I have no business relationship with any company whose stock is mentioned in this article.