It is shaping to be another good year for income investors.
Earlier this year, S&P Dow Jones Indices said:
"Net dividend increases rose $12.7 billion during the fourth quarter of 2013 for U.S. domestic common stock, compared to an $8.4 billion increase in the fourth quarter of 2012. 885 dividend increases were reported during the quarter, significantly lower than the tax incentivized 1,266 companies, which raised dividends in 2012, but up 36.4% from the 649 companies which raised dividends in 2011."
Dividend increases are in style again this year. Just last week, 28 companies boosted payouts, news that should benefit a broad swath of dividend exchange traded funds, including those that focus on length of dividend increase streaks as a selection tool.
Most income investors prefer shares of companies that consistently raise their payouts and that methodology has served some dividend ETFs well. For example, the Vanguard Dividend Appreciation ETF (NYSEARCA:VIG) and the SPDR S&P Dividend ETF (NYSEARCA:SDY) are two of the largest dividend ETFs and require increase streaks of 10 and 25 years, respectively. Those are ETFs your grandfather would love, but there is a new a breed of dividend funds emerging.
That new breed includes the First Trust NASDAQ Rising Dividend Achievers ETF (NASDAQ:RDVY), which debuted last month.
RDVY follows the NASDAQ Rising Dividend Achievers Index. As is the case with many of indices and dividend ETFs that are linked to those indices, RDVY has a focus on companies that have track records of boosting their payouts. To be included in the NASDAQ Rising Dividend Achievers Index, companies must have "paid a dividend in the trailing twelve-month period greater than the dividend paid in the trailing twelve-month period three and five years prior," according to First Trust.
However, RDVY's dividend increase streak requirement is loose compared to rival funds and it is not the only evaluation metric the ETF focuses on. RDVY's constituents cannot have payout ratios in excess of 65% and must have cash-to-debt ratios above 50%.
That is not to say the equal-weight RDVY does not hold some of the most prodigious U.S. dividend raisers. It does, including Coca-Cola (NYSE:KO) and Exxon Mobil (NYSE:XOM), but the fund is light on usual dividend sectors such as consumer staples. That sector only represents 3.7% of RDVY's weight while telecom and utilities stocks, two favorites of income investors, are nowhere to be found in the ETF.
RDVY's allure comes from the fact that it is heavily tilted sources of future dividend growth. Technology and financial services, two of the leading sources of S&P 500 dividend growth in recent years, are RDVY's two largest sector weights, combining for 42% of the fund's weight. Those sectors are often scantly represented in dividend ETFs that focus solely increase streaks.
Holdings from those sectors in RDVY include Cisco (NASDAQ:CSCO), Oracle (NASDAQ:ORCL) and BlackRock (NYSE:BLK).
Although RDVY is a new ETF, investors should note some dividend indices from NASDAQ OMX Global Indexes have long track records. VIG tracks one of those indices.
The Dividend Achiever Index family had an impressive 2013, with the NASDAQ U.S. Broad Dividend Achievers Index returning over 26% in 2013. In addition, the NASDAQ U.S. Dividend Achievers Select Index, which is comprised of a select group of securities with at least ten consecutive years of increasing annual regular dividend payments, rose over 29%. Finally, the NASDAQ U.S. Dividend Achievers 50 Index, the narrowest of the three indexes, returned over 31% in 2013, according to NASDAQ OMX Global Indexes.
RDVY Sector Weights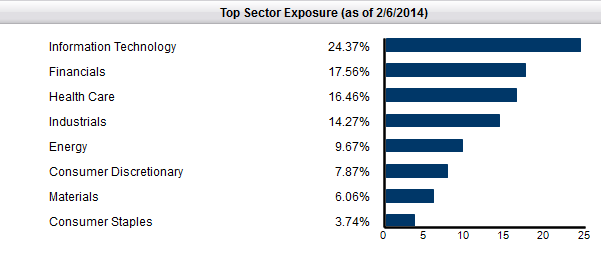 ETF Trends editorial team contributed to this post. Tom Lydon's clients own shares of Cisco and Coca-Cola.
Disclosure: I am long KO, CSCO. I wrote this article myself, and it expresses my own opinions. I am not receiving compensation for it. I have no business relationship with any company whose stock is mentioned in this article.