There is a lot of Panic over the euro contagion out there. It reminds me of early March 2009. You should buy stocks in a panic but not the ones at ground zero when it is a little country like Greece. Buy good stuff that will benefit from the other guys' problems.

Here is some of the commentary I have read today:

-Hundreds of billions of euros required to contain the growing possible default zone in Southern Europe (several economists). €45 billion for Greece was a joke.

-It's Ebola disease and we need to cut the leg off to save the body (Angel Gurria Secretary-General of the OECD). More like foot-in-mouth disease.

-Greece is the tip of the Iceberg (Nouriel Roubini). Guess he is captain of the Titanic.

-Spain downgraded today after we downgraded Portugal and Greece yesterday (Standard and Poor's rating people). Debt rating service, now that is an oxymoron.

Let's get a GRIP. The EU Politicians have been pushed into action, finally. The IMF is in Greece. A debt haircut is bullish for interest rates and probably already discounted in spreads and CDS's. The DJIA rallied Wednesdayday.

We are nibbling at a few quality Canadian and U.S. stocks. Today I'll talk about the U.S. ones.

These timber REIT's are currently benefiting from the lumber and pulp pricing cycles that are turning up. Some of it is transitory (U.S. First-Home Buyer Tax Credit). But underlying these are good ROI assets that benefit from low interest rates and tax-free flow-through of profits due to the unique U.S. REIT structure.
These are the top three U.S. timber REIT's and have millions of acres of trees that keep growing no matter what the economy does.
Here they are:

Plum Creek Timber REIT (NYSE:PCL)
Click to enlarge: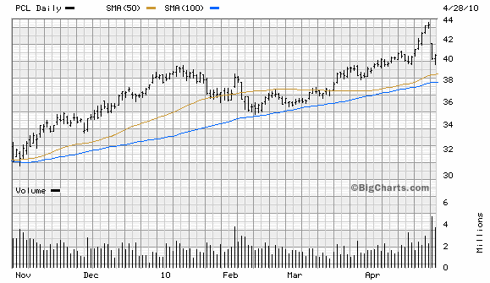 Potlach Corporation (NASDAQ:PCH)
Click to enlarge: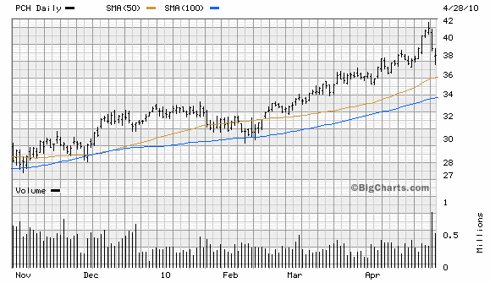 Rayonier (NYSE:RYN)
They harvest and sell the trees and fibre for feedstock for building materials and pulp paper respectively.

They replant trees to replace the ones they harvest and log under Forest Stewardship Council certified practices.

They earn oil and gas royalty revenues from what is under the land, and they even earn wind farm rents.

They sell the Highest Best Use (HBU) lands for real estate developement, or for conservation, or to some couple that just wants a retirement ranch in a beautiful setting.

They will benefit from climate change carbon credits if legislation is enabled.

Their lands are in the U.S.A. (Rayonier has some in New Zealand) and are diversified to insure against fire and other natural risks.

They make you feel good owning them whereas other commodity plays such as energy and mining can pollute and destroy the environment.

The first two Plum Creek Timber and Potlach have already announced solid Q1 earnings and the last one Rayonier announces next week. Rayonier also produces performance fibres such as viscose acetates whcih apparently are in hot demand in China.

They will all announce dividends next week and they have juicy yields above 4%.

They will benefit if U.S. interest rates stay low as the Federal Reserve Open Market Committe indicated they would Wednesday.

They are conservatively capitalized with low debt levels and cash flows in excess of distributions. U.S. residents benefit if they hold them for long term capital gains.

They do not depend on contagion fears being relaxed and they don't sell into Europe. Contagion lowers growth expectations, boosts the USD and hurts commodities so I would be nibbling on these, not gulping them down right now.
The first two REIT's have short positions equalling around 10% of the float and several days of trading volume. I think the shorts are wrong and will be squeezed out.

Disclosure: Long PCL, PCH, RYN