Installed Building Products Inc (NYSE:IBP), a residential insulation installer with principal offices in Columbus, Ohio, plans to raise $135 million in its upcoming IPO on Thursday.
The company will offer 9.0 million shares (including 25% insider shares) at an expected price range of $14-$16 per share. If the IPO can hit the midpoint of that range at $15 per share, IBP will command a market value of $432 million.
IBP filed on January 9, 2014.
Lead Underwriters: Deutsche Bank Securities Inc, UBS Investment Bank
Underwriters: BB&T Capital Markets, KeyBank Capital Markets Inc, SunTrust Robinson Humphrey Inc, Zelman Partners LLC
Business Summary
IBP estimates that its 100 locations spread across 44 states make it the second largest new residential insulation installer in the United States. See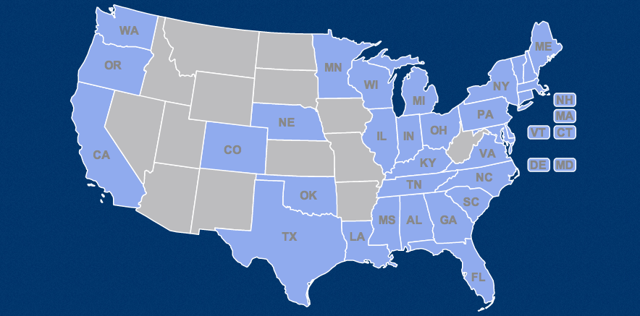 (Source)
Along with insulation, IBP installs complementary products like garage doors, gutters, closet shelving, and mirrors. The firm is in the midst of a period of aggressive expansion that began in the late 1990s, and has completed over 90 acquisitions since 1999. IBP serves a wide variety of customers, including production and custom homebuilders, multi-family and commercial contractors, and homeowners; over the past five years, no single customer has accounted for more than 3% of IBP's net revenue.
Valuation
IBP offers the following figures in its S-1 balance sheet for the nine months ending September 30, 2013:
Revenue: $312,599,000.00
Net Income: $3,663,000.00
Total Assets: $189,687,000.00
Total Liabilities: $126,645,000.00
Stockholders' Equity: ($41,524,000.00)
IBP's prospectus notes that in the nine months ended September 30, 2013 IBP generated a net revenue of $312.6 million, Adjusted EBITDA of $16.3 million and net income of $3.7 million. This represents a 49.0% increase in net revenue and a 310% increase in Adjusted EBITDA as compared to the nine months ended September 30, 2012; however, the firm's net income is still quite small as a percentage of revenue, so these figures could be somewhat deceiving. Approximately 79% of the firm's net revenue in the nine months ended September 30, 2013 was derived from sales to the U.S. residential new construction market.
Competitors
The market for building products installation is extremely fragmented, and IBP faces competition from local and regional installers, along with national contractors. Some of these firms include Masco (NYSE:MAS) and Owens Corning (NYSE:OC) who have much greater financial resources available than IBP.
Management
President, CEO, and Chairman Jeffrey W. Edwards has held his current positions since 2011, 2004, and 1999, respectively. He previously served as an officer and strategist for the Edwards Companies. Since 1988, Mr. Edwards has been involved in the launch of a variety of businesses and commercial real estate developments in central Ohio. He holds a B.S. in Marketing from Miami University. He is joined by CFO and Executive Vice President Michael T. Miller; Miller has been with IBP since 2004. He previously served as Senior Vice President/Managing Director responsible for Corporate Investment Banking at Huntington Capital Corp and in various positions with Deutsche Bank and CIBC in New York. Mr. Miller holds a B.A. from Wake Forest University.
It should be noted that IBP paid its executives at a bizarrely high rate in 2012; CEO Edwards received nearly $2.7 million in total compensation, while CFO Miller received nearly $2.4 million in total compensation. While their pay returned to more believable figures in 2013-$87,093 and $219,889, respectively-the significant overcompensation of 2012 raises questions about the firm's ability to regulate its resources effectively.
Conclusion
We are negative on this IPO in the current proposed price range of $14 to $16. We are hearing that the underwriters and the company may have to lower the price to move this puppy out the door.
IBP's strategy of large-scale expansion does seem to have paid off, as it has been able to simultaneously gain a national presence and generate increases in net revenue, greater than increases in operating expenses. The highly-fragmented nature of the insulation installation market should allow IBP to continue to effectively pursue its acquisition strategy. The firm estimates that it has grown its share of the US residential new construction insulation installation market from approximately 5% at the end of 2005 to approximately 16% as of September 30, 2013.
As home construction continues to recover, IBP should find no shortage of customers in the coming years but they will continue to have significant competition. IBP will also remain in a very cyclical industry.
Disclosure: I have no positions in any stocks mentioned, but may initiate a long position in IBP over the next 72 hours. I wrote this article myself, and it expresses my own opinions. I am not receiving compensation for it (other than from Seeking Alpha). I have no business relationship with any company whose stock is mentioned in this article.