Like the previous four quarters, McDonald's (NYSE:MCD) has once again disappointed analysts with its fourth quarter 2013 earnings results. The restaurant's global comparable sales fell 0.10% reflecting higher average check and negative comparable guest counts. This was far from analysts' estimates that predicted the comparables sales to increase by 0.5%.
The worst performing segment on a geographical basis in this quarter was APMEA where the comparable sales declined 2.40% reflecting weakness in Japan and relatively flat performance in China and Australia.
The root cause of the negative results in the Japanese segment was the price hike. McDonald's raised its burger prices by as much as 25% in April 2013 to cover its higher input costs and to boost its profitability. However, this strategy turned out to be a failure for the company as some Japanese chains and convenience stores cut their prices and increased their prepared food offerings. This competition hammered McDonald's tactic. Disappointed by Japan's declining sales the company announced it would close 74 stores in the country in December 2013.
The comparable store sales in the US segment also declined 1.4%. The sales in this segment increased in the month of October but then during the next two months of the fourth quarter (November and December) the sales started declining. However, the slump in the US and APMEA segments were somewhat offset by the European segment where the comparable store sales improved by 1%.

Source: Company Financials
With regards to the company's full year sales, the comparable sales in year 2013 increased by only 0.2% again reflecting higher average check and negative comparable guest counts. Its consolidated revenues in 2013 increased 2% compared to consolidated revenues of 2012.
The factors that primarily hit the world's largest restaurant's sales are the complicated menu, constant promotions, slow service and fierce competition. The restaurant over-expanded its menu and its highly publicized Mighty Wings and Chicken McWrap could not draw customers' attention. The Mighty Wings are considered to be a mighty flop.
Many customers in the U.S. have also complained about the slower services at restaurants that frustrates them. According to industry experts, McDonald's needs to downsize its menu and focus on the changing tastes and demands of the consumers to face the heightened competition. It also needs to focus on speedier service and better value offerings through which it could again turn the tides in its favor.
According to the company's Chief Executive Officer, McDonald's will re-image more than 1,000 locations in 2014 and would be opening 1,500-1,600 new stores worldwide. The management would be focusing on the long-term opportunities in the global marketplace. If implemented correctly, the strategies are expected to bring growth back to McDonald's topline.
Operating and Net Income
McDonald's operating income in the fourth quarter was almost flat as a 2% increase in the revenues was partially offset by the slightly dropped margins. The full year operating income increased 1.86% compared to 2012 due to a 2% increase in total revenues and flat YoY operating costs and expenses.
Like the operating income, the company's net income in the fourth quarter was flat on a year-over-year basis and the full-year earnings rose by 2.22%. Despite flat net earnings the diluted per share earnings increased 1% due to lower weighted average outstanding shares. Per share earnings reached $1.40 per share compared to $1.38 per share during the corresponding quarter of the previous year. Analysts, on average, were expecting the company to earn $1.39 per share.
For the full year, the diluted per share earnings rose by 4%, due to higher net earnings and lower weighted average shares. McDonald's per share earnings have been constantly growing over the past 7 years at a rate greater than the revenue growth rate. This denotes the fact that the company is efficient in converting its revenues into profits. From 2007 to 2013 the EPS has grown at a CAGR of 15.86% compared to the revenue growth rate of only 3.04% over this period.
This bottom line growth somewhat relieves investors' tension due to the comparable store sales growth.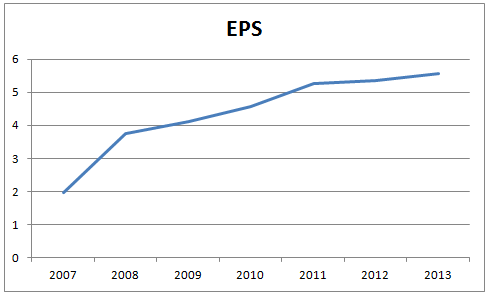 Source: SEC Filings
Return to Shareholders
McDonald's returned a handsome amount of profits to investors in the fourth quarter and the full year 2013 both in the form of cash dividends and share repurchases. For the fourth quarter, the company's management declared a dividend of $0.81 per share reflecting an increase of 5% compared to the dividend of the fourth quarter of 2012. During the first three quarters, the company paid $3.12 per share brining the full year dividend to $3.93 per share. Therefore the full year dividends provided to investors grew by approximately 8% on a year-over-year basis. McDonald's has a considerably higher dividend yield than the overall industry average.
Apart from the dividend McDonald's also provided handsome profits to investors through share buyback programs. During fourth quarter it returned $1.3 billion to shareholders through share repurchases and dividend payments. In full year 2013 the company returned $4.9 billion to shareholders through share repurchases and dividends. Earlier, McDonald's management planned to distribute an amount ranging $4.5 to $5 billion among shareholders and has successfully achieved the target.
For 2014, the restaurant's management intends to return $5 billion cash to shareholders.
Valuation
By evaluating McDonald's multiples we find that the company is priced at a considerable discount to its industry peers. The company's stock is cheapest among all is peers if we compare it to the peers based on the current price-to-earnings and forward price-to-earnings ratios. This will offer investors the opportunity to earn higher profits by investing less money.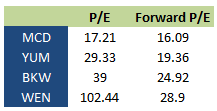 Source: finviz
McDonald's stock is undervalued based on a price-to-cash flow ratio and this reflects the fact that it offers a higher per share cash flow to investors with regards to its stock price compared to its peers. This measure is more refined compared to the earnings because while in some cases the earnings can be manipulated, the cash flow cannot.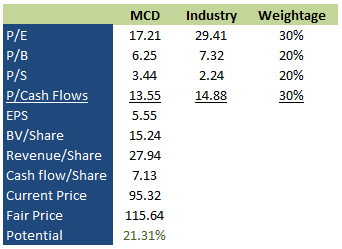 Source: money.msn
Based on the price-to-sales and price-to-book value ratios, the company's stock is overvalued but as these two measures are less refined compared to the other two measures discussed above I gave these ratios lower weight. Therefore the fair price of the company's stock is $115.64 with an upside of 21.31% from the current price.
Final Takeaway
Weaker demand, an over-complicated menu, and heightened competition have hurt the fast food giant's top-line growth. The sales are projected to remain flat in during January 2014 despite analysts' earlier prediction of a growth of 2.4% for this month. The CEO has planned to reconstruct McDonald's existing stores and focus on long-term growth opportunities so I expect that in full year 2014 the company's topline will see considerable growth compared to 2013.
This growth would help McDonald's to further add growth to its bottom line. McDonald's is still paying generously to its investors and it intends to increase shareholder returns in 2014 through dividends and share repurchase programs. Moreover, its stock has a great potential to pay investors so I would recommend buying this stock.
Disclosure: I have no positions in any stocks mentioned, and no plans to initiate any positions within the next 72 hours.
Business relationship disclosure: The article has been written by APEX Financial Consultants. This article was written by one of our research analysts. APEX Financial Consultants is not receiving compensation for this article (other than from Seeking Alpha). APEX Financial Consultants has no business relationship with any company whose stock is mentioned in this article.